Dating back to the days of Wes Montgomery and Freddie Hubbard on Indiana Avenue, Indianapolis has served as a beacon of jazz greatness amidst the American music landscape.
While the coronavirus pandemic may be limiting what can happen in 2020, Indy Jazz Fest will keep the sweet tunes rolling with a series of very special virtual performances, airing November 13-14 and November 20-21. Each night, some of Indy's premier jazz talent will be spotlighted, with performances from Charlie Ballantine, Native Sun, Premium Blend and the Naptown All-Stars.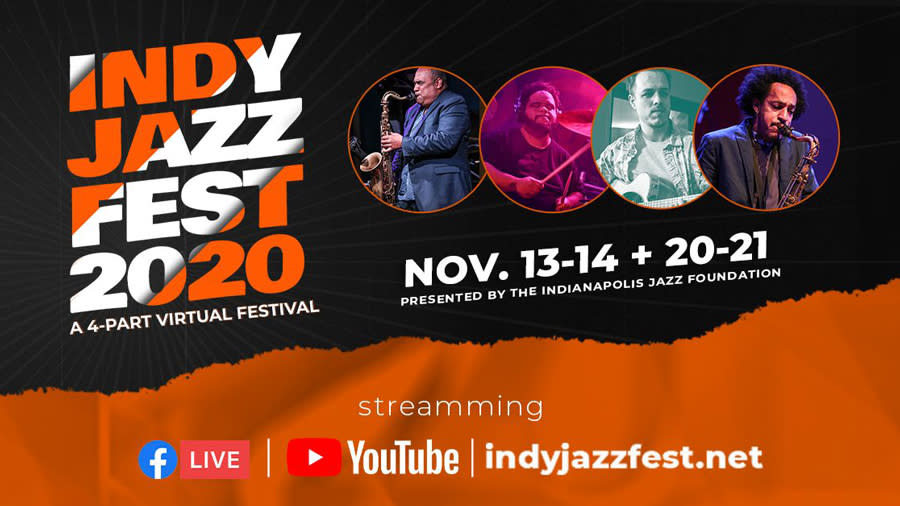 "The year 2020 has produced a multitude of emotions," says David Allee, Indy Jazz Fest director and owner of the Jazz Kitchen. "These works will provide an emotional look at the way these artists' mentors and society have affected their artistry. Ultimately, we view these concerts and commissions as the perfect way to continue the crucial support of our artists right here in Indianapolis as we continue to navigate through the challenges brought forth by the pandemic, racial tensions and a year of introspection."
These online concerts will be released free of charge and viewers will be asked to consider a donation to help reach the overall fundraising goal of $25,000. The online concerts will be available for viewing online at IndyJazzFest.net and via the organizations' Facebook Live and YouTube platforms.
Below, you can find a nightly schedule of what to expect from the virtual performances.
Friday, November 13 – 8 pm
"Celebrate Naptown All-Star Show"
Recorded at the historic Garfield Park, this all-star mash-up features more than 25 of Indy's best jazz performers, a great snapshot of the modern day contribution to Indy's rich jazz legacy.
Saturday, November 14 – 8 pm
Native Sun - "Legalize Being Black"
The hip-hop trio featuring Richard Floyd (drums), Brandon Meeks (bass) and Bobby Young (MC) present a hip-hop/jazz suite titled "Legalize Being Black." Their compositions will address the Black Lives Matter movement and the recent worldwide protests of police brutality sparked by the killing of George Floyd.
Friday, November 20 – 8 pm
Charlie Ballantine - "Vonnegut"
In partnership with the Kurt Vonnegut Museum & Library, Charlie Ballantine will present the performance and unveiling of his latest recording of original compositions inspired by the works of celebrated Indianapolis writer Kurt Vonnegut.
Saturday, November 21 – 8 pm
Jared Thompson & Premium Blend - "38th and Post Modernism"
Jared Thompson & Premium Blend present an original music suite that addresses the complex narrative of systemic racism as it pertains to the black communities in Indianapolis today.