The Indianapolis Ballet is poised to have a stunning second show of the season showcasing the precision and masterful craft of ballet. New Works Showcase Series will be a uniquely intimate show focusing on the audience's perception of the dancers' incredible passion and athleticism. The four performances will take place in The District Theatre as a part of the venue's updated and eclectic programming; audience members will practically feel like a part of the show in this cozy, 130-seat venue on Mass Ave.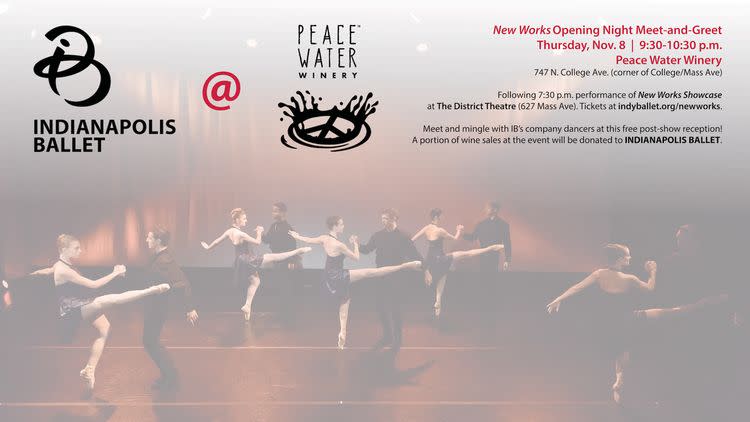 To continue the personal experience, opening night will conclude with a meet-and-greet with the performers; taking place at Peace Water Winery, the mixer ensures audience members not only enjoy the performance, but reflect and get to know the dancers. If you needed another reason to join IB for this impressive evening, Peace Water Winery will donate 10 percent of all sales during the mixer back to the Indianapolis Ballet.
The showcase series features a pleasant intersection between fresh choreography and iconic Indiana music. Joshua Bergasse, a Broadway choreographer who won an Emmy for his work on NBC's musical drama Smash, will contribute genre-bending choreography to one of the show's main pieces alongside music by IU legend David Baker. The performance will also feature "Blues for Velez," a song by Indiana saxophonist Rob Dixon which will elegantly frame choreography by Roberta Wong. Indianapolis Ballet Founding Artistic Director Victoria Lyras and Master Paul Vitali will also debut choreography as part of the showcase.
This innovative, close-up and skillfully crafted showcase should not be missed. Experience ballet like never before at one of the New Works immersive performances taking place November 8 through 11. Tickets can be purchased online.