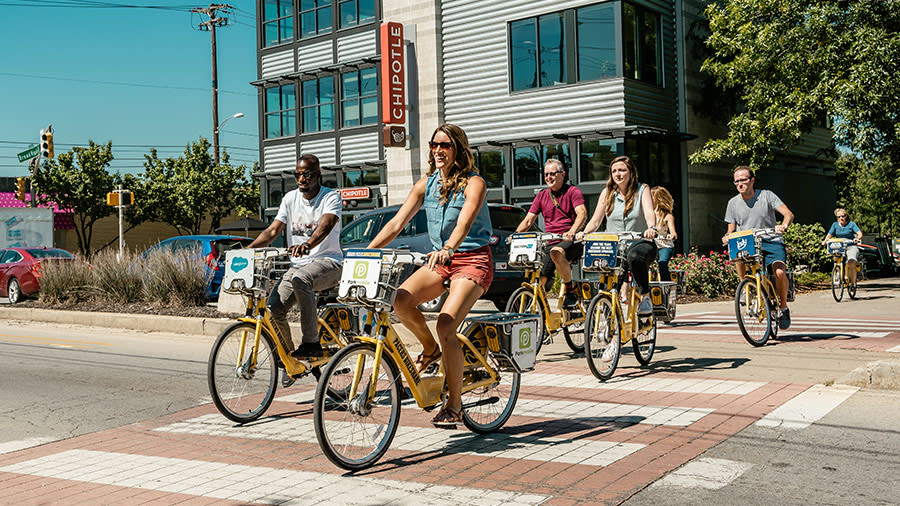 The timing and initial rollout of the Indiana Pacers Bikeshare was one of the smartest and most successful development plans I've ever seen. Part of it was timing, and part of it was luck.
It started with an idea to build a trail. Not just any trail, but a world-class urban biking and walking trail that would connect Indy's Cultural Districts – Mass Ave, Fountain Square, White River State Park, Indiana Avenue, and Downtown. The brainchild of Brian Payne, the Indianapolis Cultural Trail was a trailblazing project that transformed the city and spurred development wherever it went.
Thankfully, the international bikeshare craze didn't hit until the trail was well into construction. So, instead of sprinkling stations haphazardly around the city, Indianapolis Cultural Trail, Inc. specifically planned Pacers Bikeshare to complement the Cultural Trail and allow anyone to take advantage of the wide and scenic bikeways. The system was an immediate hit.
I always lamented that the initial rollout did not include the Monon Rail Trail. The Monon was named to the "Rail-Trail Hall of Fame" and is the foundation of the Indy Greenways system. The trail connects Indy to the Indiana State Fairgrounds, Broad Ripple, Nora, Carmel, and Westfield. Thankfully, now that Pacers Bikeshare is a proven success downtown, the next step is to extend reach and create a more complete regional system. That extension will include the Monon Trail.
In 2019, Indiana Pacers Bikeshare will be adding three stations on the Monon (with two more in close proximity), reaching as far north as 62nd Street. In total, 23 new stations and 275 new bikes will make it easier than ever to take advantage of shared transportation in the city of Indianapolis.
Bikeshare bikes are also getting an upgrade. The new bikes have a few enhancements to make riding and maintaining easier, including:
Fully enclosed wiring and chain
Stronger pedals with enhanced traction
Spring-loaded front basket and removal of rear basket
It may be cold outside, but Pacers Bikeshare are still available and you can count on the Indianapolis Cultural Trail team to keep the path snow-free. So, what are you waiting for? Get out and get riding because there is no better way to see and experience a city than on two wheels (and I'm not talking about scooters).
For more information about biking Indy, check out our Running & Biking Guide.