In light of Indiana Fashion Week (INDFW) coming up, feelings of teamwork, creativity, and community are present. The Indiana Fashion Foundation (IFF) has designed the annual event to resemble a "convention," so that fashion gurus from all over the state are able to enjoy. 

Scheduled for June 18 – 22, 2019, this multi-faceted event will include opportunities for education, exhibition, and entertainment.

The week includes a youth designer challenge (in collaboration with Goodwill Industries), a press preview event, and an industry day conference (in collaboration with Saks Fifth Avenue). But just as you start to think the week cannot get any better, a runway show will be taking place at The Crane Bay, which will feature the INDFW Emerging Designer Competition.

Designers will be put to the ultimate test as they show their work to some of fashion's most respected faces. 

Speakers that will be represented for Making it IN Fashion include Hoosier born Tyrie Rudolph (international model), Elliot Carlyle (Director of Cultural Diversity & Inclusion for NYC Jewelry Week), Chris Lavish (Global Digital Director for Fashion Week Online), Channing Hargrove (Fashion News Editor for Refinery29), and Sarah Chiwaya (Fashion Blogger & Plus-size Fashion Brand Consultant). 

The highlight of the week will feature an interview with award-winning creator of New York Fashion Week, Fern Mallis. Following the interview she will be honored with the first-ever INDFW Legendary Trailblazers of Fashion Award.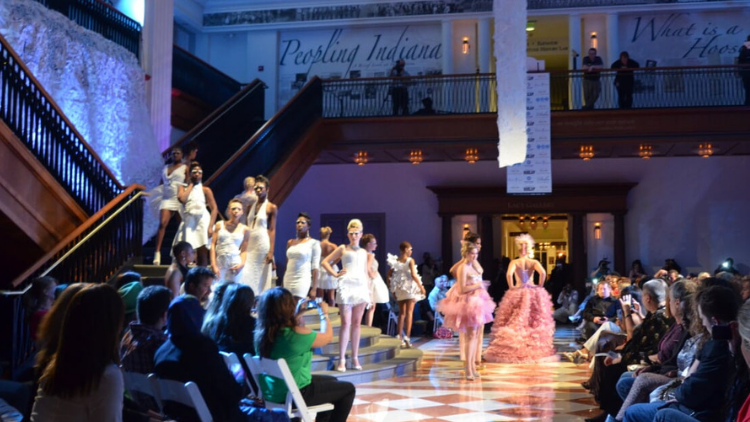 In an attempt to further mobilize and develop the fashion industry throughout Indiana, The Indiana Fashion Foundation continues to unify professionals across the state.

Indiana has a fantastic history of fashion, but the state has always been known as a sports hub. Until now, fashion efforts in the state have not been closely correlated to the legacy of Indiana. This is why Indiana Fashion week exists today – and you're invited! 

Interested in joining in on the fun? Visit here for tickets.