The bright blue building on the Northside of Indianapolis has been rising in excitement. Visitors and residents alike have gazed in excited expectation and now the time is finally near. The IKEA store in Fishers opens this week in all of its Swedish grandeur. Curious about what you'll find inside? Want to know what great grand opening events and freebies accompany the big event? Need to know where to stay when you visit IKEA, no matter what time of the year? Read on for all of the details.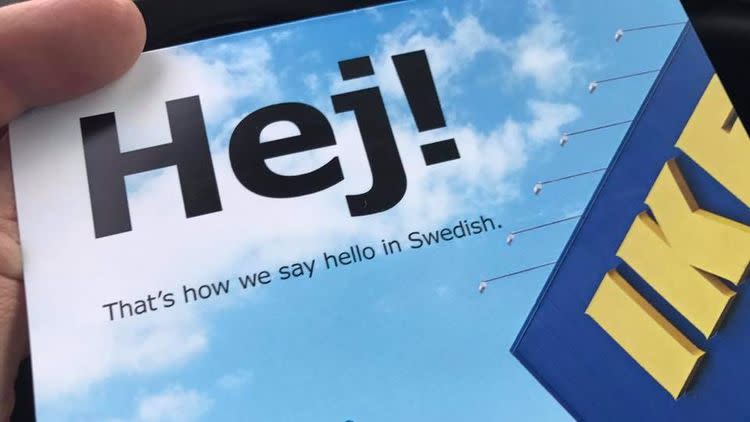 When to Get In Line
While the store doesn't officially open until Wednesday, eager shoppers are already in line. Why would anyone want to get in line so early? For the free giveaways, of course! To celebrate its 45th store, IKEA will give away 45 EKTORP sofas to the first 45 shoppers. The next lucky 100 shoppers snag a free POÄNG chair. The first 100 children will receive a FAMNIG HJÄRTA - a heart shaped pillow. The first 2,500 people receive random prize envelopes (that means some super fortunate folks receive double prizes, bonus!) with an IKEA gift ranging somewhere between $10 and $250 (WHAT!). Once in the store, the first 250 people to show their ID to an employee at the Home Delivery counter indicating their birthday is the same day as IKEA's newest store (October 11), will receive a $45 gift card (again in honor of IKEA's 45th store).
Not lucky enough to score one of those free sofas? You can still get one for $100 off all day on Wednesday.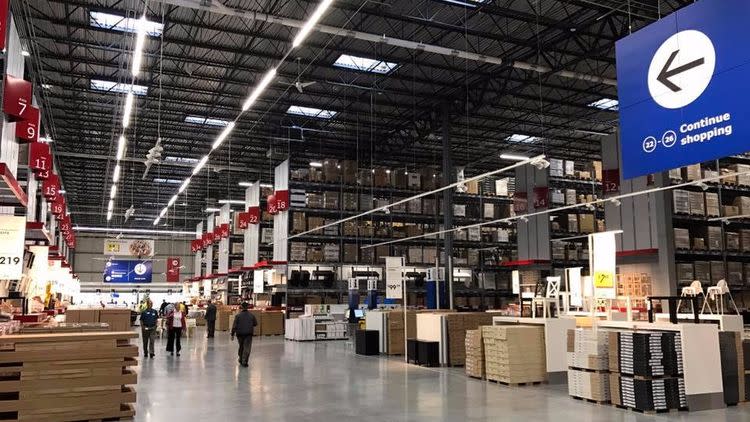 When the Doors Actually Open
The Grand Opening Day runs on Wednesday, October 11 from 9 am to 9 pm. Hankering for some of IKEA's famous Swedish meatballs? The restaurant will be open from 9 am to 8:30 pm.
Other Great Giveaways During the Week
Wednesday is not the only day IKEA plans on sharing the love. More fantastic home goods freebies continue on Thursday and Friday. On Thursday, the first 45 adults receive a HAUGESUND queen spring mattress. The next 100 adults score an ALINA "sleep set." And the first 100 kids pick up a free GOSIG GOLDEN dog soft toy. Friday morning's giveaways include free 4-piece SENSUELL cookware set for the first 45 adults in line, a voucher for 12 monthly meatball meals for two at the IKEA Fishers Restaurant (expires October 31, 2018) for the next 100, and soft-serve frozen yogurt for the first 100 kids (valid only that day).
Plus the entire week features free family fun like face-painting, balloon art, and entertainment. The kids will flip and actually want to go with you on a shopping trip for sheets and plates for once. And if your family is a member the IKEA Family loyalty program, you can enter to win one of 20 $250 IKEA gift cards when you visit Wednesday, October 11 - Sunday, October 15.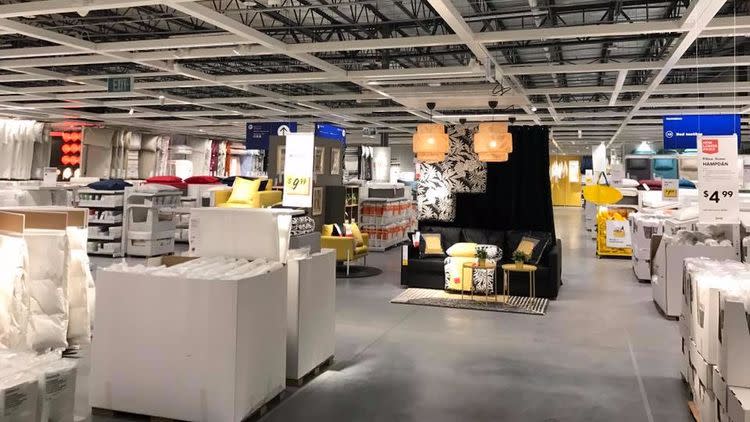 How to Get Ready for Your First Visit
What's that, you say? You've never entered those glass doors surrounded by the infamous blue and yellow hues. Say no more. You need to check out IKEA's Prepare for Your Visit Page. You'll learn about how to research products before you leave home, the details of IKEA's kids' area Småland, and even get the scoop on IKEA Restaurant deals of the week.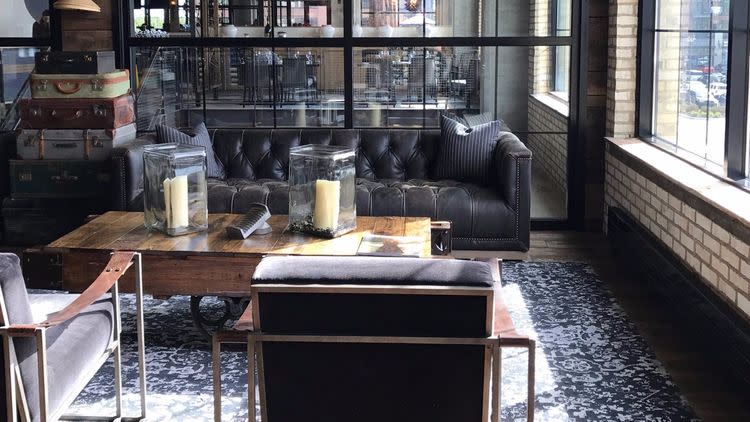 Coming from out of town to enjoy all of the fabulous IKEA grand opening events? The northside of Indy has plenty of fantastic hotels to make it an even more exciting trip. Fans of style and design will love the new Ironworks Hotel (pictured above) located on 86th street. Large rooms feature comfort and luxury and plenty of space to stash all of your shopping scores.
The hotels near Keystone at the Crossing feature fantastic restaurants and more great opportunities to get your shop on. Choose from Hyatt Place, Indianapolis Marriott North, Sheraton Indianapolis Hotel at Keystone Crossing, Towne Place Suites, Homewood Suites by Hilton, and more! Indianapolis' Fashion Mall is only steps away from these high quality hotels. In the mood to continue your home decor jam? Check out the Pottery Barn, Restoration Hardware, Crate and Barrel, or West Elm. Stop by the Apple Store for technology fun or browse at Norstrom or Saks Fifth Avenue. And don't miss all of the fabulous fare. Dine at restaurants like the Cheesecake Factory, Napolese Pizzeria, Seasons 52, Sullivan's Steakhouse, P. F. Chang's, or First Watch.
Get excited IKEA fanatics! Indianapolis is excited to welcome you to your new home away from home where you can find lovely things for your home.