What makes a good chicken finger?
Wow. While good chicken fingers come in various shapes and sizes, I would argue that the road to chicken finger greatness starts with your hands. The perfect chicken finger platter is a basket of magnificent sticks of white-meat, hand-coated in a delicious breading and, of course, deep fried then topped with hot sauce. 
I've dreamed of finding a chicken finger so tender, tasty, and tantalizing that you don't even need any add-ons or accessories. (No, I've literally woken up sweating in the middle of the night thinking about this before). Here are a few of Indy's finest chicken fingers and where you can find them across the city. Bottoms up!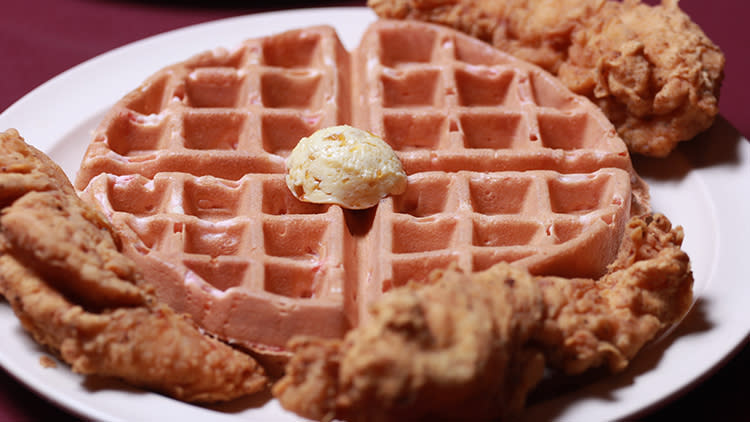 These fingers are protein-filled on the inside, a little greasy and salty on the outside, and combined with fluffy, filling, and buttery waffles, this plate is a no-brainer. Hot take: chicken and waffles is the perfect brunch dish…and a uniquely American one. This combination of sweet, hot, salty, and fatty flavors would pair perfectly with a bottomless mimosas. Maxine's, the ball's in your court on that one. 
Received Nate's chicken finger stamp of approval: Spring 2016
---
A picture-perfect platter of hand-breaded chicken fingers that is truly made with attention and care. Tender and crispy on the outside, juicy on the inside, and full of impeccable flavor. I think I went six weeks in a row where I ate these fingers, and I'm a better man because of it. Broad Ripple Tavern is a comfy hangout for pub grub, sports, beer, and pool in the hip and happening Broad Ripple neighborhood. 
Received Nate's chicken finger stamp of approval: Summer 2012
---
Located in Indy's SoBro hood, Moe and Johnny's is a classic neighborhood hub, with sporty vibes, a coffee shop and an extensive patio. Their buttermilk chicken fingers are jumbo sized and hand breaded to perfection. Pair it with a personal pitcher of local brew and consider your day a success.
Received Nate's chicken finger stamp of approval: Fall 2012
---
Rebar's hand-breaded chicken tenders truly blew my mind. Couple these with their pour-your-own beer wall or the adult milkshakes, and you're in for a real treat. Rebar rethought the chicken finger and it worked. Big time. 
Received Nate's chicken finger stamp of approval: Summer 2017
---
Every day is a good day for chicken fingers, but today is just that much better. Happy eating, world.