Now that it's August – or, as I like to call it, "Sixth March" – I'd wager that you probably have eaten at Indy's drive-in restaurants and taken scenic routes to some of the city's best outdoor spaces. Maybe you've even watched a classic at one of Indy's four drive-in theaters. TLDR; You take safety seriously but want to try something new after five months of social distancing. Enter the Indianapolis Zoo, stage right. Their new experience, Tembo Camp, is all about close encounters.
"Tembo" is Swahili for "elephant," the focus of – wait for it – Tembo Camp. Presented by Central Indiana Honda Dealers, this new space gives the elephants more room to roam and provides guests with a firsthand look at how the Indianapolis Zoo cares for its six-elephant herd. You can watch keepers give baths, foot treatments, and other animal care demonstrations. You may even get to touch one these majestic creatures. But here's the really fun part: You can sign up to bathe an elephant yourself! That's right – Tembo Camp gives you the opportunity to scrub down one of the world's largest land animals.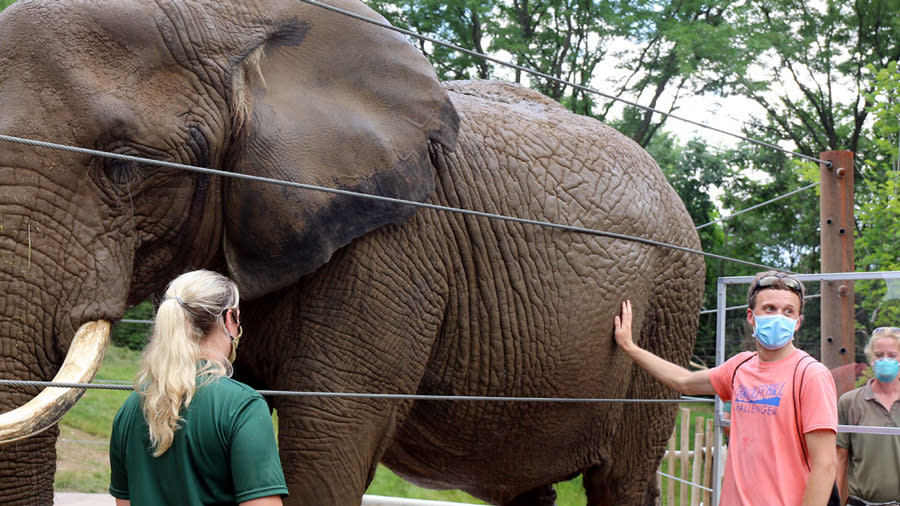 Until I started writing this article, I had no idea I wanted to give an elephant a bath. But here we are – I want to give an elephant a bath. I want you to consider taking advantage of the opportunity, too. I have a feeling the elephant bathing experience at the Indianapolis Zoo will make your day, month, visit, or vacation unforgettable. (We already know the elephant isn't going to forget.)
If interested, you can reserve your experience online. Each session can accommodate up to four people, but each participant must be at least six years old. (Keep in mind that children under the age of 14 must be accompanied by an adult.) The cost per session includes general admission. So after you've finished scrubbing down your pachyderm, explore the zoo's lush grounds and say "hello" to the 230+ species that live there.
If the thought of meeting Sophi (the herd's matriarch) or even Tombi (the sweet, quiet one) is intimidating, know this: your visit supports the zoo's global mission and helps protect Africa's wild elephants from habitat loss and poaching. Sadly, a worldwide average of 96 elephants are killed each day for their ivory tusks. It's tragic that these gentle giants are classified as "vulnerable," especially since they are highly intelligent, average 14,000 pounds, and are – despite their size – cute. (Admit it; elephant trunks are both useful and beautiful.)
In addition to its global mission, the Indianapolis Zoo is renowned for its elephant reproduction research program. Fun fact: The first and second African elephants in the world to be conceived and successfully born via artificial insemination were at the Indianapolis Zoo. Funner fact: The first and second African elephants in the world to give birth via artificial insemination are still at the zoo! (Their names are Kubwa and Ivory, respectively.) To see these beautiful creatures up close, register for an elephant bathing experience. Even though we're still socially distancing, an activity like this one is sure to bring us together.