Meet the content creators behind the Instagram @TwoMidwestFoodies - Brittany King and David Wallace. Follow along for an inside glance into Brittany and Dave's story, and leave with your culinary curiosity on a new level.
---

What inspired you to begin the Instagram account @TwoMidwestFoodies?
DAVE: I moved to Indy from St. Louis in 2018. Brittany and I were always the friends that our friend group would ask for dining recommendations, since we were always going to restaurants and trying new meals. So, we set up an Instagram page and we've been posting ever since. It's been fun to get our preferences out there for everyone to see.
BRITTANY: [Laughs] I would get annoyed with our friends and family asking us constantly where they should eat around the Midwest. So, eventually, I just started sending them to the Instagram page directly!
How long have you been the creators of the account, and what have you learned about the Midwest's – especially Indy's – food scene?
DAVE: We've traveled and been all over Midwest, and we've seen so many restaurants try so many different meals. But when we visit a new city, we like living like a local and really getting to know where the residents like to eat.
BRITTANY: One thing we've definitely learned is that the options are truly limitless. The Midwest sometimes gets a bad rep in dining. But truly, there are Michelin Star restaurants, James Beard Award-winning chefs. And to see that happen here in Indy… it was great to see all the city had to offer. Also, Indy specifically is hyper-local; the residents support local in a way that I've never experienced anywhere else.
You've been the authors of a couple of online guides on dining at Black-owned businesses in Indy. How have those guides come about, and what has been the most rewarding part about uplifting these local, Black-owned businesses?
DAVE: The Apple Maps Dining Black in Indy guide was originally sponsored by Eat Okra, an app similar to Yelp that focuses primarily on Black-owned businesses. Eat Okra is a pretty large platform that had always provided coverage for large cities, where a lot of Black people live, such as New York, LA, and the Deep South. They really hadn't had that focus on the Midwest until they reached out to us here in Indianapolis. I think we were just really in tune with the market and a good fit for their vision.
BRITTANY: So, Apple approached them, and we were lucky enough to be selected as the content creators for the guide. I actually worked with Eat Okra when they were just beginning; I was freelancing, and they were a part of a journalism project I was working on. It's been great to see where they started and where they are now.
The Dining Black in Indy guide we have on our Instagram page came about after we realized how many people were asking about Black-owned businesses to support in the city. We were getting the same question over and over again in our DMs, so we figured why not put it somewhere where it can get some legs? People always want to know what we're ordering too, especially because some restaurants… their menus can be a little overwhelming. Our Instagram guide allowed us to say a bit more, share what we order, and include a few restaurants that didn't make it on the Apple Maps guide.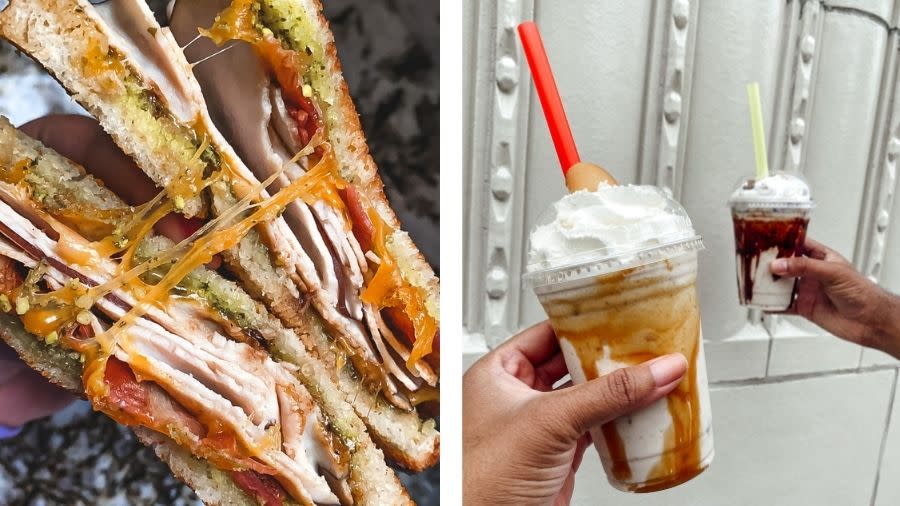 How can an Indy visitor interact with your content and the Dining Black in Indy guides?
DAVE: I would say the easiest way would be to go to TwoMidwestFoodies.com, and from there you can head to Instagram, Twitter, TikTok, and so on. That's a great way to connect with us and see what we're creating. It's a good way to interact with us, and it will send you to the Dining Black in Indy guide, the Apple Maps guide, wherever we are on the internet.
Any big plans for @TwoMidwestFoodies in the future?
BRITTANY: We recently moved to Chicago. We're definitely trying to explore the city more. We're keeping Indy in our minds however, and will be visiting around mid-June to head back to some of our favorite restaurants in the city.
Since we started @TwoMidwestFoodies, we've realized we have platform and people trust us with that content.We're starting to think through talking about topics we really care about, such as buying from Black-owned businesses, food insecurity, things like that. It's been a passion of mine, and I'm starting to brainstorm ways to share those conversations on a larger scale and get more people involved.
It's one thing to support local, but maybe we can take that a step further. How do you make these things a habit? How do you support these businesses, brands and organizations that makes a difference long term?