From rappers to restaurateurs, the Drink Culture Podcast has their finger on the pulse of Indianapolis living.
This local podcast makes it easy for Indy residents to remain tapped into their city, regularly sharing the stories of entrepreneurs, thought leaders and creators on the show. Hosted by Fabian Rodriguez, Jared Byzcko and Hayley Brown, the weekly podcast welcomes local movers and shakers onto the program, engaging them in a conversation that's both casual and thought provoking. In the end, all of this comes back to the Drink Culture Podcast's mission, which is to inspire and strengthen communities through storytelling.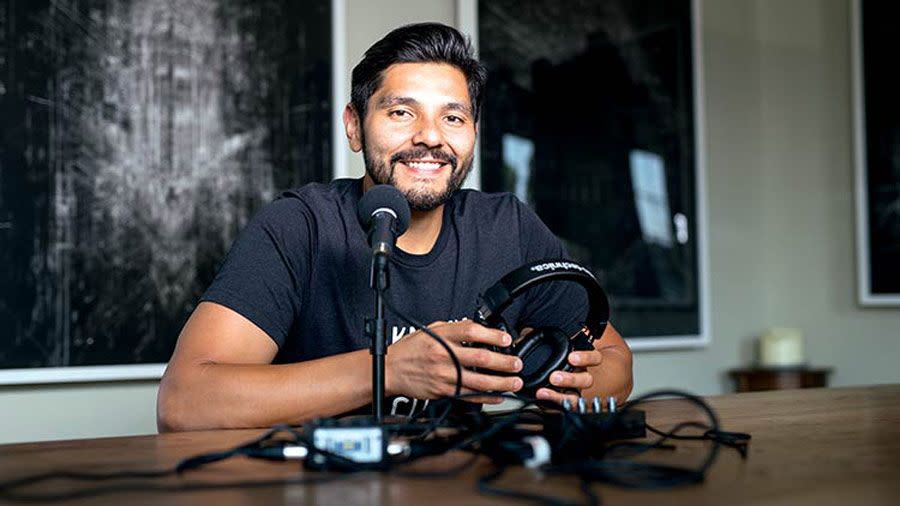 Fabian Rodriguez, co-creator and host of Drink Culture
The Ins and Outs of Drink Culture
The Name: Early on, the Drink Culture Podcast featured Fabian Rodriguez and Jared Byzcko discussing their loves for beer and bourbon, hence the name Drink Culture. Eventually, however, the pair of podcast founders ran out of drink-related topics to talk about, which led them down their current path. Rodriguez now compares the Drink Culture Podcast to How I Built This with Guy Raz, except that Drink Culture is specifically hyperlocal to Indianapolis.
Format: The Drink Culture Podcast takes the form of long conversations between the podcast hosts and their guests. "We've always had this longer format that's allowed us to really dive deep into getting personal with people, which really allows that storytelling to happen," Rodriguez says. When these interviews are done in person, it's also become tradition that the hosts and their guests partake in drinks while chatting. "One of the aspects that kind of stayed with us because of the name Drink Culture was we would always share a drink with our guest," says Rodriguez, adding that this hasn't been able to happen as of late due to the coronavirus pandemic. "We highlight local businesses through that as well, where we'll taste a couple different beers, spirits or wines, and just have a drink or two while we're having this conversation."
Guests: The Drink Culture Podcast regularly welcomes entrepreneurs, thought leaders and creators on to the show. Some recent guests include local rapper Sirius Blvck, Sun King Brewing founders Clay Robinson and Dave Colt, Chris Lafave of the Kurt Vonnegut Museum and Library, and Michael Huber of Indy Chamber, among several others. Many of the guests overlap on Visit Indy's collection of Indy Like a Local; you can hear these featured individuals' Drink Culture episodes here. 
Streaming Info: You can stream the Drink Culture Podcast directly from the podcast's website, or via any of your other favorite podcast streaming sites. Full video episodes of the Drink Culture Podcast can also be found via the show's YouTube page.