A slow-cooking pot of stew, homemade chili, and broths all scream wintertime. This season, it's even more important to support local businesses and creators, so why not start in the kitchen?
No need to stroll down to your big box bookstore for a cookbook when the Indianapolis community has your back. A handful of Indy locals have stirred the pot a few times when it comes to crafting food your heart and soul desire. Check out these handfuls of cookbooks pinned by and made for the community.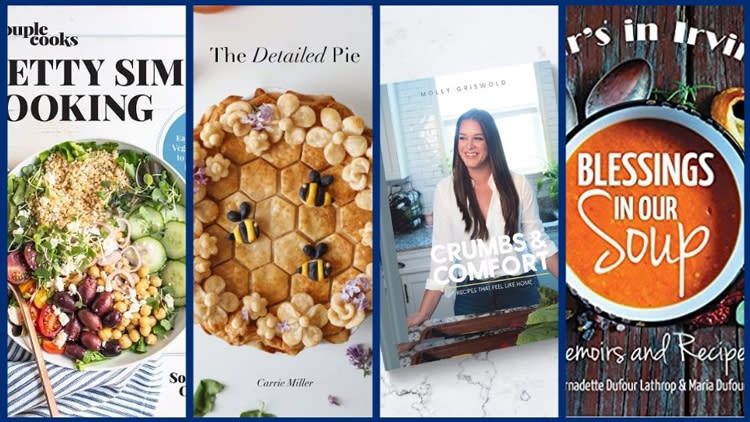 Content creators and authors Sonja and Alex Overhiser are the dynamic duos behind this highly-praised cookbook. With more than 100 vegetarian recipes (including 75 vegan and 90 gluten-free options), you and your family are bound to find more than a few tasty recipes to sling in the kitchen. It also doesn't hurt that this power couple's book has been featured by Epicurious and Food & Wine.
Take their cookbook home by ordering here.
Relive sweet memories of a longtime Irvington family-owned cafe when you turn the pages of "Blessings in Our Soup: Memoirs and Recipes from Dufour's in Irvington." Written by two of the Dufour siblings, Bernadette and Maria, you'll get an inside peek into the family's history and learn mouthwatering recipes that kept Indy locals and visitors coming back to Dufour's for nearly 20 years.
Make this cookbook a staple in your home and order here.
If seasonal fruits and vegetables are a regular on your dinner plate, you'll want to take a look at "A Midwest Gardener's Cookbook." Not only does author Marian K. Towne share fresh recipes with you, but she also takes you down a nutritious path of learning 94 locally grown fruits, vegetables, and herbs. After reading this book, your tastebuds will appreciate each season's offerings that much more.
Find this original cookbook and order here.
Because after all, home is where the heart is. That's the motto behind Indy local Molly Griswold's cookbook, featuring 45 recipes reminiscent of her Circle City home life. Decadent comfort foods like meatloaf and donuts fit in with more refined cuisines including lamp chops and scones. Molly and her husband, Andrew, love getting out and about in Indy, but when it comes to dining in, the kitchen table is their go-to destination. And with Molly's recipes, yours will be, too. 
Explore this cookbook and order here.
For the DIY-er in all of us, there's a cookbook that will give you the best tips for making that homemade pie of your dreams. Circle City resident Carrie Miller has got your back with "The Detailed Pie," featuring 25 pie recipes of varying styles and traditions. Her talents are beyond measure, so much so, that Food Network invited her to compete on a one-off baking competition and show that aired last year.  
Get to know Carrie's pies by ordering here.
Central Indiana resident Beth Chappo knows how to eat healthy and keep it timely. When she launched #thatbowllife after having her son Calvin, she was looking for wholesome, nutritious recipes to create during her busy schedule. Now, she has inspired hundreds of DIY chefs to create colorful, healthy meals from home.
Learn more by ordering here.
Local restauranteur Mark LaFay created "Charcuterie For Dummies" in July, 2020. This all-in-one guide for charcuterie beginners is inspired from his Indy restuarnt Old Major. It presents easy tips from finding the right gear to learning to prepare the meats, beer and wine pairings, and taking the presentation to the next level. 
Step up your charcuterie game by ordering here.