The Best Four Days in Gaming is here, which means visitors and residents alike will enjoy dozens of food trucks line up on Georgia Street, South Street, and Capitol Ave to give hungry gamers and Indy natives a taste of our culinary innovations.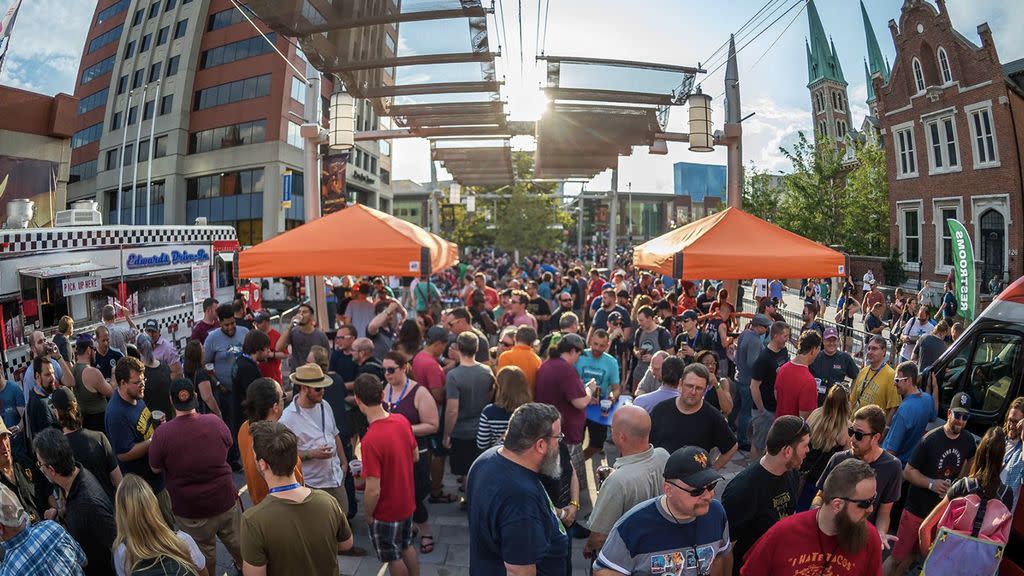 This is one of my favorite aspects of Gen Con because the food truck lines will be a mix of business casual and Gen Con casual - aka cosplay, game wear, and "I'm here to play" wear. One thing bonds us all together, and that's food.
Starting Wednesday, August 16 and ending on Sunday, August 19, dozens of food trucks will park on Georgia Street and Capitol Ave on a rotating basis. There's a lunch crowd and an evening crowd to give a variety of options throughout the four-day event. This area is open to the public and you do not need a Gen Con badge to browse or dine at the food trucks, though you will need a badge if you want to step inside the convention center.
Thursday, August 16 from 11 am - 4 pm
Legendary Kitchen
Grub House
Caplinger's Fresh Catch
Neighborhood Pizza
Box Burger
Ooh Wee Chicken
Sweet Talk Me
Wild Boar BBQ
5280 Bistro
Aw'sum Snowball
Gobble Gobble Food Truck
Ricker's Burritos
Big Ron's Bistro
Firehouse Cook
General American Donut Company
Dancing Donut
Da Blue Lagoon
Edwards Dashboard Diner
Ali Baba
Biscuits Cafe Mobile
Thursday, August 17 from 5- 11 pm
Chomp'z
Citizens Hash
Dogs Most Wanted
Rolling Asian Delight
Der Pretzel Wagen
Far Out Fred's
Soul Sista
Two Chicks Whisky Business
T Baby's
Johnson's BBQ (Big Smokie)
Wild Boar BBQ
Poccadio
Pierogi Love
Bacon Station
Serendipity
Gigi's Cupcakes
Muay Thai
Duos
Talkin Turkey
Twisted Sicilian
---
Friday, August 18 from 11 am - 4 pm
Legendary Kitchen
Gigi's Cupcakes
Edwards Dashboard Diner
Greiner's Subs
General American Donut Company
Johnson's BBQ
Two Chicks Whisky Business
Chomp'z
Far Out Fred's
Flying Cupcake
Gaucho's Fire
Duos
Poccadio
Caplinger's Fresh Catch
Dhaba Indy
Which Wich
Soul Sista
Da Blue Lagoon
Tacos Without Borders
Droopy's BBQ
Friday, August 18 from 5 - 11 pm
Johnson's BBQ
Bacon Station
Wyliepalooza Ice Cream Emporium
Midway Munchies
Simply Divine Cupcakes
Las Tortugas
Pink Walrus
Gigi's Cupcakes
Gobble Gobble Food Truck
Sweet Talk Me
Groovy Guys Fries
Muay Thai
Pierogi Love
Grub House
Wild Boar BBQ
High 5 Lunch
Rolling Asian Delight
Mrs G's Taste of Home
Citizens Hash
Lucky Louie's Sausage & Hot Dogs
 
---
Saturday, August 19 from 11 am - 4 pm
Duos
Wild Boar BBQ
Johnson's BBQ
Ooh Wee Chicken
Greiner's Subs
Box Burger
Serendipity (Truck and Trailer)
Lucky Louie's Sausage & Hot Dogs
Groovy Guys Fries
Neighborhood Pizza
Two Chicks Whisky Business
Muay Thai
MJ's Backyard BBQ
Ali Baba
Simply Divine Cupcakes
Gaucho's Fire
Which Wich
Droopy's BBQ
Caplinger's Fresh Catch
Saturday, August 19 from 5 - 11 pm
Citizens Hash
The Big Cheeze
Gobble Gobble Food Truck
Grub House
Tacos Without Borders
Mrs G's Taste of Home
Flying Cupcake
Dogs Most Wanted
Midway Munchies
Da Blue Lagoon
Wild Boar BBQ
Pierogi Love
Pink Walrus
Der Pretzel Wagen
Edwards Dashboard Diner
High 5 Lunch
Dancing Donut
Chomp'z
Johnson's BBQ
Far Out Fred's
---
Sunday, August 20 from 11 am  5 pm
Talkin Turkey
Wild Boar BBQ
Neighborhood Pizza
Dancing Donut
Ricker's Burritos
Far Out Fred's
Droopy's BBQ
Flying Cupcake
Ali Baba
Serendipity
Simply Divine Cupcakes
Da Blue Lagoon
Las Tortugas
Tacos Without Borders
Greiner's Subs
Der Pretzel Wagen
T Baby's
Johnson's BBQ
Pierogi Love