The Fountain Square Music Festival (FSMF) kicks off this Friday in one of Indy's most-happening neighborhoods. A vibrant place boasting a number of music venues, Fountain Square is the perfect place to celebrate the growth of music in Indy. You'll find a blend of national and local talent including the Thurston Moore Group, Andrew W.K., Surfer Blood and Andy D. Indy favorite DJ Gabby Love will also make an appearance.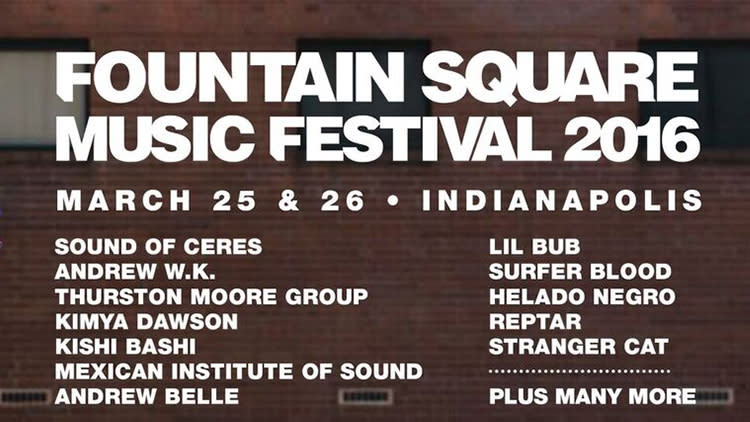 Each evening, a series of concerts will take place in various Fountain Square venues including:
Each venue will have its own curated stage and will provide music from 7 to 10:30 pm. After 10:30 pm, the more intimate venues will close and the headline performance at Fountain Square Theatre begins.
Looking for more things to do? The Fountain Square Music Festival also offers:
A family day of fun from Girls Rock! Indianapolis on March 26 from 10 am to 1 pm at the Fountain Square Theatre. Families will enjoy games and music robots, as well as have the opportunity to make musical instruments
WFYI Small Studio Sessions will take place on March 26 from 1 pm to 3 pm at the Hi-Fi and will feature indie musicians playing stripped-down, acoustic sets in the WFYI studio. 
An all-ages stage at the Hoosier Dome on the both days
Free music stages at Fountain Square Brewing Co., Thunderbird (jazz), New Day Craft (folk), and Kuma's Corner Indianapolis (metal) 
The full two days of activities may be found here.
You'll also do good this weekend. The Fountain Square Music Festival operates as a non-profit music fest that gives back to the neighborhood and local community by donating 50 percent of all net proceeds evenly amongst Musical Family Tree & Girls Rock Inc.
To purchase tickets, visit here. Single day passes are $37, two passes are $65 and VIP passes plus swag are $105.