Indy author Kurt Vonnegut may best be remembered for writing famous novels like Breakfast of Champions, Cat's Cradle and Slaughterhouse-Five. Those more familiar with the author, however, know he also took pride in being a Hoosier.
"I myself find that I trust my own writing most, and others seem to trust it most, too, when I sound most like a person from Indianapolis, which is what I am," Vonnegut famously wrote in a 1985 essay titled "How to Write with Style."
Located at the intersection of historic Indiana Avenue and Dr. Martin Luther King, Jr. Street, the Kurt Vonnegut Museum and Library (KVML) serves as a hometown shrine to the late, great writer, displaying numerous Vonnegut-related artifacts in a cozy brick-and-mortar locale. Much like Vonnegut himself, the KVML is overflowing with unabashed expression and playful humor, making it a fun place to visit no matter your familiarity with the Indy author's work.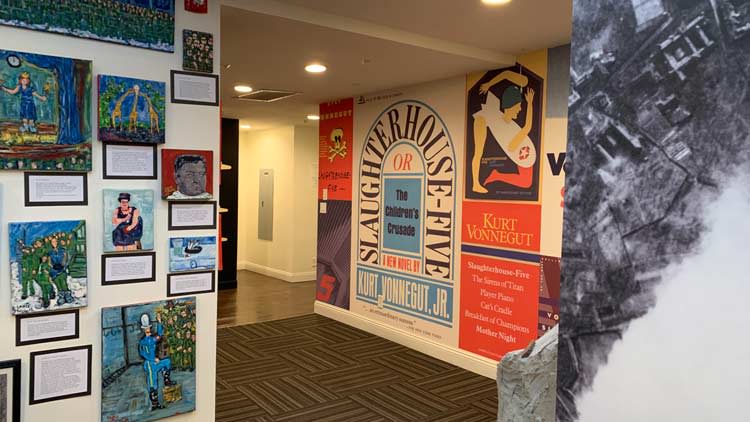 I happen to make my way to the KVML on a Friday afternoon, where I meet up with Chris Lafave. In addition to being a curator with the KVML, Lafave also leads a tour of the space every hour between 10 am and 3 pm. Tours are $12 for adults, $7 for students and $11 for seniors, with various other levels available on the KVML website.
"My tour is definitely unstuck in time, just like Billy Pilgrim," says Lafave as we begin to explore the KVML.
As its name suggests, the KVML also serves as a library, stocking its shelves with books that reflect Vonnegut's interests and influences.
"Members are able to check out books one at a time indefinitely," explains Lafave of the KVML's library arm. "We don't charge late fees. We kind of based that policy off of Yats allowing people to pay with IOU's."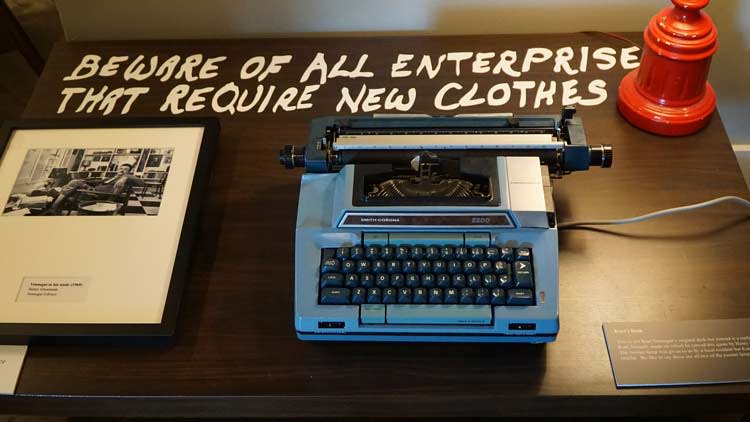 To close out our tour, Lafave takes me up to the building's top floor, where the Slaughterhouse-Five exhibit is located. In a glass case just outside the elevator, a collection of items are on display, all of which relating to Vonnegut's time in World War II. In addition to photos and an unopened war letter, the case holds Vonnegut's Purple Heart as well as a Nazi sword that he walked off with from the war.
In the Slaughterhouse-Five exhibit, there are also a multitude of paintings by LA artist Lance Miccio depicting different scenes from Vonnegut's famed novel. While taking a look at these, Lafave and I sit down to debrief after our tour. I ask how all of this magic was made possible.
"We exist because of a lot of people deciding this was important to them," says Lafave, adding that Vonnegut's children are currently on the KVML board. "We survive on memberships, admission, our gift shop, donations and grants, and the memberships are a big part of that."
As Lafave and I wrap up our conversation on Vonnegut and his legacy, there's one final thing he says that really hits home. "I don't know that Vonnegut created a ton of fair-weather fans," Lafave says. "You either understand his sense of humor or you don't. But so many of those who gave him a shot found comfort and understanding in his works and we're thankful for that.  He helped a lot of people feel less alone."
The Kurt Vonnegut Library and Museum is located at 543 Indiana Avenue. To learn more about upcoming events, membership options and more, be sure to visit VonnegutLibrary.org.