Beneath Whistler Plaza is a network of brick arches known as "the catacombs." While they are crypt-like in appearance, the catacombs boast no bones. Rather, they are the remnants of Tomlinson Hall, a grand building that once stood next to the Indianapolis City Market. Today, you can tour the catacombs, or catch one of these underground events.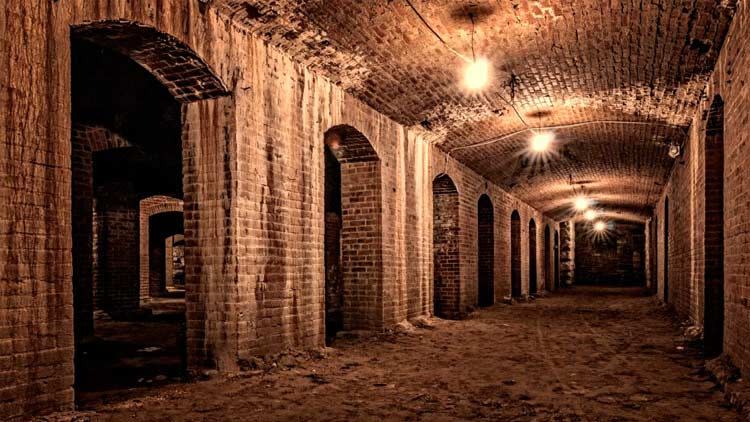 This 21-and-older event features Indiana craft beer from Tomlinson Tap Room. What's more, the first 25 people through the door get a complimentary can of Sun King beer. So, sing your heart out in one of Indy's spookiest settings. (And try not to scare anyone when you go for the high notes.) Karaoke starts at 6 pm, Oct. 23.
Are you brave enough to find your center while things go bump in the night? Then join instructor Katy Newton on Oct. 27 for yoga in the catacombs. The one-hour class will feature spine-tingling music from Christopher Dance. Attendees are also encouraged to wear yoga-friendly Halloween costumes! Tickets are $15 each and are likely to sell out.
Ain't afraid of no ghosts? Sign up for a paranormal catacombs tour! Anyone ages 12-and-up can join the 25-minute tour, which experienced ghost hunters will lead. Paranormal equipment also will be used for a live investigation during each tour. The tours cost $10 per person and will be held Oct. 18, 25, 26, and 30. Be sure to snag your tickets now; with each tour limited to 30 individuals, they're bound to sell out.
Plan on visiting the catacombs this October? Keep in mind that this undeveloped historic asset is not accessible for all guests. Individuals must use a staircase to descend to the catacombs. And since they feature a rough, uneven dirt floor, its best to don a pair of closed-toe shoes.