Kick-off your holiday season on Friday, November 24, and visit Monument Circle for the Downtown Indy, Inc. Circle of Lights® presented by IBEW 481. The festive lighting ceremony celebrates its 61st anniversary and remains Indy's most time-honored holiday tradition. Gather on the Circle starting at 6 pm for live music, holiday activations, festive food and beverages, and more while awaiting the arrival of Santa and the "flip of the switch" shortly before 7 pm. Talent for the evening's festivities include:
Musical acts chosen from the Tom Wood Talent Search, including Ephraim Owens from The Voice
Country singer-songwriter Clayton Anderson
MOIPEI singing trio – also an act in this year's AES Indiana Yuletide Celebration
The Soldiers and Sailors Monument will shine bright throughout the holiday season until January 12.
Comprised of 4,784 LED lights and 52 garland strands strung from each side, Circle of Lights® remains one of the top visual presentations in the country. Through five holiday-colored bulbs, Circle of Lights® pays tribute to a different branch of the United States Military: Green is Army, clear is Air Force, blue is Navy, yellow is Coast Guard, and red is Marines. At the Monument's base are 26 larger than life toy soldiers and sailors and 26 peppermint sticks to add to the holiday ambiance. Among all of the festive decor, Victory stands tall and proud as the "tree" topper.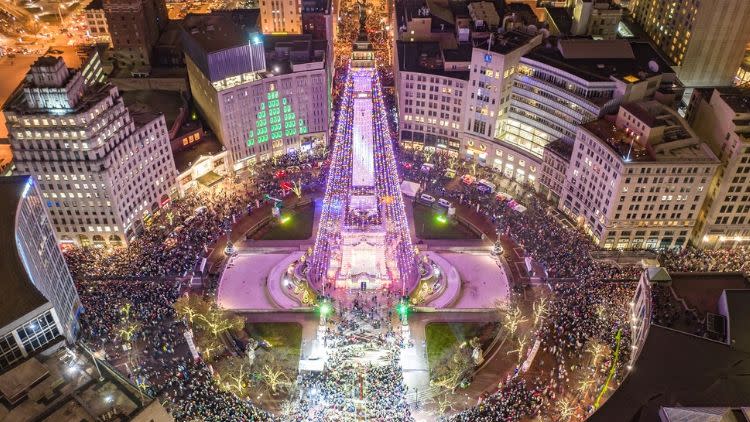 This monumental undertaking is made possible by IBEW 481, representing over 3,000 electrical workers across Central Indiana. Since the birth of Circle of Lights® in 1962, IBEW 481 has been the "boots on the ground" team responsible for maintenance, install, and teardown, dedicating approximately 1,750 hours to the event each year. To prepare the 284-foot-tall Monument for Circle of Lights®, a structure just 16 feet short of a football field, IBEW 481 union members volunteer their time and work diligently to secure each garland strand from top to bottom. This marks the 20th year for IBEW 481 to be the title sponsor of Circle of Lights®.