Ladies and gentleman, boys and girls! Please direct your attention to the newest exhibit at The Children's Museum: Circus—Starring YOU!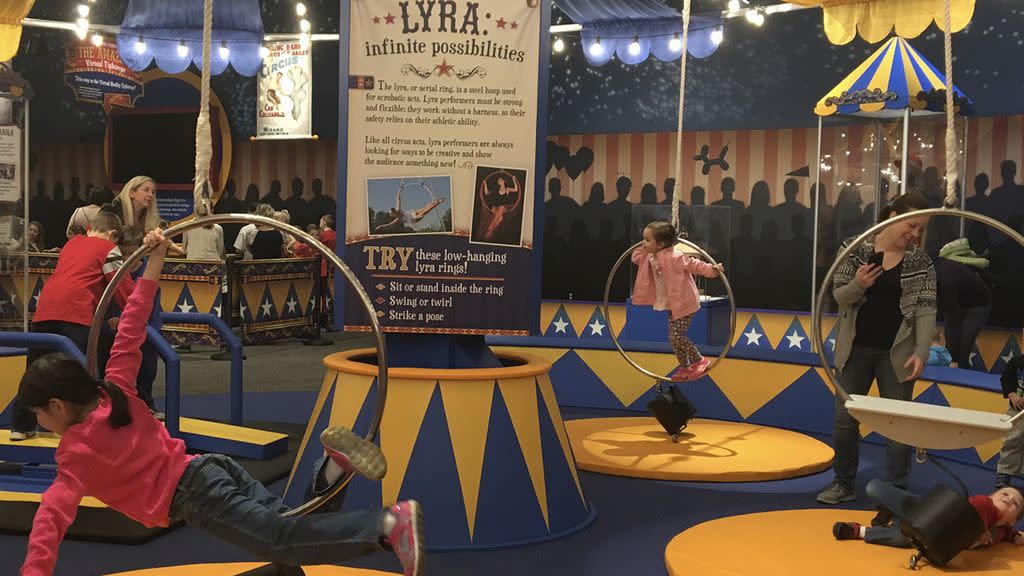 This colorful, highly interactive exhibit is filled with the sights, sounds, and even smells of some of the greatest shows on earth. Visitors can become a juggler, for example, pose for a photo as an acrobat or other circus star, and even train to be a circus performer on the rolla bolla, lyra ring, or roman ladders. The whole family can even hop in a "clown car!"
"Visiting the circus has been a family tradition for millions over the centuries," said Dr. Jeffrey H. Patchen, president and CEO of The Children's Museum. "Nowhere will you see such teamwork and talent that is passed from generation to generation."
The exhibit will explore the kinship that develops between traveling circus performers, and flipbooks will include photos of circus families like the Wallendas and Ringling brothers. Artifact display cases also will include printed programs from national circuses and carved pieces from real circus wagons.
"We want our visitors, which often consist of multiple generations, to share those circus memories, create new memories, and practice teamwork and build confidence as they conquer circus skills together," Patchen said.
So, what else is there do at the new Circus - Starring YOU! exhibit? Why, knot tying, of course! Families can learn how to tie and secure knots like those used in real circus rigging. There also is a virtual reality tightrope where visitors can experience the thrill of the high wire and walk from one basket to the other. Families can create their own clown face with a face-painting touchscreen name, too. 
So, come one, come all! Circus - Starring YOU! is now open at The Children's Museum of Indianapolis. It will run through November 26.