Willard Scott – the Today Show's former weatherman and friend to many a centenarian – probably won't be on hand in a few weeks to wish Central Library a happy 100th birthday, but Indy folks will have plenty of entertainment to choose from when the beloved main hub of the city-county library system adds a third digit to its age.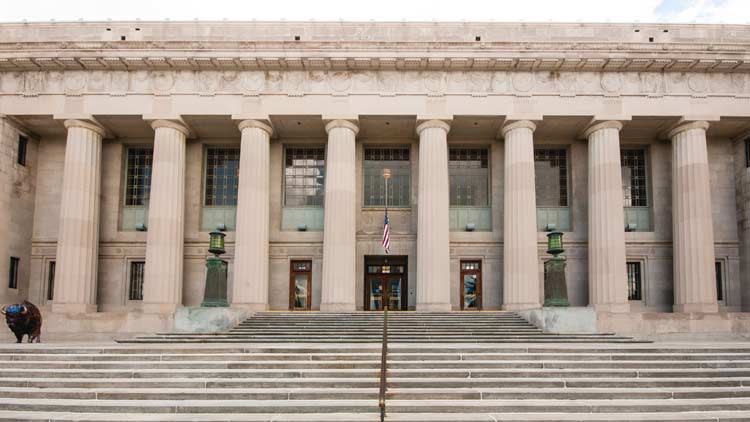 The free birthday celebration, which is open to the public, will take place from 11 am to 2 pm on October 7. Festivities include the opening of a 100-year-old time capsule, a performance by the Indianapolis Children's Choir, and music from a quintet from the Philharmonic Orchestra of Indianapolis. Individuals and families can also enjoy appearances by characters in historic costumes, special exhibitions, free parking in Central Library's garage, and, best of all, birthday cake.
If you can't make it to the centennial celebration, pop in to the Nina Mason Pulliam Indianapolis Special Collections Room (Level 6) on Sunday, September 24, at 2 pm to experience the Headlines of 1917. The presentation will feature Bill Beck and Dr. William McNiece, treasurer and president, respectively, of the Marion County Historical Society.
Fans of architecture can join a building tour on Saturday, September 30, at 11 am or 2 pm. The tour will highlight the many features of the original library envisioned by architect and industrial designer Paul Cret. Visitors can also experience the glass-and-steel addition that was designed by late architect Evans Woollen and added in 2007.
---
Other highlights include:
Sunday Afternoon Salon
Sunday, October 1 at 2 pm
Come peruse the past in the Nina Mason Pulliam Indianapolis Special Collections Room and learn about the life of poet James Whitcomb Riley, who donated the land upon which the library sits. Audience members can enjoy live music that celebrates the early 20th century, an exhibition of photographs and letters, and refreshments.
---
100 Years of Hauntings at Central Library
Thursday, October 5 at 6:30 pm
Hunker down in the Clowes Auditorium and hear tales of ghosts who wander the library after dark! Paranormal investigators will delight people of all ages with their stories about literature-loving apparitions.
---
For a complete list of events, please visit here or call Central Library at 317-275-4100. Connect on social by visiting Facebook, Instagram and/or Twitter.