If you've ever stepped foot inside Hinkle Fieldhouse on Butler University's campus, consider yourself a part of history. The atmosphere inside is old school, classic Indiana basketball, and if those walls could talk…oh, the stories they would tell. 
Hinkle Fieldhouse is one of the most iconic venues in college sports with rich history dating back 90 years. While serving as the permanent home for several Butler sports, over the years the venue has also functioned as a gathering place for presidential visits, military training, circuses, professional basketball games, high school basketball championships, and of course, the site where the final scenes of the classic movie Hoosiers were filmed. That should come as no surprise to you, as Hinkle is truly the quintessential basketball venue and Hoosiers, the model basketball movie. With a nod to hoops of the past and a look toward the future, Hinkle represents what Indiana basketball is all about.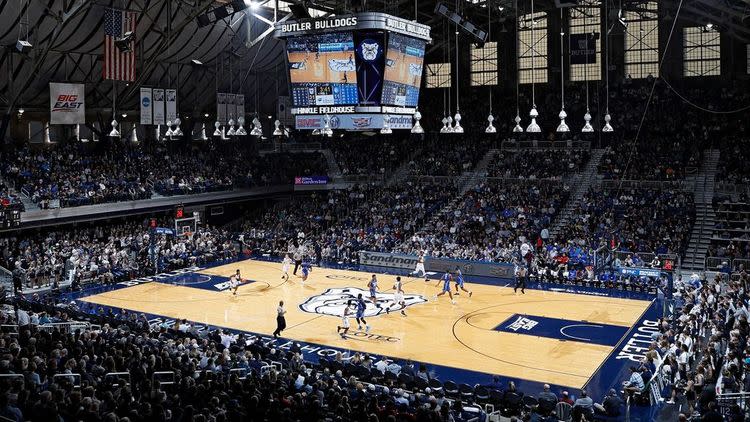 Indiana's basketball cathedral is crammed with decades of history. Stop by during the week for a self-guided tour or come in on Saturdays for a 'behind-the-scenes' peek at the arena. Take a few minutes to walk the concourse and check out the accolades, trophy cases, banners, and other memorabilia before stepping out and taking in where it all happens on the court. As you look up and down the rows of bleachers, you'll notice that there's not a single bad seat in the house. A National Historic Landmark since 1987, the fieldhouse is the only arena in the nation so recognized for its contribution to the game of basketball.
Pay attention next time you watch Hoosiers, and maybe it will inspire you to come out and see the place for yourself. Remember Bobby Plump – the young man who made 'the shot heard around the world'? Bobby still lives in Indy where he owns a restaurant called Plump's Last Shot – stocked with movie memorabilia and high school souvenirs. If you're lucky, you might stop by while Bobby is shooting hoops out behind the bar. Grab a tenderloin and pull up a seat – you won't want to leave.
The Bulldogs' recent success as a national powerhouse has certainly created a surge in popularity for the basketball program, the school, and the city of Indianapolis, but there always has been and always will be a little magic inside those walls. 
Fieldhouse hours:
Monday-Friday
8:30 am from 5 pm
Self-guided tour available
Spirit Shop open from 10 am - 4 pm
Enter through Gate 4
Saturdays
10 am from 2 pm (through August 18)
Free "behind-the-scenes" guided tour begins at 11 am
No registration required
Self-guided tour available
Spirit Shop open from 10 am - 2 pm
Free parking is available in the Fieldhouse lot