Art Dish, held at the Harrison Center for the Arts, celebrates the unique and exciting culture of Indy. Occuring once a month in the center's Harrison Gallery, the evening event includes a meal crafted by one of Indy's premier chefs, fine wine pairings, and a conversation with a local artist exhibiting in the gallery.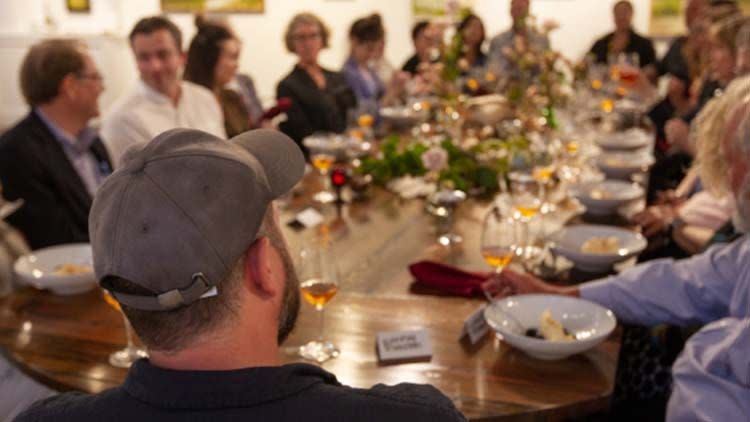 The centerpiece of the evening is the table. Built from hundred-year-old lumber pulled during a building renovation, the table descends from the ceiling as an exquisite presentation before the evening's meal begins. According to the Harrison Center's executive director, Joanna Taft, the table took about a year and a half to create, but its function changes the exhibit space into a performance space. "We were asking, 'How can we build community with this table? How can we bring patrons to it?'" she said.
The result was Art Dish, which became an experience incorporating sights, sounds, smell, and taste in intriguing combinations. "During Art Dish, we're using all of our senses and experiencing different art forms while having a conversation," Taft said. These conversations have sparked new interests in the city's art and culture as well as how the center helps facilitate that culture.
People seeking a new experience, and a space to try new things, would find Art Dish particularly enticing. "It's a relaxed evening that is beautiful and interesting," Taft shared. "It's a unique opportunity to engage with your community."
The schedule below shows the 2019 Art Dish events not already sold out (some events are still awaiting their artists). Ticket information can be found on the center's website.
June 17 (Artist: Benny Sanders)
July 15 (Artist: Abi Ogle)
August 12 (TBD)
September 16 (TBD)
October 14 (Artist: Alicia Zanoni)