More than ever before, the hype surrounding the 100th running of the Indianapolis 500 is all-consuming in the capital city. It's shadow looms so large that one might overlook another signature sporting event the following weekend. On Saturday, June 4, a different kind of competition takes place on the lawn of the Benjamin Harrison Presidential Site. Instead of race suits the competitiors will dress in all-white finery. The frenetic pace of the oval is replaced with a blatantly casual pace. The winners milk is replaced with cold Sun King beer for all. Still, one winners legend will live in immortality. Or, at least for a few days.
Enough with the race parallels. You're invited to participate in the 22nd annual Wicket World of Croquet championship. This annual event will bring together 54 teams of two to compete in either the Competitive or Sun King Leisure Tournament. So, pick your poison. If you're a natural-born competitor, opt for the former. If you're more into the fashion, food, and beer I would recommend the latter. The tournament is nearly sold out so if you are interested in playing you must act quickly!
Want to sample the event? Buy a porch party ticket and you can partake in the festivities without the pressure to compete. Adorn yourself in white, enjoy lunch from Foundry Provisions, crepes from Three Days in Paris, beer from Sun King Brewery, wine from Rettig Hill Winery, and more. There will be activities to keep you entertained, and you can observe the action on the lawn. After the first round, you'll also have the opportunity for recreational play and lessons. All of this for the very low price of $30.
REGISTER NOW for Team or Porch Party Tickets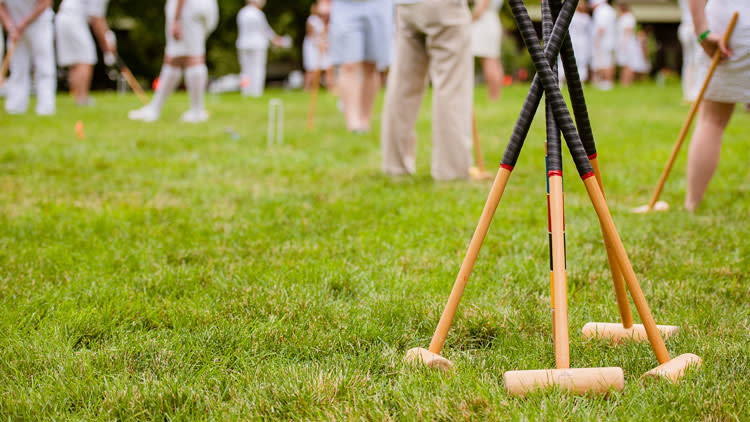 Your registration not only guarantees a good time, but also guarantees that Indiana students have access to the Benjamin Harrison Presidential Site. More than 13,000 children visit the Presidential Site for programs and tours each year.
Take a break from the noise of May and ease into summer with a wicket good day of croquet for a good cause.