Who is Cole?
Cole, a downtown dweller, plays shortstop for the Indianapolis Indians.
---
Q. How did you get started in baseball?
I always played growing up. My grandpa and my dad introduced me to the game when I was three. By the time I was five, I was playing on a travel ball team. I kept being good enough at it to keep playing. Right after high school, I was drafted by the Pittsburgh Pirates in the first round. I was called up in April for a couple months. It's been great.   
Q. Sports are central to Indy's culture and pride. What do you think is unique about the Indianapolis Indians fan base?
It's pretty sweet, because people here really care about sports. When I first moved here, it was basketball season. Another player, Mitch Keller, and I went to a Pacers game. It was my first day in Indy, and I could see that people care about the teams here. People have a great sense of pride in the Colts – and Andrew Luck! But to be here and play on the Indians is great. We get crowds every night, and the fans are fantastic. Sports are nothing without fans.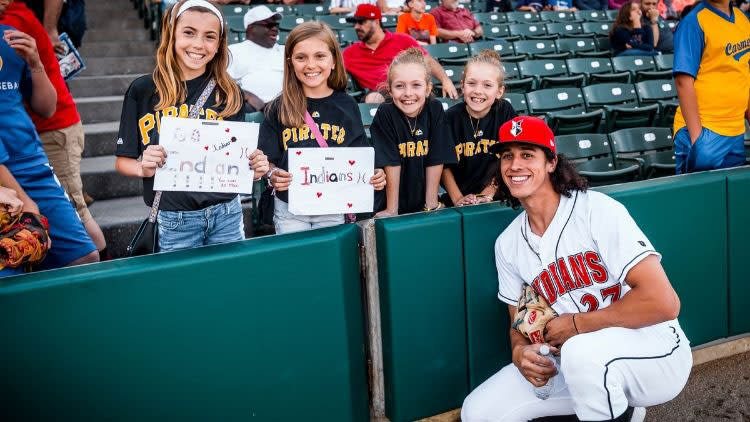 Image credit: Indianapolis Indians / Austin Friedline
Q. Why do you think people enjoy coming to Indians games?
Part of it is just the tradition – it's summer, and everyone has heard of the Indy Indians. People gravitate toward Victory Field, especially since we have cool promotions and fireworks and stuff. You get to come and watch baseball at a really beautiful park.
Q. You moved to Indianapolis from Phoenix. How would you compare the two?  
Phoenix is very spread out. Everything seems so vast. Indy is more of a hub. It feels like a big small city, with a lot going on in a smaller area. I live downtown, play downtown, and eat downtown.
Q. Is there a particular part of downtown where you find yourself spending a lot of time?  
I go to Garden Table for breakfast pretty much every day. I'm on a juice kick right now. The Mass Ave area is really cool and is a really good places to eat all the time. I'm always finding new places to check out.
Q. Do you have a favorite dining spot or watering hole?
I like Bakersfield; they have really good tacos. The Eagle is a go-to, too. But after a game, I usually go out with my teammates and find a place to hang out.
Q. When you're hosting out-of-town guests, where do you take them for an authentic Indy experience?
Definitely take them to an Indians game! And whenever someone from my family comes, we go to Kilroy's after the game and hang out. That's one of my regular spots.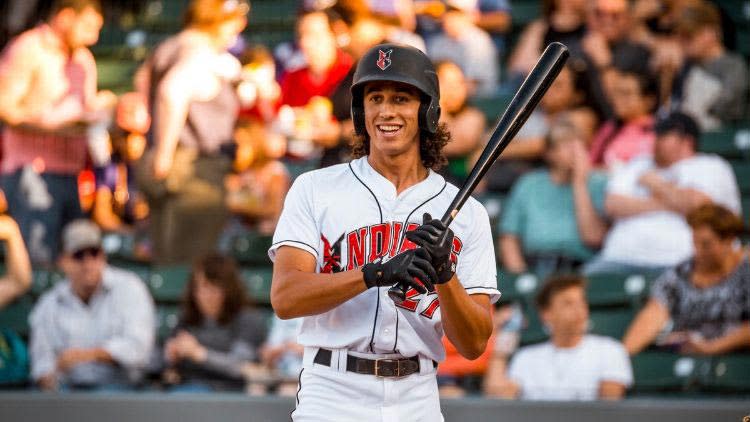 Image credit: Indianapolis Indians / Austin Friedline
Q. As a resident of downtown, how do you like to get around?
I walk around sometimes after games. I just leave my car at the stadium and walk or scooter around downtown. I really like to use Bird or Lime along the canal. If you see some guy with crazy hair on a scooter, it's probably me.
Q. What would be your ideal free day in Indianapolis?
I just had one! We had a day game, so after that, I went to the movie theater downtown and watched two movies by myself. 
Image credit: Indianapolis Indians / Austin Friedline