Free to the public, each of these events will include thought leadership and conversations that will provide in-depth insights on critical issues and opportunities in college athletics. The University Speaker Series will make stops at Butler University, Indiana University, the University of Notre Dame and Purdue University, and will include topics ranging from culture and diversity in athletics to student-athlete safety.
"Through these important conversations, attendees will have the chance to connect with leaders in collegiate athletics, both past and present," said Mark Howell, board chair of the 2022 Indianapolis Host Committee. "As we gear up for national championship weekend here in Indy, this series will provide a forum for important discussions on the most important issues in college athletics and allow for the sharing of unique perspectives from subject matter experts."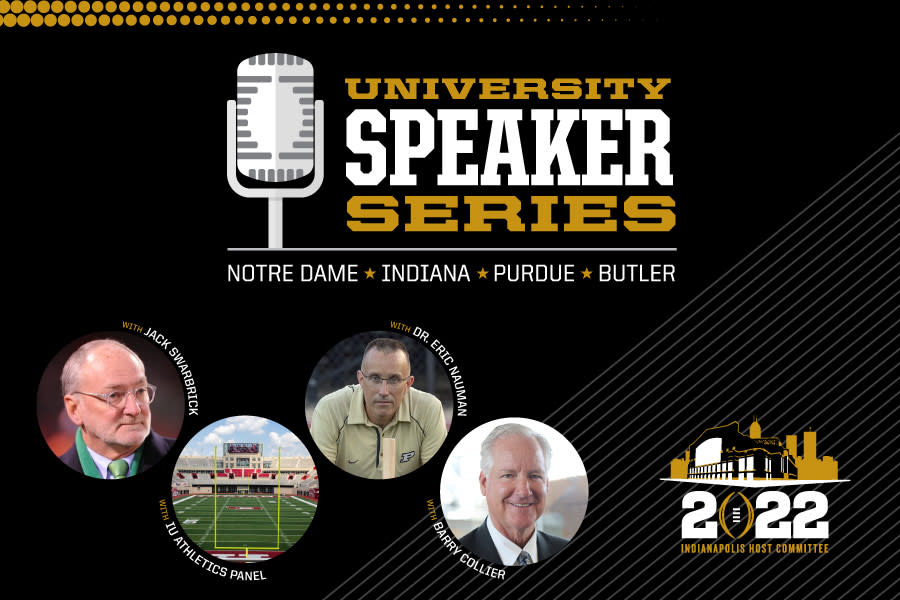 University of Notre Dame
Location: Jordan Hall of Science 
Topic: Celebrating Culture & Diversity in Athletics 
Keynote Speaker: Jack Swarbrick, Director of Athletics, University of Notre Dame 
Date: Saturday, October 23, 12:30 p.m.
---
Indiana University
Location: Henke Hall of Champions in IU Memorial Stadium 
Topic: Pioneering Women in Athletics 
Panelists:  
Courtney Cronin, Minnesota Vikings Reporter, ESPN
Lilly King, Olympic Swimmer
Jessica Parratto, Olympic Diver
Teri Moren, IU Women's Basketball Head Coach
Date: Wednesday, November 3, 6:00 p.m.
---
Purdue University
Location: Shively Club at the Pavilion at Ross Ade Stadium 
Topic: Engineering in Sports – Breakthroughs in Biomechanics 
Keynote Speaker: Dr. Eric Nauman, Professor of Mechanical Engineering, Purdue University 
When: Thursday, November 4, 4:00 p.m.
---
Butler University
Location: Clowes Hall 
Topic: The Business of Athletics 
Keynote Speaker: Barry Collier, Vice President / Director of Athletics, Butler University 
Date: Wednesday, November 17, 5:30 p.m.
---
Both in-person and virtual tickets are available online starting today. Additional information and links to register to attend these free events can be found here.
The University Speaker Series will not only build awareness for the 2022 College Football Playoff National Championship, but also affirm the role Indiana universities are playing in developing athletes, creating exceptional athletic programs and putting Indiana at the forefront of leadership and athletic success.
Alongside the CFP National Championship, slated for Lucas Oil Stadium on Monday, January 10, national championship game week will bring a multitude of events to Indy, including Playoff Fan Central, AT&T Playoff Playlist Live!, Allstate Championship Tailgate, the Extra Yard 5K and the Taste of the Championship.
###
About the 2022 College Football Playoff Indianapolis Host Committee 
The 2022 College Football Playoff Indianapolis Host Committee works with the CFP to promote, organize and execute the January 10, 2022, CFP National Championship and its related events in the Indianapolis community. The Indianapolis Host Committee remains committed to a seamless partnership with the CFP and stakeholders to continue making a difference in communities across the state of Indiana after the game and into the future. For more information, visit IndyFootball2022.com.