No matter how much money we have or save, I always feel like our entertainment budget is meager. We have so many financial goals right now that it's easy to either completely neglect doing fun things with our family or go overboard and torch the budget.
However, this conundrum dissipates during the summer months. Indianapolis offers a wide variety of fantastic, free entertainment for families of all sizes. Ranking high on my list of favorites is the Concerts on the Canal Series.
Every Thursday night in June and July, you can bring a picnic dinner and your best blanket to settle in for an evening of quality free entertainment in downtown Indy. Even if you don't have time to toss together a basket of food after a busy of day of work, have no fear. You can purchase a delicious meal from The Stardust Cafe beginning at 5 pm. You can even park for free at the Indiana History Center. The concerts run from 6-8 pm.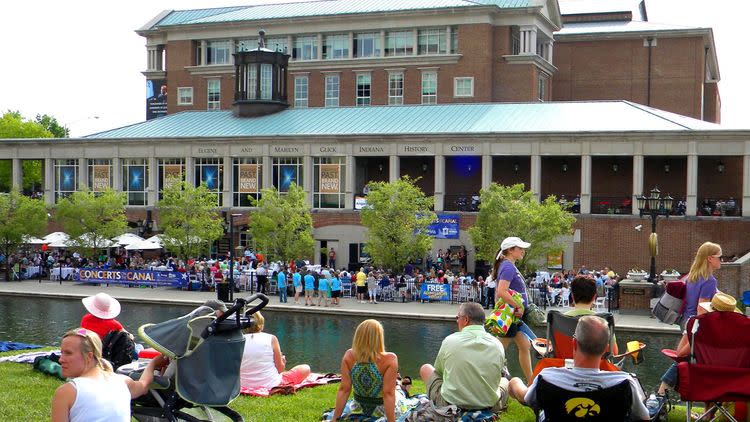 Each weekly concert highlights a different genre of music and local band. Check out the lineup for this summer:
June 7: The Cool City Bandl
June 14: Midtown Mad Men
June 21: Tad Robinson
June 28: Everett Greene
July 5: Lemon Wheel
July 12: Brenda Williams
July 19: My Yellow Rickshaw
July 26: Tastes Like Chicken
In addition to the concerts, admission to the Indiana Historical Society is also free on Thursdays during the series until 8 pm. Visitors gain access to all regular exhibits, special rotating exhibits, and weekly interactive displays unique each week.
June 7: Auto Indiana
June 14: The Golden Age: Indiana Literature (1880-1920)
June 2: Indiana Through the Mapmaker's Eye
June 28: Steamboat A Comin': The Legacy of New Orleans
July 5: Who is a Hoosier?
July 12: From Pencils to Pixels: Hoosier Cartoons and Comics
July 19: A Visual Journey: From Aids to Marriage Equality
July 26: Hoosiers and Their Hooch: Perspectives on Prohibition
A few special notes to consider before your visit. No pets and no smoking are allowed on the terrace. While you can bring your own food, you cannot bring alcoholic beverages. They will be available for purchase and consumption on site, though. Worried about the weather? If it doesn't cooperate, the outdoor concert will be moved inside to the Frank and Katrina Baile Theater. No food or drinks are allowed at indoor concerts, though.
Before we know it, the lazy, hazy, and affordable days of summer will be upon Indy. Mark your calendar now for the free Concerts on the Canal Series.