The weather in Indianapolis turned a lovely shade of summer this week. I'm trying to hold it together through the end of the school year, but everything within me wants to stay up too late. I want to run and play with the kids outside, visit our favorite outdoor experiences, and scoop up ice cream.
I'm ready to run right into the arms of summer. I can think of no better way to kick things off well than putting dates on my calendar so we don't forget about the many wonderful (and affordable) experiences in Indy perfect for spending time with the ones you love in the great outdoors.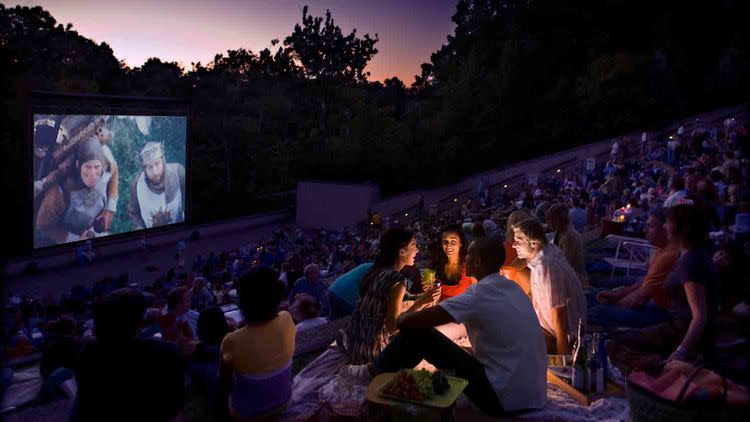 May 1st marked the official date for the general public to buy tickets for the 2018 National Bank of Indianapolis Summer Nights Film Festival. Each weekend all summer long, you can watch quality films under the stars at the Newfields amphitheater.
Doors open at 7 pm with movies beginning at 9:30 pm (or when it's dark enough). Before the film rolls, enjoy a picnic, music, and special activities. Tickets are $8 for members or $12 for the general public. There are also options to purchase a season pass so you don't miss one of the nineteen films that will be shown this summer.
Here's your packing list for a successful trip to the Summer Nights Film Festival: blankets for the ground, chairs, a picnic basket filled with your favorite foods and snacks, non-alcoholic beverages, bug spray, sunscreen, and maybe a sweatshirt if the weather turns chilly.
Here's what you should leave at home: alcohol, pets, knives, and candles taller than twelve inches. Food from King David Dogs and craft beer from Sun King Brewing Company will be available for purchase, too. So maybe toss in a few extra bucks, just in case.
Without further ado, here's the lineup for this year's Summer Nights Film Festival:
Choose your favorite films and plan a night (or two or nineteen) you won't forget this summer!