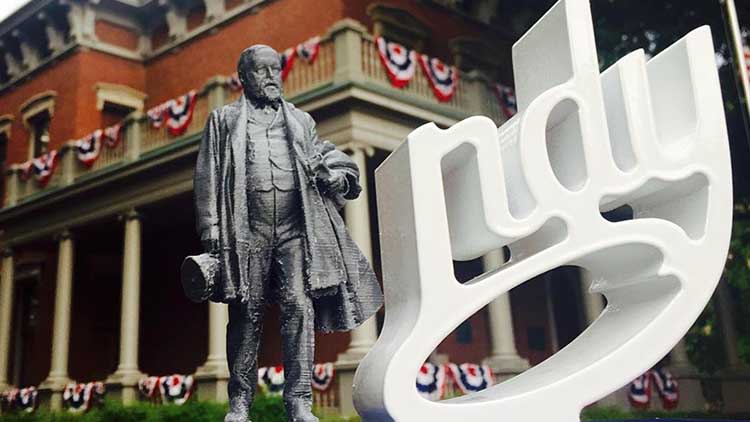 Photo: Benjamin Harrison Presidential Site

Here are 10 things you may not have known about Indiana's only President:
Benjamin Harrison brought electricity to the White House. Harrison was so nervous about the then-new invention that he had a servant turn on the lights for him. 
He went to college at Miami University, and was in the fraternity Phi Delta Theta. 
Harrison has an impressive family history. His grandfather, William Henry Harrison, was the 9th U.S. President – if only for a few days. His great grandfather, Benjamin Harrison V, was one of the 56 signers of the Declaration of Independence. John Harrison, Harrison's father, was a Congressman from Ohio. 
When Congress passed the Forest Reserve Act, Harrison founded three national parks during his term – Yosemite, Sequoia, and General Grant – and set aside 13 million acres for future land use. 
Harrison owned a pet goat, Old Whiskers, that lived in the White House. 
An influential lawyer in Indianapolis before his presidency, Harrison was the prosecutor in the case of murderess Nancy Clem. The trial became a national sensation and gave Harrison state and country-wide renown that would carry him to the presidency. 
The famous portrait by T.C. Steele was completed after Harrison had died in 1901, so Steele used his own hands as inspiration to finish the painting. 
Harrison played a big role in transforming six U.S. territories to states: both Dakotas, Montana, Washington, Idaho, and Wyoming. 
Called the Centennial President, Harrison was inaugurated in 1889, 100 years after George Washington's inauguration. 
Harrison gave many of his campaign speeches from his front porch – a popular strategy in his day. People from all over the Midwest would travel to Indianapolis to hear his speeches.