It's sweater season, friends, so don your favorite cardigan and get over to Newfields. Harvest – an annual celebration of autumn – returns for a month-long celebration! From October 1-25, the whole family can enjoy a cornucopia of pumpkins, festive fall beverages, Instagram-worthy moments, and dynamic horticulture displays. Oh! – and also the crisp, fall air. (Did we mention it's sweater season?)  
Harvest made its debut last year, with thousands of Indiana-grown pumpkins blanketing the Newfields campus. This year, the displays return, bigger and better. (Fun fact: Indiana is consistently ranked as one of the Top 5 pumpkin-producing states.) Also returning are some of Newfields' most beloved vendors – Oliver Winery, West Fork Whiskey Co., McClure's Apple Orchard, and Sun King Brewing. These and other vendors will attend weekend activations, which also include art activities for the little ones, world travels (via beer tastings), and – according to Newfields' website – much more!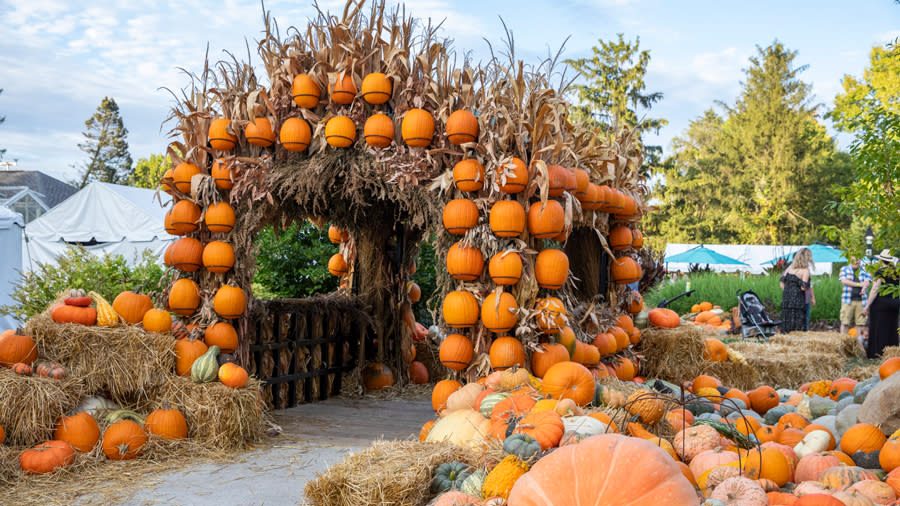 "Much more" could refer to Harvest Nights, a new spooky experience that's different from "regular" Harvest. At Harvest Nights, guests walk a twisted, never-before-seen path through an enchanted forest. In other words, endless glowing pumpkins guide you through and around trees. It's a spooky, not-scary experience, we swear. Instead, keep an eye out for an eerie ghost train and know that the adventure concludes on Lilly Allee. There, enjoy fall beverages and light snacks among spooky, Halloween-y Jack-o-lanterns. Keep in mind that Harvest Nights is from 7:30 to 10:30 pm, and it might get chilly. Our advice? Wear an extra sweater. 
In addition to Harvest Nights, there are weekend activations. Each weekend in October has its own theme: "Apples, Family & Fun," "Beer Fest," "Community Days," and "If You've Got It, Haunt It!" Family-friendly activities include apple celebrations, caramel apple tastings, an educational farmers' market, DJ performances, pumpkin painting, and a pumpkin treasure hunt. As for Beer Fest? Of-age guests will receive a beer passport.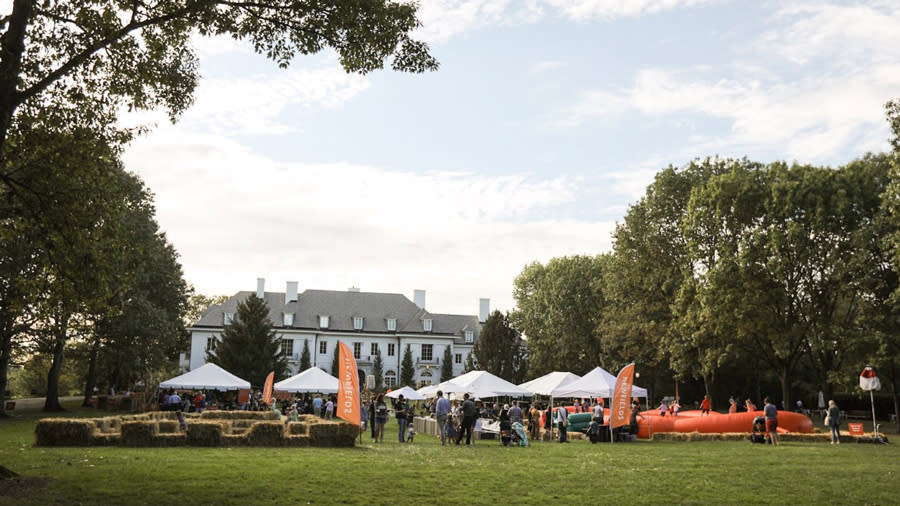 General admission tickets are selling fast, so grab yours soon! Newfields abides by CDC guidelines and is limiting capacity, so you'll want to reserve a ticket before they're gone. Be sure to bring your mask! General admission for Harvest Days is $18 for adults, $10 for youth aged 6-17, and free for children 5 and under. General admission for Harvest Nights is $25, $17 for youth aged 6-17, and free for children 5 and under.