From the legendary Mike Epps to Season 14 America's Got Talent contestant Ryan Niemiller, Indianapolis has produced its fair share of funny people over the years. Before ever making it to the big stage, however, these comics had to get their start somewhere.
Indianapolis offers a multitude of live comedy experiences, whether you're talking gut-busting improv or traditional stand-up hilarity. To help you weigh your nightly options, we've put together this guide to comedy spots around town.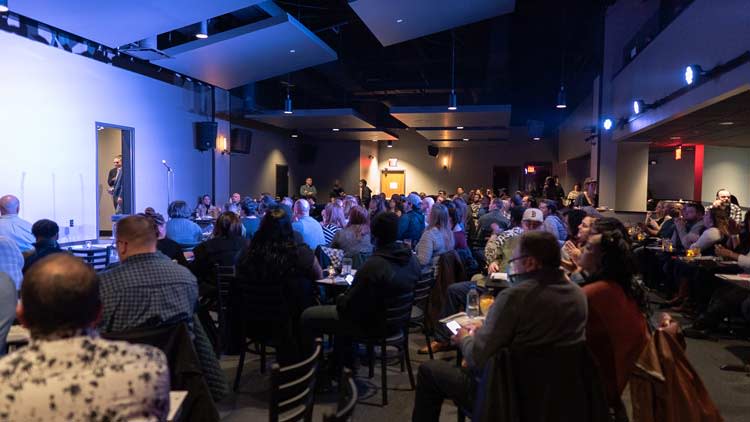 One of Indy's newest comedy clubs, Helium has already established itself as a big-time draw, thanks in large part to its affiliation with the national Helium Comedy brand. Already within its first year, marquee names like Bob Saget, Maria Bamford, Margaret Cho, Jay Pharoah and more have visited the venue, performing in the main theater space. In addition to this room, however, Helium also offers a smaller upstairs room, where touring comics on the rise often perform. To get a taste of Indy's current crop of comedy talent, also be sure to check out Helium's weekly open mic night on Wednesdays. (Note: Shows at Helium are either for 18+ or 21+ audiences.)
In addition to regularly hosting burlesque and live music events, the White Rabbit Cabaret is one of Indy's biggest comedy torchbearers. While they often host stand-up performances, the Rabbit is also home to several reoccurring stage shows, including An Evening with the Authors and the Wowie Zowie Variety Show. (Note: Audiences must be 21+ to enter the White Rabbit Cabaret.)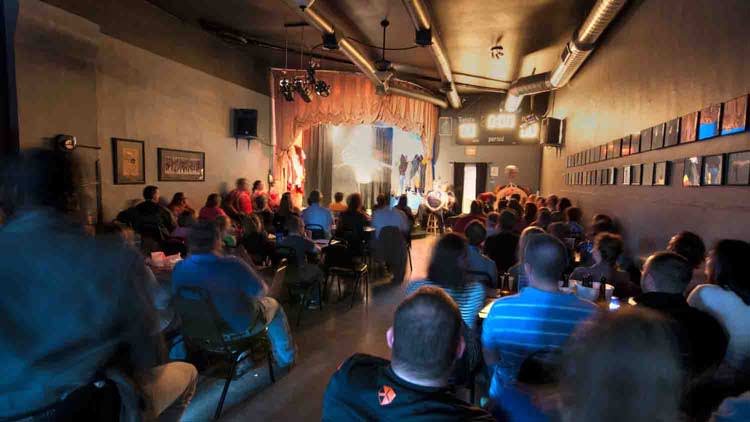 Short for ComedySportz, CSz Indianapolis has brought topnotch improv and entertainment to the Circle City since 1993. Located on Massachusetts Avenue, CSz Indianapolis is best known for their "competitive improv comedy" shows, which take place every Thursday, Friday and Saturday. CSz Indianapolis also hosts Late Nite (adults-only) shows, improv classes, corporate training, summer camps and more. Shows at CSz Indianapolis are open to all ages unless otherwise listed.
Located at 207 N. Delaware Street on the second floor, Crackers Comedy Club has been locally owned and operated for decades. On a weekly basis, the club still welcomes noteworthy comics from all across the country, while also hosting an open mic night on Tuesdays. Comedy fans must be 17 or older to attend all shows at Crackers.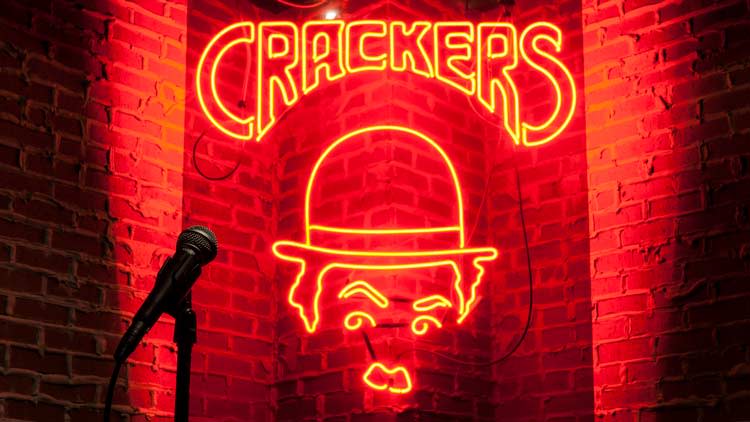 Red Curb specializes in improv, offering up two shows every Saturday evening. The early show on Saturdays starts at 7:30 p.m. and is open to all ages. The later show begins at 10 pm and is for adults only. Located in Avon, Red Curb also offers improv courses to students ages 16 and older.
This Greenwood comedy club presents clean comedy for the whole family. Located at 350 S. Madison Ave., Gutty's typically hosts shows on Fridays and Saturdays.
The Independents
Many comedy groups regularly host independent shows across the city, whether those happen to be at restaurants, breweries or what have you. Below is a list of these groups, along with where you can typically find them.
Harebrained Comedy: You can regularly find stand-up shows presented by Harebrained Comedy at Bier Brewery, Liter House, Rockstone Pizza Pub in Fishers and White Rabbit Cabaret.
INDYPROV:Find this Emmy-nominated improv comedy troupe performing all over Indy, with regular shows at Centerpoint Brewing, Indiana City Brewing Company, Monkey's Tale and Shoefly Public House.
Let's Comedy: This comedy production company regularly puts on shows in both Indianapolis and Fort Wayne. When looking to find them in Indy, your best bet is to check the Black Circle Brewing Co. calendar, where they co-present a free stand-up show every Sunday with Rocketship Comedy featuring both local and touring comics.
Red Flag Comedy: In addition to occasional shows at the Dugout in Indy's Fletcher Place neighborhood, Red Flag Comedy also regularly hosts an open mic at Liberty Street every Thursday.
Rocketship Comedy: This comedy collective was responsible for the first-ever Yuck Fest, which had its first successful year in April 2019. Additionally, Rocketship Comedy also co-presents the Sunday Show at Black Circle Brewing Co. in tandem with Let's Comedy, as well as The Monday Show at Shoefly Public House.
Straight Up Stupid: This comedy production group regularly puts on monthly shows at the Northside K of C #3433 Social Club.
TNT Talent Exposure: This comedy production group regularly puts on monthly shows at Giselle's Bar and Grill.