On August 1, 2023, City of Indianapolis, Capital Improvement Board and Visit Indy broke ground on the much-awaited expansion of the Indiana Convention Center and construction of a headquarter hotel, Signia by Hilton. The expansion, offering 143,500 sq.ft. of flexible space, including a 50,000-sq.-ft. ballroom, will connect to a new 800-room Signia by Hilton headquarter hotel, creating an unrivaled convention package. The new property will stand 40 stories tall and will include a top-level bar with skyline views. This project is anticipated to open summer 2026.
Visit Indy was joined by Mayor of Indianapolis Joe Hogsett, key community leaders including President of the City-County Council Vop Osili, and a wide array of convention customers for the official groundbreaking on Tuesday, August 1, at the current Pan Am Plaza.  Amidst the sounds of both construction crews and the sentiments Indy's resiliency and tenacity, 26 community leaders and convention customers placed shovels in the ground to welcome the new Signia by Hilton and Indiana Convention Center expansion.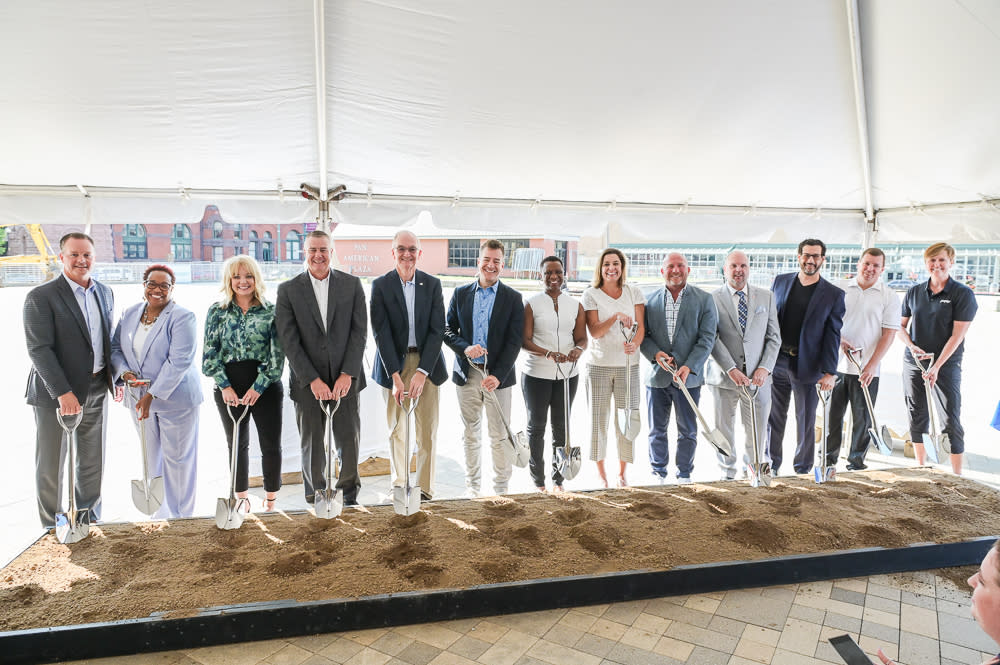 Thirteen convention customers, including David Hoppe, CEO of Gen Con, Michelle Mason, CEO of the American Society of Association Executives, Mandy Hazlett, Associate Director of Events with National FFA, and Karin Davidson, Trade Show Director with Performance Racing Industry, ceremoniously ushered in an exciting chapter of the Circle City as a host destination, in partnership with the City of Indianapolis.
"Over the past decades, the Indiana Convention Center has hosted some of the most iconic large events in Indiana and America, while generating billions of dollars in economic impact and supporting a hospitality and service sector with over 80,000 jobs," said Mayor Hogsett. "This latest expansion and hotel addition will keep Indianapolis at the top of everyone's list when it comes to the perfect host venue—and city."
With completion anticipated for the summer of 2026, the ICC expansion will house one of the top-10 convention center ballrooms by size in the U.S. and the additional event space needed to host two citywide conventions at one time. A skywalk over Capitol Avenue will connect the expansion to the existing convention center. Indy already touts the most hotels and hotel rooms connected by enclosed skywalks into a center in the U.S., and this expansion will boost those numbers to 13 properties and 5,500+ hotel rooms all under one roof. The expansion opens doors for new convention customers in the city, as well as provides additional meeting space and accommodations for current conventions with increasing attendance numbers.
"Every organization that chooses Indianapolis as a host city is looking to grow its own numbers, which means we need to keep growing our ability to welcome larger and larger events," says Vop Osili, President of the Indianapolis City-County Council. "We can't afford to wait until some of those big names choose somewhere else to meet because we couldn't accommodate them."
To learn more about Indy's connected hotel package, click here.