2018
Indy's food scene is flourishing, and the nation is starting to take notice.
Recently named "the most underrated food city in the U.S." by Condé Nast Traveler, there are a lot of delicious dining options in Indy. But we want you to try the best of the best, so we asked locals to vote for 25 locally-owned restaurants that best represent Indianapolis. We then asked food writer Sara Croft to tell you what makes each unique. 
---

Bru Burger Bar's chef style and classic burgers, sandwiches and salads were crafted with bold flavors to satisfy any burger enthusiast's craving.
Known for: A hearty cheese and charcuterie "bru board" will start your meal off strong before you bite into gourmet beef, lamb, turkey and veggie burgers with toppings like sweet chili mayo and cucumber slaw or habanero hot sauce and havarti.
Drink menu: 16 rotating craft bottles and draft options and over two dozen bourbons and whiskeys to drink straight or in a cocktail.
Atmosphere: Sleek granite countertop bar with seating, brick walls, and wooden tables give off an intimate and comfortable dining experience. In the warm months, enjoy the patio that overlooks Mass Ave.
Open for: Lunch and dinner
---

Martha Hoover's Café Patachou is a must visit for both the farm-to-table sustainable menu and the impact of food and social change in Indianapolis.
Known for: Farm fresh breakfasts of omelets and broken yolks or vegan Cuban breakfast. Locals will tell you the Patachou chicken salad is a lunch must.
Drink menu:Five types of mimosa and prosecco cocktails, self-serve coffee bar, yogurt smoothies, and juices.
Atmosphere: Multiple locations across the city have many things in common, such as the clean lines and fresh white walls that allow the light to focus on the bright and fresh plates.
Open for: Breakfast and lunch
---

St. Elmo Steak House is Indy's award-winning old world style restaurant that proves great service and classic cooking methods make for a timeless menu worth visiting again and again. 
Known for: World Famous Shrimp Cocktail with spicy, signature cocktail sauce, traditional steak cuts or chicken and seafood paired with potatoes or classic sides.
Drink menu: Equally weighted wine and beer menus next to classic martinis, mules, and Elmo Colas.
Atmosphere: Early 20th century decor inside the bar, large room, and private dining areas features wood paneled and brick walls with carefully curated art and photos. 
Open for: Dinner
---

Shapiro's Delicatessen has served cafeteria-style sandwiches, soups, and Jewish favorites in downtown Indy for 110 years. 
Known for: Corned beef and pastrami on rye, matzo ball soup, apricot rugelach, and bagels.
Drink menu: Canned Dr. Brown's soda, including Cel-Ray.
Atmosphere: Shapiro's large and open dining room hosts a bakery and grocery store, self-serve cafeteria line, and windows that remind you you're in a busy downtown district.
Open for: Breakfast, lunch, and dinner
---
Jockamo Upper Crust Pizza

Jockamo Upper Crust Pizza is a family-friendly neighborhood pizza place that caters to all appetites.
Known for: Slaughterhouse Five with five meats for carnivores, and the Jockamo Special with pesto, artichoke, tomato, cheese, and a balsamic reduction for vegetarians.  
Drink menu: Wine, local draft, and bottled beer. 
Atmosphere: Walls adorned with works by local artists, Jockamo is an open and inviting restaurant that feels like one big family dining room. 
Open for: Lunch and dinner
---

Yats keeps Indy's food scene alive and spicy with fast Cajun and Creole dishes that rotate on and off a daily menu. 
Known for: Crawfish etouffee, gumbo, the B&B, all served on rice and ordered with or without cheese, onions, and sour cream. Always get more bread.
Drink menu: Soft drinks, beer, and wine. 
Atmosphere: Walk into any Yats location and prepare for a punch of bright colors and New Orleans-style decor, often adorned with restaurant accolades and Indy-centric memorabilia.
Open for: Lunch and dinner
---

The Loft at Trader's Point Creamery is a family farm that supplies a fully operating and sustainable restaurant located on Indy's northwest fringe.
Known for: Straight-from-the-farm charcuterie and cheese boards, the Farmhouse Smashed Burger, and the kid's favorite Dairy Bar ice cream. 
Drink menu: Start your brunch off with Bloody Marys or mimosas or treat your drink as dessert with a late-night hot chocolate milk.
Atmosphere: The farm flows into the restaurant that mimics a barn loft with tall ceilings and wooden walls and supports that juxtapose with a 1950s diner-like dairy bar.
Open for: Brunch, lunch, and dinner
---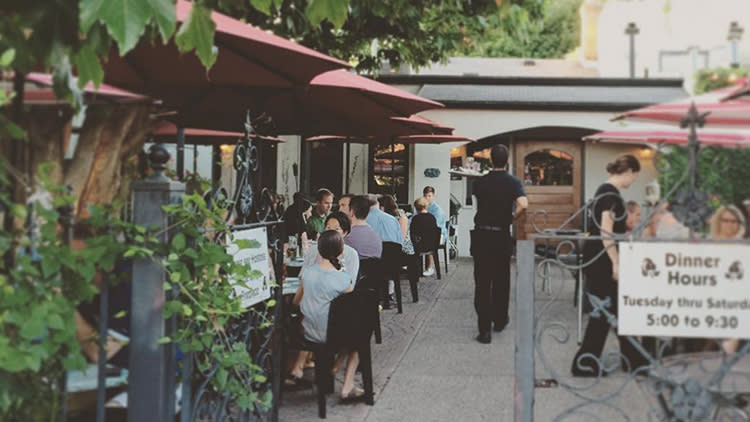 Mama Carolla's is a Broad Ripple bungalow turned restaurant that serves classic, hearty Italian dishes in a relaxed dining experience that feels like being at your Italian grandmother's home.
Known for: Stacked traditional beef lasagna and creamy tomato bolognese mains that should be followed with cannoli's and Holly's Homemade Ricotta Cake.
Drink menu: You can't go wrong with a wine from "The Don's" list, local beer, and house cocktails.
Atmosphere: Relax and enjoy yourself in cozy dining rooms or, during the summer months, try the open patio that overlooks a busy section of The Monon Trail.
Open for: Dinner
---

Indy's oldest neighborhood is home to a daily rotating menu derived from local farms at Bluebeard, named after a Kurt Vonnegut novel. 
Known for: Afternoon or cocktail snacks of pickles and cheese, pulled pork and kimchi sandwiches, or mains like roasted cauliflower or pierogi. 
Atmosphere: Step off the Indianapolis Cultural Trail into a renovated 1924 warehouse with wood floors, brick walls, and large windows that will let your mind time travel while your taste buds stay put. 
Drink menu: House crafted libations, sommelier-selected wine, and local beer. 
Open for: Lunch and dinner
---

Milktooth is earning its national accolades and awards with their unique brunch, coffee bar, and cocktail spot that's worth the wait for a table.
Known for: Local apple Dutch baby pancake, sorghum glazed bacon, spicy miso soup, and a seasonally rotating menu.
Atmosphere: This garage turned restaurant is best enjoyed both while sitting at the kitchen bar to watch the chefs cook your order or while hanging outside on the patio to enjoy the Fletcher Place neighborhood vibes.
Drink menu: Home to Indy's own ModBar espresso machine, handcrafted coffee drinks, house made cocktails and liquors.
Open for: Breakfast and brunch
---

The modern neighborhood grocery and butcher shop that is Goose the Market caterers to both ambitious home cooks in need of unique and select ingredients and hungry diners who want to bite into crusty bread sandwiches.
Known for: tacked charcuterie boards of thinly sliced meats and cheeses of all varieties and regions, daily sandwich specials like The Batali, gourmet grocery items, terrines, and fresh fish.  
Drink menu: Wine by the glass, local craft beer for dine in or carry out.
Atmosphere: A hybrid grocery and sandwich shop with gelato bar on the ground floor; enjoy wine and beer tastings in the underground enoteca.
Open for: Lunch and dinner weekdays, lunch on weekends
---
Mesh on Mass

Mesh Restaurant is a contemporary dining experience on Mass Ave that takes familiar  home-style plates and gives them a chef's touch.
Known for: Shareable plates like Kung Pao calamari and tuna nicoise to their staples of Amish chicken and mushroom strudel. If you're here for brunch, get the breakfast burger loaded with hash browns, a fried egg, bacon, goat cheese, and dijon-maple gastrique.
Drink menu: Multi-page wine list, house made cocktails, local draft, and bottled beer.
Atmosphere: Granite tables, comfy bar chairs, yellow walls, and warm light let you step out of the busy street and into a relaxed and modern dining experience.
Open for: Brunch, lunch, and dinner
---
Mimi Blue Meatballs

Mimi Blue Meatballs was created as a tribute to the great Mimi and her desire for home-cooked food coupled with a luxurious experience.
Known for: Classic beef, turkey, or veggie-style meatballs ordered a la carte, on sandwiches or as sliders, and served with your pick of marinara, creamy or specialty sauces, and classic side dishes. 
Drink menu: Wine list and coffees.
Atmosphere: Prohibition-style dining room with leather seating, dark wood, and ornate lighting.
Open for: Brunch, lunch, and dinner 
---
Union 50

East Street's Union 50 is a restaurant and bar fancy enough for date night and casual enough for game night with a group of friends. 
Known for: Too upscale to be called "bar food," Union 50's menu offers plates for one or more to share like beef tartar and poutine, or complete entrees like steamed mussels and beef tenderloin.
Drink menu: Local craft beer, wine, house cocktails, and a page of American whiskeys will have you pondering your spirit choice while you soak in the light from the illuminated bar.
Atmosphere:Late-night live music, skee ball and shuffleboard juxtapose with open seating areas that offer a lounge-like experience.
Open for: Dinner and late-night dining
---

Napolese Pizzeria takes everything you love about Cafe Patachou and serves it up as a pizza in a fine dining and farm-fresh approach.
Known for: The slightly addictive double chopped house salad, signature or freestyle pizzas topped with cooked or raw ingredients like arugula, sandwiches, and daily rotating specials.
Drink menu: Sparking water, full wine list, and Italian cocktails.
Atmosphere: Classic service coupled with dark and metallic colors gives a modern, clean approach to dining fit for day or night.
Open for: Lunch and dinner 
---

Horse stable turned Mexican restaurant, Livery relies on bright colors and dark furniture to transform your Indy dining night out into a southwest culinary experience.
Known for: Order a one-plate entree like paella or the skirt steak with chipotle dry rub and chipotle butter, or bring friends to share yucca fries and six types of empanadas.
Drink menu: Dozens of tequilas fill the drink menu that you can enjoy straight or as a cocktail, amongst other spirits, wines, and beers. 
Atmosphere: You might not see tumbleweeds, but you'll feel as if you've been transported to another part of the nation inside this restaurant. Two-story seating and an open rooftop allow each visit to show a new view.
Open for: Dinner
---

Tinker Street's tiny restaurant is bursting at the seams with the bold flavors served often vegetarian style in an upscale but approachable menu. 
Known for: A seasonably rotating menu with shareable plates like fried brussels sprouts and entrees of duck breasts and pumpkin gnocchi highlight the creative and modern vegetarian, gluten-, and dairy-free fine dining options.
Drink menu: Wine list curated with each rotating menu.
Atmosphere: Minimal accents and dark walls put the diner's focus on looking straight through to the tiny-but-mighty kitchen, or enjoy the year-round patio. 
Open for: Dinner
---

Broad Ripple native The Garden Table expanded to Mass Ave and brought their house-made juices and health-conscious, farm-to-table menu with them. 
Known for: Garden toast on thick multigrain bread with avocado and tomatoes, the Naptown hot brown, poke bowls, smoked salmon, and many vegetarian and vegan options.
Drink menu: A colorful array of juices ordered by the glass, as a sampler, or to go. Go for the charcoal-infused variety or the dark greens. 
Atmosphere: Both locations offer wooden floors and tables with bright light while the Mass Ave spot has a large bar and outdoor seating.
Open for: Lunch (both locations) and dinner (Mass Ave-only) 
---
Brugge Brasserie

Brugge Brasserie is a Belgian-style restaurant and brewery located in and overlooking the heart of Broad Ripple Village.
Known for: Pairings of mussels in herb and butter sauces with pommes frites, crepes, charcuterie plates, and sandwiches.
Drink menu: Beer from both Brugge and Outliers Brewing, wine.
Atmosphere: Both the ground-level and upper-level patio seating areas touch The Monon Trail and compliment the experience of both family friendly and bar-like indoor dining. 
Open for: Brunch, lunch, and dinner
---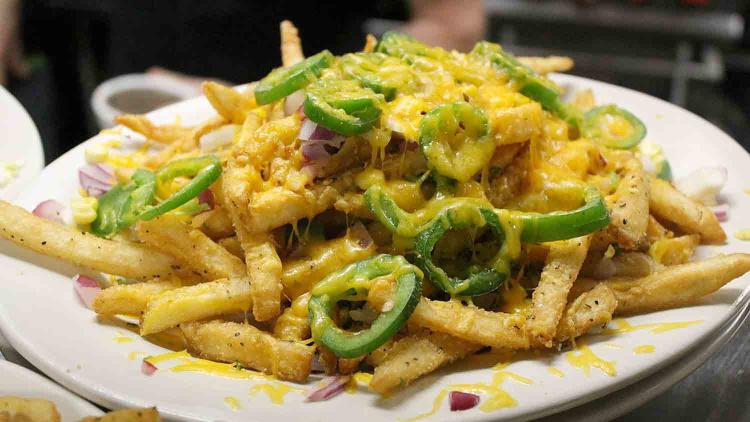 SoBro's neighborhood craft beer bar and burger restaurant Twenty Tap is a staple for after work brews, cozy dinners, and late-night snacks. 
Known for: Beer-battered cheese curds, tempura-battered cauliflower "wings," shrimp and grits, and burgers like French Breakfast of bacon jam and brie or the Angus Kahn with pickled jalapenos and jun-fan sauce.
Drink menu: More than 20 "taps" make up the tap list of both local and regional beers and beers from the coasts.
Atmosphere: Half seated restaurant and half open bar, the wood footprint inside warm, while the outdoor is busy with pedestrians. 
Open for: Lunch and dinner
---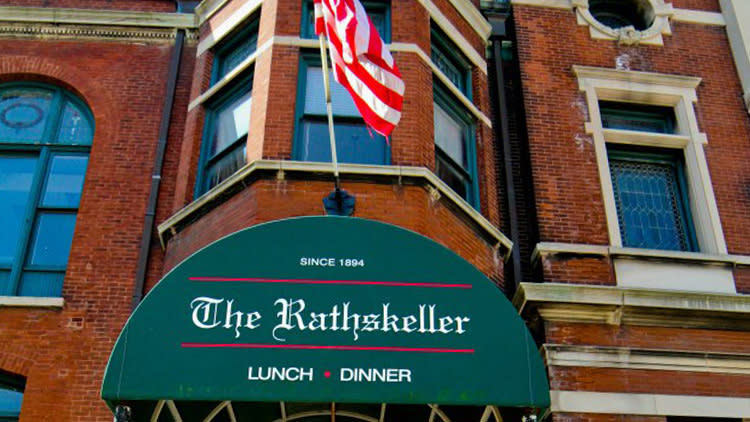 The Rathskeller is Indy's authentic German restaurant and bier garden located inside the historic Athenaeum on Mass Ave.
Known for: Family-style portions of pork schnitzel, sauerbraten, rouladen, and potato pancakes, along with steaks, seafood, and pasta worth grabbing a take-out container for.
Drink menu: Dozens of German beers on draft or in cans and bottles, local beer, and American wines.
Atmosphere: Private banquet spaces for parties and special occasions, dining rooms, and a bar seating area all in 19th-century style architecture.
Open for: Lunch and dinner
---

Harry & Izzy's is the casual and updated version of its sister restaurant St. Elmo that bridges steakhouse with modern American cuisine. 
Known for: Bridging the gap between classically cooked steak and seafood entrees with pizzas, sandwiches, and sliders that offer more options for a variety of eaters.
Drink menu: Hundreds of bottles of wines from all over the world with staff ready to recommend them.
Atmosphere: The large space is close and comfortable with a circular bar in view upon walking in before being escorted through stairs and rooms that lead to your table. Both the downtown and northside restaurants have a wine cellar that makes its appearance throughout the restaurant.
Open for: Lunch and dinner
---

A fast staple with locations on Indy's westside, as well as inside the Indianapolis City Market, The Tamale Place takes the hard work out of making masa and wrapping tamales in corn husks so you don't have to. 
Known for: Tamale varieties of slow-cooked chicken, beef, pork, and veggie with red and green sauces full of intense flavors should be ordered alongside tamale sliders and nachos with house-made chips. 
Drink menu: Jarritos and fountain drinks.
Atmosphere: This grab-and-go spot takes up a small but mighty corner of the Indy City Market and is usually accompanied by a long line. Grab seating upstairs in the market or venture out to the plaza patio.
Open for: Lunch
---

Since 1986, Bazbeaux's has served dozens of signature pizzas with traditional and exotic toppings on handcrafted crusts alongside salads and sandwiches. 
Known for: Unique pizzas with toppings like Cajun shrimp and peppers to pesto sauce and sun-dried tomatoes.
Drink menu: Several wine and local beer options.
Atmosphere: Both the downtown and Broad Ripple location offer vibrant colors indoors and outdoor seating. Be part of the Mass Ave buzz downtown or enjoy the views of the canal through the heart of Broad Ripple. 
Open for: Lunch and dinner 
---
Big Lug Canteen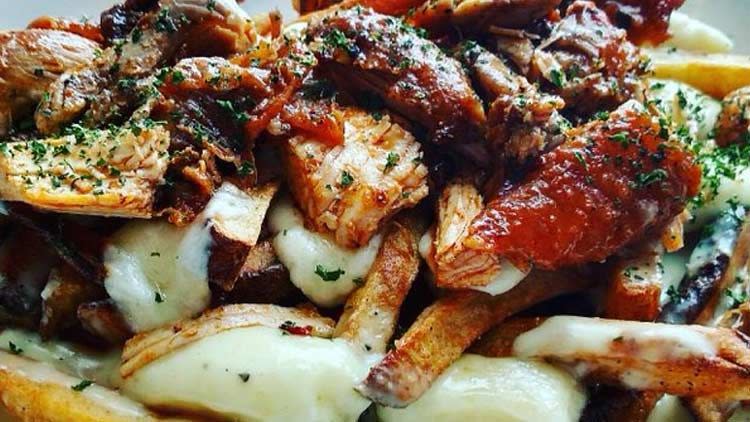 Located in the Nora neighborhood, Big Lug Canteen is a local brewery and restaurant where all food is made fresh in-house.
Known for: The poutines. Their motto sums it up: Good food is good food, great food had gravy on top.
Drink Menu: Eight beers made in-house will always be available and rotate week to week.
Atmosphere: The best of all worlds with adult-only, family, and a pet-friendly outdoor space. Located on the Monon Trail, we love Big Lug's bike-up patio on a warm day. 
Open for: Lunch and dinner
---