Walter Lobyn Hamilton
Indy Like a Local
Who is Walter?
Nas and Kanye West own the work of Indy native Walter Lobyn Hamilton, who crafts portraits out of album pieces.
Q. What is your artistic background?
I'm self-taught. I went through most of the same classes that everybody does, elementary through high school. I took two classes at Herron [School of Art & Design], one of them twice because it was a Saturday drawing class that I dropped the first time. I remember my mom sat me down and said, 'Hey, go back to art school!' I scoffed – no one makes it full time as an artist. Most people pick up a pencil or a crayon when you're scribbling on a kids' menu. I just didn't stop. 
Q. What inspired your craft of taking vinyl album shards and forming them into portraits?
Actually, it was an ankle injury after a DJing gig. I messed up my ankle carrying a crate of records. I hobbled back down to my basement and started breaking them up in my basement, out of frustration. More than art, I wanted to be a DJ. I loved manipulating songs, acting behind two turntables and a mixer. Even to this day, I get a better rush DJing for myself. That's how I was able to amass a large catalog of records, which is probably 20,000 to 25,000. Three months later, I came back with the idea to repurpose them, and I've been doing that ever since. 
Q. Your work has featured on Fox's Empire. What was it like to see your piece on national TV?
I didn't know which episode it would be in because they can't guarantee it. I'm flipping channels, and I see my artwork on the exact moment the show starts. You only see it for 45 seconds. To see your artwork and think, Wow, this is international, it made me laugh. I was just very joyful about seeing where I've been and where I've come. It was a great moment, great for my legacy. That was nuts. That was a very good moment. You learn so much about the business of television and the value of your artwork and artists. You learn a lot dealing with brands and celebrities and these behemoth corporations. 
Q. How long does it take to complete a piece?
On average, since I'm full time, anywhere from 20 to 40 hours. It's not a workweek like most people. I can do three 12-hour days. 
Q. Is there a certain location in the city that for which you'd love to create something?
I'd say Monument Circle. I'm a sucker for a circle. I did something when the Super Bowl was here; I did a waterfall with vinyl coming out of it at Turf. I've grown since then. I'd love to do something on the Circle that shows us off as a city. I'm kind of working on that right now, the design of what I want to do, and if I do that well enough, the location shouldn't matter.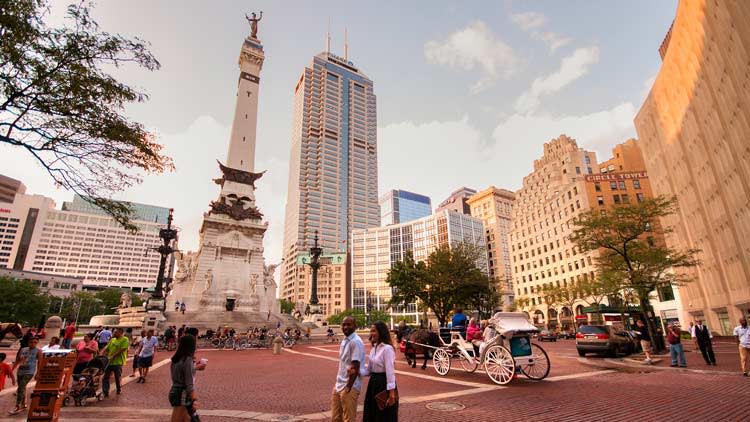 Q. Do you have a favorite piece, perhaps something that came out even better than expected or one that means a lot to you?
The piece I did of my son, Xavier, this year actually is probably the most impactful and personal piece I created. Empire rented the portrait for this season, but I'm not sure at all if and when it will appear. I haven't told him about it. I want it to be a surprise.  
Q. What sort of reaction are you hoping to get from those who view your work?
I believe if you can stop people in their tracks these days, you have something great. I still enjoy seeing people's faces when they look at my work, to just see people marvel at something or just take a second. They didn't have to stop. 
Q. If you're in the mood for a great meal, where in Indy might you go? 
I'm near Mass Ave, so I love having a glass of Cooper and Thief, a red wine blend aged in bourbon barrels, at Rooster's Kitchen. I love getting their Buddha Bowl with the brisket. I like the gumbo with extra bread at Yats. I eat a lot at Eat to Live Cafe. It's slow food, but good food. If I'm going to have a drink and listen to some music, that's going to be at the Chatterbox. If I'm playing pool, that's going to be at Dorman Street Saloon. Rabble has great coffee and great people. 
Q. Favorite bar or brewery?
Dorman Street Saloon, the Chatterbox, and The Jazz Kitchen. I think those are the only places I frequent. 
Q. Any favorite galleries or other places to see art?
Gallery 924 is great. Rhonda Long-Sharp's gallery and Evan Lurie's gallery in Carmel are great. The Harrison Center galleries, with all of the different artists housed there, are generally top-notch. Kuaba Gallery (pictured below) – Jayne [During] kills it. Also Mab Graves has her own gallery. When she opens it up, that's the pinnacle, I believe, the power artists can harness. She does it correctly. She has a great understanding of what she's doing and what she's producing. Being able to sleep above a place you can open as a gallery – forget about it. That's no easy feat.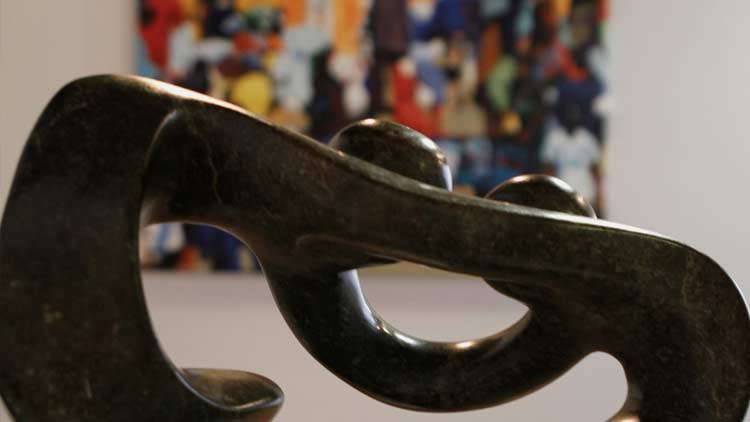 Q. Do you have a favorite event to attend?
I love Circle City Classic. I love Meet the Artists at Central Library. I go there frequently. 
Q. Where do you like to take your son?
We'll go out to the Children's Museum. We love going to see a film at the IMAX. We'll go see a movie and go see a play or a game at Victory Field. We fly kites at Spades Park. You try to expose your kids to as much as you can without wearing them out. 
Q. Fill in the blank: Any visitor to Indy must ______.
Must engage with the people. I think we have a great mix of minds and cultures in this city. And there's a certain type of style and personality in the city that is really unique. The pleasantries, the helpfulness, the conviction here. I like that about this city and its ability to grow. 
Get an insider view and experience Indy Like a Local