Sonja And Alex Overhiser
Indy Like a Local
Who are Sonja and Alex Overhiser?
aka A Couple Cooks food bloggers, podcast hosts, and authors of the newly released cookbook Pretty Simple Cooking.
For an extended interview with Sonja and Alex, listen to this episode of the THE DRINK CULTURE Podcast:
Q. How long have you lived in Indy?
A. We've lived in Indy for 13 years.
Q. Congratulations on your cookbook! How would you describe the process of seeing it through to completion?
A. A true labor of love! It's been an incredible amount of work writing recipes, testing, editing, reviewing recipe tester feedback, and photographing every one of the 100 recipes. And all of that while we had jobs and were running a website and podcast. (That year was a bit of a blur!) However, seeing the physical book and hearing from people cooking the recipes has been intensely gratifying and humbling.
Q. How do you wish to influence those who visit your website, listen to your podcast, and use your cookbook?
A. After we got married, we went from eating fast and frozen food to cooking almost every day. We started the A Couple Cooks website and podcast to inspire others that it can be "pretty simple" to orient your life around the kitchen. Cooking nourishing food with people you love can be one of life's greatest pleasures. Instead of being a chore or something that tastes bad, we're here to inspire people that healthy eating can be delicious and joy filled. 
Q. Who's your dream podcast guest?
A. Michelle Obama. We'd love to have her on our show to discuss her approach to wellness and healthy eating!
Q. Your approach to cooking centers around whole foods and vegetables. Do you have a favorite farmers market or local source for ingredients?
A. We have been going to the Indy Winter Farmers Market for years, ever since we started A Couple Cooks, so it will always have a place in our hearts. The Broad Ripple Farmers Market (pictured) is our closest market in the summer, and we love making a morning of it.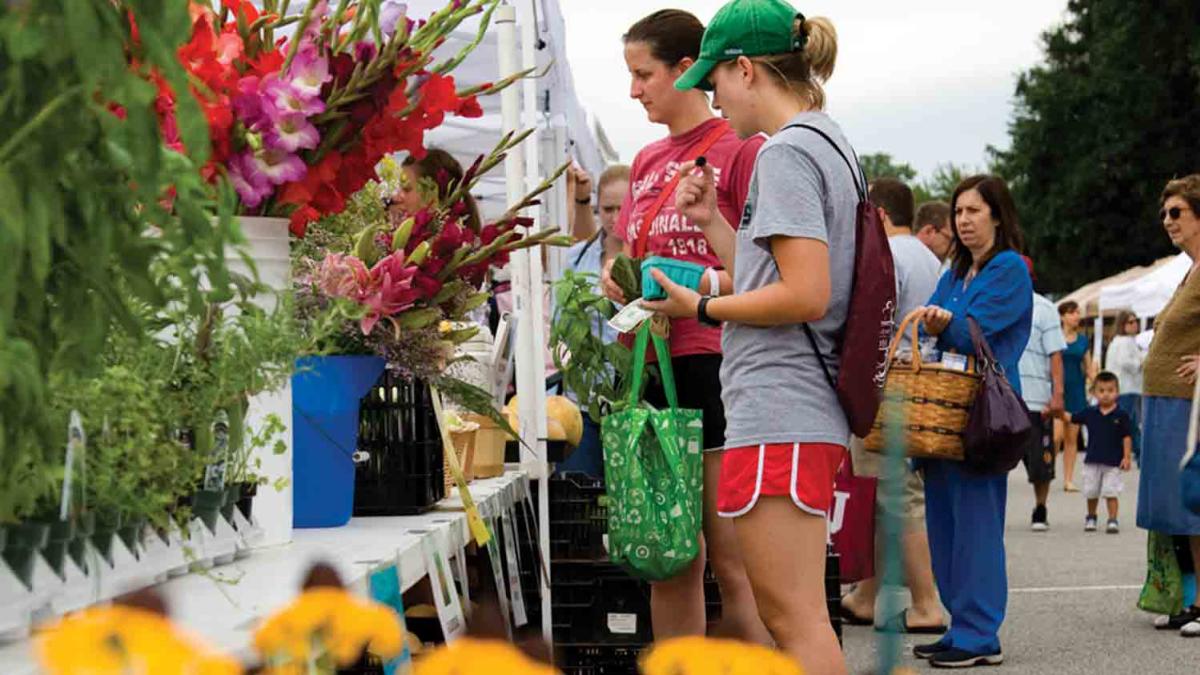 Q. What's your one can't-live-without kitchen tool?
A. A sharp, high-quality knife. It makes prep so much quicker when you have a great tool.
Q. What are your thoughts on the city's current food scene? What excites you, and what do you think is still missing?
A. Indianapolis is making a name for itself in the food scene. We were just in NYC and people there were talking about it. There's an incredible energy, and new restaurants are springing up so quickly. The difference between now and when we moved to Indy 13 years ago is immeasurable. In terms of what's missing, we'd love to see more vegetable-forward restaurants. In NYC, there were some great vegan restaurants with a chic, evening dining vibe – we'd love to see something like that in Indy.
Q. Obviously you're big home cooks, but if you're in the mood for a meal out, where do you like to go?
A. We're big fans of the Patachou restaurants, in particular Petite Chou and Public Greens Urban Kitchen (pictured). For lunch, Ezra's is great. Their Buddha bowl with raw falafel is fantastic. And The Garden Table is a favorite. The food is colorful, fresh, and delicious, and we love the downtown location, especially for the ambience. Bluebeard is perfect for a date night; the food is spot on.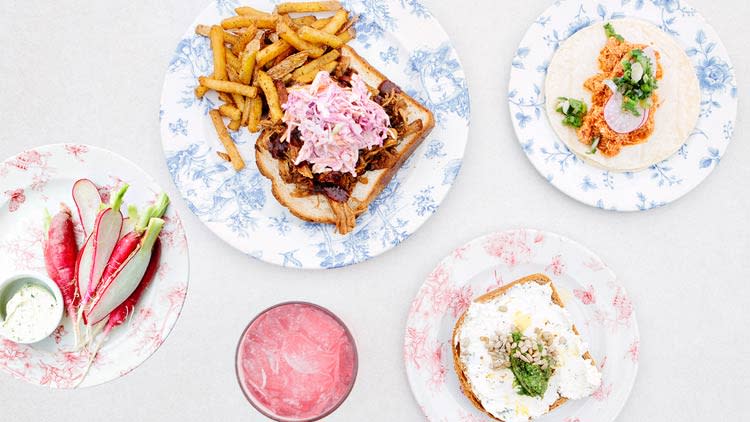 Q. Do you have a favorite local brewery and/or winery?
A. We love so many: Fountain Square Brewery, Bier Brewery, and whatever's on tap at Twenty Tap. 
Q. What boutiques do you enjoy browsing for clothing or gifts for yourself or others?
A. Silver in the City is our favorites for looking for gifts (and they now carry our Pretty Simple Cooking cookbook!). 
Q. Are there any arts organizations you make a point to support or attend their shows?
A. Penrod is a great art show! We love Newfields, going to the IMA, and being at 100 Acres. Winterlights was a perfect way to enjoy them in the winter.
Q. Where in the city do you enjoy taking your son?
A. Larson loves going to the Central Library and walking on the Monon Trail into Broad Ripple. 
Q. Where might you take out-of-town guests to get the true Indy experience?
A. The canal downtown was where we first fell in love with the city, and we always take people there to walk around the canal and White River State Park when the weather is nice. Since we live near Broad Ripple, we also love walking there and getting Nicey Treats or eating lunch as a destination in the summer. 
Q. Do you have a favorite place to get outside and enjoy nature?
A. Marott Park is a hidden gem that's close to where we live. It feels like you're in a state park in the middle of the city. 
Q. Aside from where you live, is there a neighborhood in or around Indy where you like to spend a day or just hang out?
A. Fountain Square is one of our favorite neighborhoods; it has so many up-and-coming places! We love walking on the Cultural Trail and grabbing a bite at Bluebeard. 
Get an insider view and experience Indy Like a Local