Oreo Jones
Indy Like a Local
Who is Oreo?
Local hip-hop artist Oreo Jones has two full-length albums and several EPs to his name, with another album debuting in 2019.
Q. You're originally from Warsaw, Indiana, so what brought you to Indy? 
What brought me to Indy was college. I graduated from high school, and then I got into Ball State, and I had my orientation, and I decided I didn't want to go there. Indy drew me here, and my pops lived here, too. I went to IUPUI instead. I was a Communication Studies major and an Afro Studies minor. When I was finished with college, I kind of freaked out because I had been steadily going to school since kindergarten. So I applied to Columbia College to get my master's in Afro Studies. I dropped my first album that May. I was working on music, too, at the time and getting serious toward the end of my college career. And it took off, so I decided to focus on music. Then I got into radio as well. 
Q. What inspired you to go into music?
When I was a kid, there was a big punk and hardcore scene in Warsaw. Every weekend, there were shows. I cut my teeth on punk and hardcore when I was a kid. I was in a punk band, Screaming Hemorrhoids. That was a big influence. It wasn't until college that I really got into underground hip-hop like crazy, and I just found a natural calling for it. I wasn't serious at first. I made beats in my room and wrote a ton. When I had my first release show and when I dropped my first record at the Casbah in 2011, it was super packed, and it was an awesome feeling. I was addicted at that point, and I knew I wanted to pursue it and take it seriously. No void could have filled it.
Q. How would you describe your music?
Man. That is a really hard question. I'm going in all kinds of directions. When you wake up in the morning, you have to decide how you feel today, right? Every song is different; every mood is different. My mind is constantly going everywhere. I couldn't even pinpoint a certain vibe from another artist. Sometimes it's really wavy, chill, like you're driving on Route 66 in a convertible with a milkshake in the cupholder. Sometimes it's like I'm making a symphony. I'm weird, dude. 
Q. How does Indy – its people, places, or just overall vibe – impact and influence your work?
I've always had this thing where, since I've started making some noise, people would be like, Why are you here? I wake up some days and I'm like, This is the perfect city. I love it so much. I love being able to have a blank canvas here, and I still feel like there's a frontier-like path, an unchartered path here. To me, that is important, to build and make your own chapter in a place that normally people would be like, whatever. That's success to me. 
Q. What are the strengths of Indy's music scene?
I feel like it's definitely ebbed and flowed for sure by genre. The hip-hop scene especially kind of catapulted when I started the Chreece hip-hop festival. There's been people before me, the Mudkids and Indiana Jones and them. There was a hip-hop community back in the day. As a genre, it's like pop music at the moment. We've got lightning in a bottle and catapulted everything in Fountain Square. I feel like that springboarded a lot of people and lot of folks that aren't familiar with the hip-hop community here. It's very, very diverse. What's unique about Indianapolis is that there are different corners of the city that have different sounds, different feels, and different personalities. It's pretty cool to see them doing their own thing and making noise in their own right. There's a big experimental "noise" community now that's in vogue in the city. A lot of people in rock 'n' roll bands and garage bands in early 2010–2012. That was a rich and diverse community. On Morris Street, on any given day, there'd be a band practice. It was very robust; the energy was pretty crazy. Now it's shifted to some good rock 'n' roll, and a lot of the experiment stuff is popping off right now. People are taking analog synthesizers and drum machines and making ambient, weird noise stuff. I have my ear to the pavement. I have a good grasp of what people don't see. I think everyone should be able to see what there is in the city. You've got to find it. 
Q. What's the best part of performing live?
If you played a sold-out show and you're just in a groove, it's like when you have a pair of scissors and you're cutting a piece of paper and it just glides through. No drug, no alcohol, no love can fill that void, which is weird. It's like a high I can't really explain. It's awesome in the best way. Especially when you're playing for complete strangers you don't know. You're in your most vulnerable state. 
Q. Can you describe your work with Big Car Collaborative?
I help manage, program, and run Listen Hear. Listen Hear is a sound art gallery in Garfield Park. It's a program of Big Car. It's a gallery space; it's an all-ages venue. We host workshops, doing a sound lab tonight. People bring in synthesizers and drum machines. We host gallery exhibits, so the walls change. Listening parties. The first Friday of every month is a new exhibit. There's a studio in the back, 99.1 WQRT. We have a low-powered FM station that broadcasts 24/7. 
Q. You mentioned you live in Hawthorne, on the near west side. What about that area do you enjoy?
I really like Major. It's an Ethiopian restaurant at West Washington [Street] and I-465. The most phenomenal taco stop is at Rockville and Washington, Carniceria El Ranchito. It's a grocery store and a cantina on the side. I've had tacos all over the city, but this spot is phenomenal to me. Everyone knows about Workingman's Friend. That's my favorite burger in the city. I love that place so much. I want everyone to enjoy it. Support local. Let's keep it going. 
Q. If you're in the mood for a great meal, where might you go? 
Oh man. Beholder. I just tried it the other day – so good. Jonathan brooks is the mastermind. Love it. They have these awesome small plates, the atmosphere. Whenever you're not hungry is when you think of all the best spots. Milktooth is always great for brunch. Ma Ma's Korean Restaurant is fire. Love that spot. I really grew into loving Korean barbecue. That's a great one. The Hermanyaki wings at Ale Emporium. When I'm up north, I have to bust a move to Ale Emporium. I really like The Tamale Place as well. The one I go to is on Rockville Road; it's the OG location. I really love Kilroy's breadsticks. I love going in there to get carryout. It's so silly in that place. It's my Achille's heel.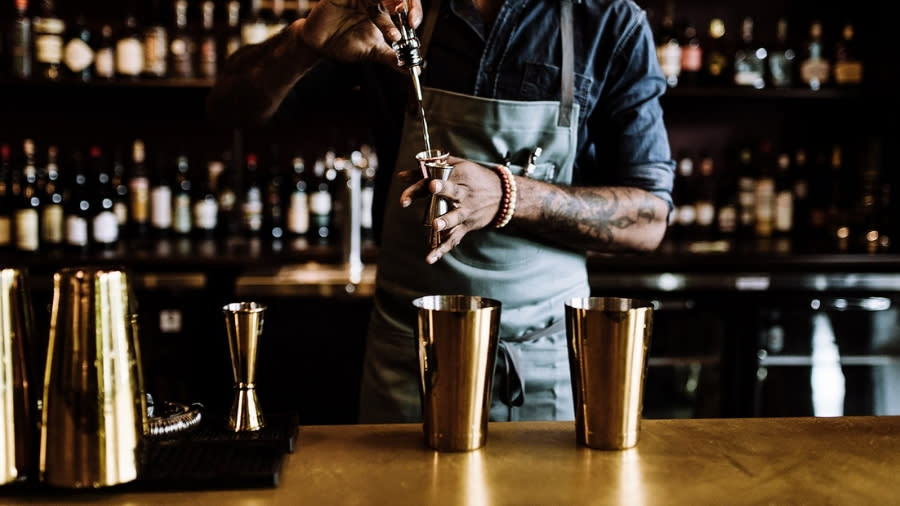 Q. Favorite bar or brewery?
I like going to Sam's Silver Circle every once in a while. They have a good karaoke night on Wednesday. Everyone's going 150 mph. I don't really go out on busy bar nights. I like the diviest bars. The Colonial Inn is super unique, and they have karaoke every night. I like Revel nightclub [laughs]. They have the nicest staff there. Their bathrooms are awesome, too. 
Q. You must have some favorite local music venues. Where do you like to see a show?
State Street Pub is an amazing venue. Their programming is super dope, and it's just like an artist-run venue. There are 5–6 shows a week, and it's all over the board, from rock 'n' roll to metal to hip-hop to experimental. Erin Drew does an art talk show called Putty, where she invites experiential artists. They have really good food. Everyone there is awesome. And that's a venue where people experience up-and-coming stuff and national and international acts. It's super low-key and unassuming. That's where you go to expand your mind. 
Q. Are you a sports fan?
I am. I am a Pacers fan. I'm probably the biggest Pacers fan in the city. I have a Reggie Miller choking tattoo on my arm. If Oreo Jones is anything, he's an avid Pacers fan. 
Q. Do you have a favorite event to attend?
If I can, Pacers games. I try to go to a handful a year. I love Bankers Life [Fieldhouse]. If I could get season tickets, I would go to every game. 
Q. Where in Indy do you like to take out-of-town guests?
I love showing people the stuff that normally isn't associated with the city. I'd take them to Garfield Park and show them Tube Factory and Listen Hear. I'd definitely take them to Central State because it has a unique history as a mental hospital. 
Get an insider view and experience Indy Like a Local