Neelay Bhatt
Indy Like a Local
Who is Neelay?
Vice president at PROS Consulting Inc. and TEDx speaker
Q. You do a lot of motivational speeches, but who is someone you admire locally for their presentation, ideas, and involvement in the community?
A peer and friend, Jamal Smith. He's been involved in various initiatives, ranging from the Super Bowl Host Committee to executive director of Indiana Civil Rights Commission and is a recipient of the Sagamore of the Wabash for his work on promoting diversity and mentoring the youth. His non-profit, The Lead Change Project, mentors inner-city youth to help improve academic performance through sports and community. He walks the talk – he and his wife Micah (and two kids) recently adopted two foster kids to grow their family and give these kids a chance at a better life.
Q. You serve on the National Recreation and Park Association's Board of Directors where you're committed to ensuring that "no child is left indoors." Therefore, what do you consider Indy's best outdoor experiences?
A gondola on the Canal, ziplining or kayaking in Eagle Creek Park, watching the sunset at Rick's Café Boatyard, and simply exploring White River State Park.
Q. Your career has spanned three continents, with experiences at Disney, the Super Bowl, and the Summer Olympics and Paralympics Games. Having had the opportunity to travel the world and work for different entities, what is it about Indy that makes you choose the city as your home?
The people. Since arriving as a stranger and hosted by the Neuburger family, we've been recipients of incredible generosity and true Hoosier kindness (and hospitality) over the years. Not to mention, Indy offers the ability to enjoy every type of experience a large, global city offers but at the price of a small city.
Q. What are your go-to restaurants for a great meal?
One of those has always been Yats (pictured), with its handwritten menu every day. The vibe has always been terrific. I love the Chili Cheese Etoufee and the Maque Choux.
Another place I really like is Sakura at 71st Street and Keystone Avenue. It has some of the best sushi I've had outside of Alaska.
Thai Spice in Greenwood – they put the spice in Thai food. It's a really cool space with very good food as well.
Traders Point Creamery: I love their Sunday brunch, and the cheese platter is to die for.
And St. Elmo Steak House and the shrimp cocktail is something I've always recommended to everyone.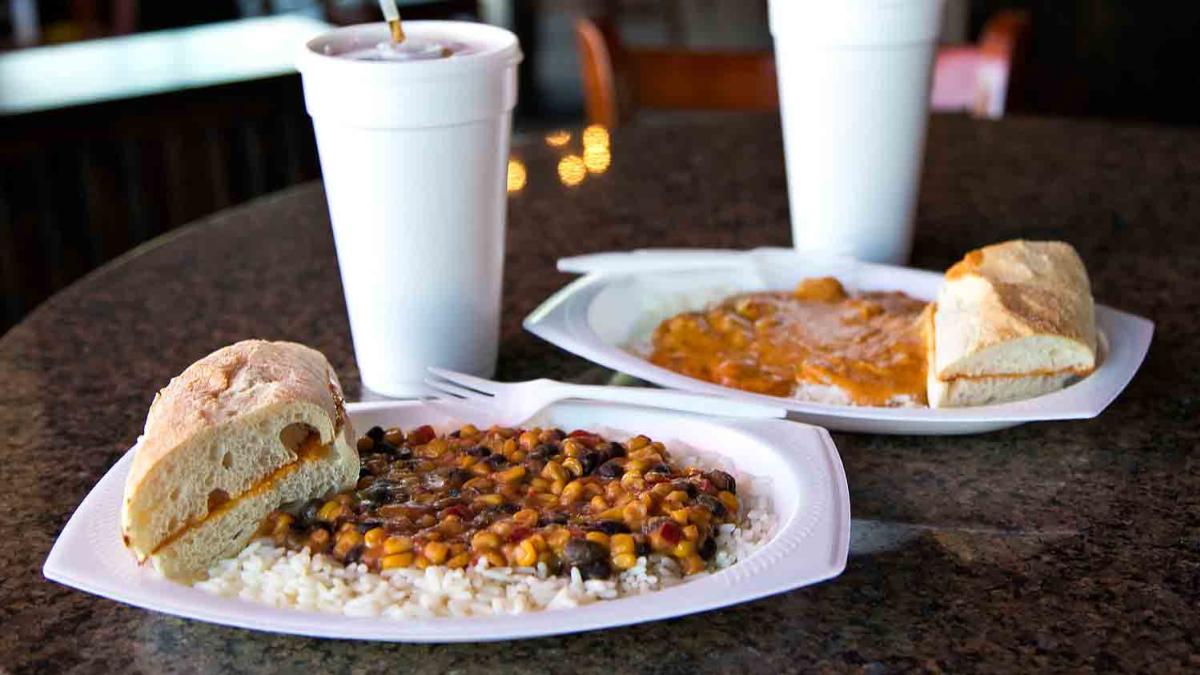 Q. What is your top entertainment venue?
A. I think our absolute favorite has been Bankers Life Fieldhouse. You can't beat having the No. 1 NBA arena in the country. There's never been a bad seat in the house. We've seen everything from the circus to Cirque du Soleil, from concerts to college basketball, Pacers, Fever, you name it.
Q. What are your favorite outdoor spots in town?
A. I'd say during summer nights, the steps of the Soldiers and Sailors Monument have been a favorite for many years, just people-watching and seeing the bikes. The Canal Walk was nice and romantic with my wife. Now my son loves feeding the ducks.
Q. Where do you take out-of-town guests?
A. One of the defaults has always been the IMS Museum and a bus ride on the track. You see all ages enjoying that. Rick's Boatyard Cafe for live music and sunsets is a gorgeous setting. You don't associate Indy with the water so when we take guests there, it's an "a-ha" moment: Wow, this is cool! With kids, the Children's Museum for hours of entertainment. The Newfields as well – the LOVE sign is a particular favorite for selfies. The Indianapolis Zoo! We're annual members and highly recommend it for everything from the Orangutan exhibit and the Dolphin show to the splash pad for kids to cool off in summer. 
Q. What new places have you discovered recently?
A. I'd say Mimi Blue Meatballs on Mass Ave. They just opened another one in Carmel as well. I love the place, especially the spicy cilantro sauce.
Q. What are your must-attend events in Indy?
A. Family-wise, anything in the month of May around the Indy 500 is a must-attend event. We've been attending the Broad Ripple Art Fair every year for more than a decade. 
Q. In your opinion, what are some of Indy's hidden gems?
A. I'd say a hole in the wall Chinese place called Imperial Palace at 56th and Lafayette. The owner's very nice, and we always enjoy the food a lot. We still drive down from Carmel to go there. And the whole 38th Street is an international village. The multicultural feel of Indy certainly resonates. And Wild Eggs, a brunch place. We had a 40-minute wait on Mother's Day, and it was worth every minute of the wait.
Q. How would you spend your ideal day in Indianapolis?
A. Brunch at The Loft at Traders Point Creamery or 3 Sisters Cafe, followed by watching the Colts beating the Patriots on a last-second touchdown at Lucas Oil Stadium (or watching any of Indy's sports teams). Walking along the Canal to feed the ducks, followed by a gorgeous picture with the Indy skyline behind you and the NDY sign next to the State Museum. Dinner at Skyline Club, followed by hot chocolate from South Bend Chocolate Cafe while watching the past, present, and future come together in the night lights from the steps of Monument Circle.
Get an insider view and experience Indy Like a Local