Michael "Alkemi" Jordan
Indy Like a Local
Who is Michael? 
Local muralist and artist behind the Mass Ave mural of poet Mari Evans, created in 2016 with Big Car Collaborative. 
The Mari Evans mural was ensigned by the wonderful person Shauta Marsh of Big Car.  Miss Evans was actually the one who asked that I be the one to do the mural.
When I was young, I quit school and spent time in prison for robbery and a violation of the 1935 firearms act. It was there that I really learned about painting and poetry; I met an oil painter who taught me everything I knew and studied Mari Evans and other poets while in prison. She was, perhaps, my favorite... so I was honored to create her mural years later.
I was very thankful for my journey and reasoned that everyone does not go to the same school, to say. We all learn our interests in different ways.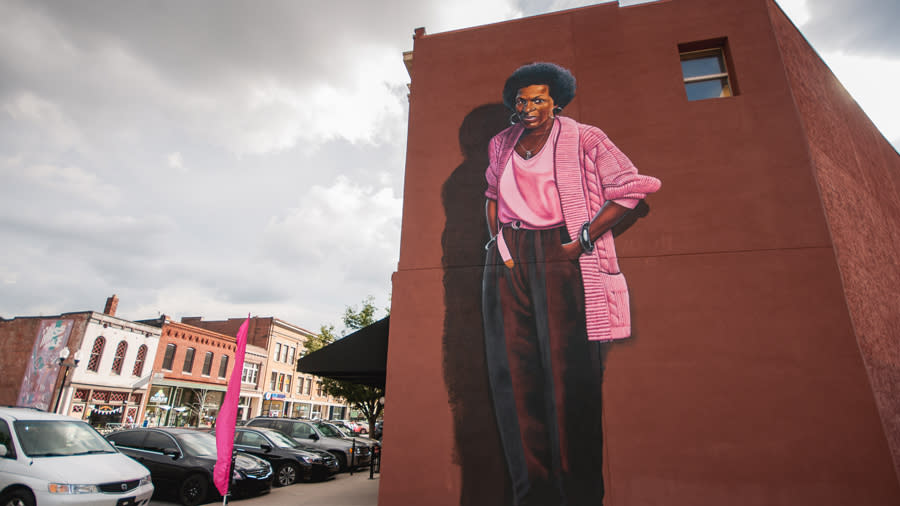 Q. What is the most rewarding aspect of your role as a muralist and artist?
Well, it is no secret that an artist actually draws and paints for visual satisfaction and entertainment, so the greatest satisfaction is that more eyes get to see my murals. And, of course, getting the opportunity to paint something larger than life.
Q. Where in Indy do you like to go for a great meal, and why?
I love having breakfast at Just Judy's; the people are wonderful and the food is excellent! I always buy the same thing; a veggie omelet, hash potatoes, with toast and coffee. 
Q. When you're not busy making our city so beautiful, what do you like to do for fun?
I love roller skating 5 days a week, and I like all the local skating rinks, though The Fun Factory has the most space to have fun.
Q. If you're hosting out-of-town guests, where might you take them for an authentic Indy experience?
Well of natural course, I would take them to an art museum like the Eiteljorg Museum, and then I am going skating! They are welcome to come along, of course, but I am going... At 70, I am too old to quit!
Get an insider view and experience Indy Like a Local