Meredith and Kelly
Indy Like a Local
Who are Meredith and Kelly?
Co-owners of Lick Ice Cream, a standard at area farmers markets and other outlets, known for its fresh, seasonal, and sometimes outside-the-box flavors. Check out Lick at the Circle City Industrial Complex.
Q. How and when did the idea for Lick come about?
Meredith: When my husband and I got married in 2009, we got an ice cream maker. I had literally never made ice cream before in my life. I made a fennel ice cream with fennel seeds. When I tasted the homemade ice cream, you could taste the cream and the milk, and the fennel was so lovely. That was really what made me think, I could sell this. If I'm this excited about this, other people will be too. It was one of those lightbulb moments. I thought, This is amazing and I want to keep doing this. I always loved making things. I went to culinary school so I could make this an actual business.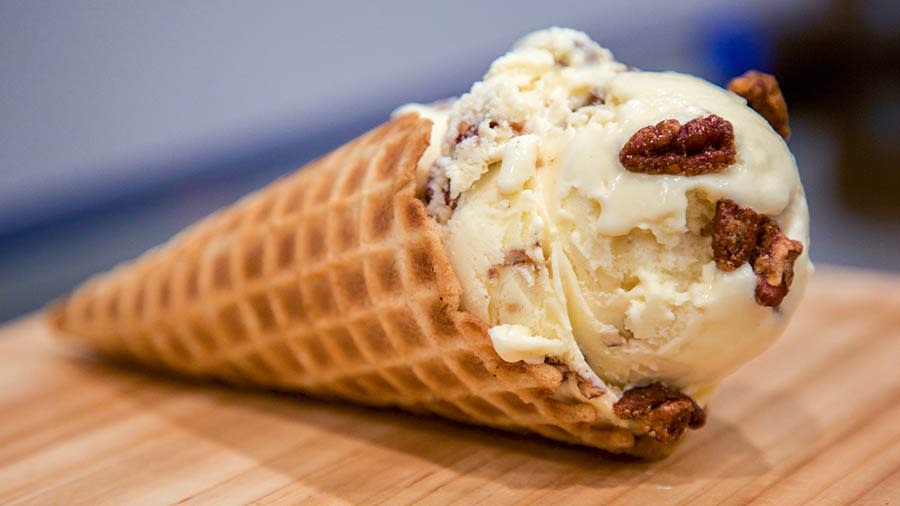 Q. What made you come on board with Meredith's idea of making ice cream? Did you think she was nuts?
Kelly: Well no, six months after she got [an ice cream maker], I got one. I always loved cooking. She was more of the science, and I was more, let's experiment and see what happens. Family members said, you guys should sell this stuff. We got nothing but positive feedback, so that's where it started. 
Q. What inspires your flavors, some of which are quite outside the box?
Meredith: It's interesting. We just love to eat, and we go out to eat a lot. We see a certain flavor on a menu and say, Will this translate into ice cream? We do a lot of playing around, and bouncing ideas off each other. We try to fine-tune it. Restaurants are a big place where I find inspiration.
Kelly: I've always worked at restaurants, so a lot comes from flavors we like to eat. Gorgonzola pecan came from a salad I used to eat all the time. We altered that flavor into an ice cream. We have a peach pie flavor that's from a pie recipe from my grandma. We do a lot of drink-infused flavors; we use orange zest and cherry compote for the Old Fashioned. I love bourbon, Meredith loves margaritas, so it's easy to turn into a cream. All the mixes we make from scratch. 
Q. What is your personal favorite flavor you've ever created?
Meredith: One of our seasonals that people go crazy over is earl gray and peppermint. It's a really good organic Earl Grey tea and we steep that in the ice cream. It turns it this beautiful off-white color. We use organic crushed candy canes, so there are little bits of crunchy candy in it. That's the one people ask about all the time. 
Kelly: Coffee chocolate chip. We start with a locally roasted organic coffee bean. We make a cold brew and turn it into a simple syrup -- that's the sweetener. It took us a while to figure out how to do it. It's a three-day process for that flavor, but it's well worth it. 
Q. Any flavors that just truly did not work out?
Meredith: Oh, so many and for so many different reasons. Certain types of cheeses don't freeze. We tried a brie flavor, and when it froze, it just got gritty and gummy. We try some that people just aren't crazy about, like fig and pink peppercorn. We had some avocado flavors that were kind of weird. I feel like this far along in the game, we know our customers, and we know Indiana and what will sell and what won't. We're always improving and fine-tuning. It's a constant work in progress. 
Q. Let's talk your Indy favorites. Where do you enjoy having a great meal?
Meredith: Milktooth. Everybody says that, but it's true. I've never eaten anything there that wasn't spectacular.  
Q. Where might you take out-of-town guests so they can experience the city?
Kelly: Just driving up and down or walking around Mass Ave is a good start. 
Q. Where do you like to take your kids for a fun day out?
Meredith: We are always going to the Garfield Park Conservatory. Even in the summer, we're there several times a month. We actually got married there.
Kelly: [My son] loves going to the Children's Museum, of course. He also loves Highland Park. We live close to Ellenberger Park, so that's another place we like to go. 
Q. What are some of your oft-visited boutiques?
Meredith: In our building, there is a little gift and pottery shop called Indy Artsy. She has amazing stuff. My favorite, favorite place is Rooftop Fruit. That is by far my favorite place just to go and splurge on myself.
Q. Any hidden gems you'd like to share?
Kelly: It's fun to go to The Gallery Pastry Shop (pictured). 
Q. Where might you take out-of-town guests so they can experience the city?
Kelly: I really love Crown Hill Cemetery. I think it's beautiful, and it's got such cool history. I know where all the weird tombstones are, the oldest one. That's usually where I take people. Newfields is amazing right now, so I've been taking people there too. 
Q. What do you like best about Irvington?
Meredith: The people. We've made so many great friends here. It's a tight-knit community. You won't find this group of people in the suburbs. We love Jockamo [Upper Crust Pizza]. We're probably there once a week. 
Get an insider view and experience Indy Like a Local