Maria Romaine Brace
Indy Like a Local
Who is Maria Romaine Brace?
Owner of Like the Lettuce, with more than 10 years experience in health and fitness, and Beachbody Coach.
Q.  Tell us a little about yourself and how you were called to coaching?
Like many, my biggest struggle in life is battling insecurity and self doubt. After years of emotional eating, yo yo dieting, carrying weight I hated myself for, and an unfortunate series of knee surgeries, I was ready to finally stick up for myself, take care of my mind and body, and put in the work. Because I was able to lose the weight, work through my emotional baggage, and triumph into my best physical and emotional shape, I knew I had to share that with as many people as I could! Instructing and coaching is not only where I felt most myself, but it was too big a gift to not pay it forward.
Q. When taking your workout on-the-go, where are your favorite spots in Indy?
Beachbody has THE BEST at home workouts, but as many people know, there's nothing like LIVE group classes. The Indianapolis YMCA's have an infectious community and the cycle room is where you'll find me most! Other places that rock are Invoke for hot yoga, Orange Theory HIIT and lifting, Pure Barre for trembling glute lifts, and Just Ride Indy for a boutique spinning experience!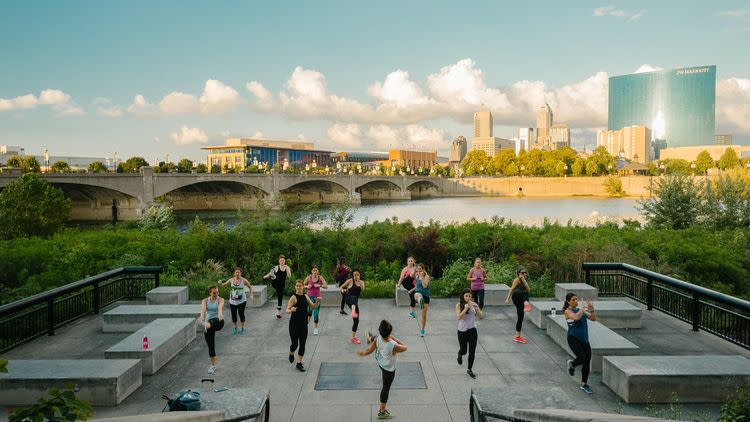 Q. Let's say you're hosting friends and family from out of town. Where would you take them?
Absolutely take walks down the Monon and the Canal. Live entertainment at The Rathskeller, White Rabbit Cabaret, and The Vogue. Dancing at Tini's.
Q. What are your go-to restaurants to refuel in Indy?
Broad Ripple: Flat Water, Delicia, Cafe Patachou, and Public Greens. Downtown: Bakersfield, The Eagle, The Garden Table, and just about anything on Mass Ave. And for an indulgence: Nicey Treat, Flying Cupcake, The Cake Bake Shop, or BRICS!

Q. Do you have any favorite local boutiques or independent shops, and what makes them your favorite?
I love to pop into Silver in the City and Global Gifts for unique local art, mugs, and decor. You'll never not find the clever/perfect gift for someone you love or even yourself.

Q. What are your hidden gems, places that you think fly under the radar in Indy?
If you're not from here you may not know about Coat Check Coffee [located in the Athenaeum, just off Mass Ave] for a lavendar latte. Or Boomerang and Pitaya (clothing boutiques) for the perfect little get up you can where out later for drinks.

Q. Pretend you have one day to spend however you'd like in Indy. What do you do, eat, and see?
Indianapolis is amazing because you can do almost all of the above in a weekend. Waking up and getting a crazy spin class, stand up paddle boarding on the water, and then dinner, drinks, and dancing in Broad Ripple or Mass Ave would be an ideal day! Whatever you are craving or feeling you can make happen between Broad Ripple, Mass Ave, the scene off [South] Meridian, and of course Fountain Square.
Get an insider view and experience Indy Like a Local