Maisum Ali Farid
Indy Like a Local
Who is Maisum?
Creative director for Chapati and Shani's Secret Chicken, restaurants in Indy's International Marketplace.
Q: What does your role of creative director entail?
I have my hands in every position at our restaurants, so it is hard to exactly define it with a single title. Some days I'm the CEO who's managing all the administrative and executive-level work, other days I'm just a staff member who is part of the daily operations trying to solve more problems and bring some type of relief to the team. And on other days I work on the vision of the concept while designing, building, and enhancing all facets of the businesses constantly. Being a small business with a mindset of a startup that is designed to grow, there is no other way to operate.
Q: Did you have experience in restaurants before this current role?
Surprisingly, not a single member of our veteran team has ever worked in a restaurant. I always knew at some point I would try to build a restaurant, but I always figured it would be later in life. Even though I never had any restaurant experience, I do have an extensive resume focused on fashion retail and tech development.
Q: How did you end up working at Chapati?
It was just the perfect timing. I was born in Pakistan and lived in Saudi Arabia up until the age of 12. I have been in Indianapolis for 19 years with my family, and I went to Pike High School and graduated from IUPUI. I was working as a stylist and remotely developing an app, so my work schedule was extremely flexible. At that point I decided to have a conversation with my parents and to share the idea that I had about Chapati. After extensive research, we all knew without a doubt that it was time to share our mom's legendary recipes with the world – and the rest is history.  
Q: Where do you like to take guests from out of town?
After a quick tour of the International Marketplace and Monument Circle, Mass Ave is always the best option to start your day or night.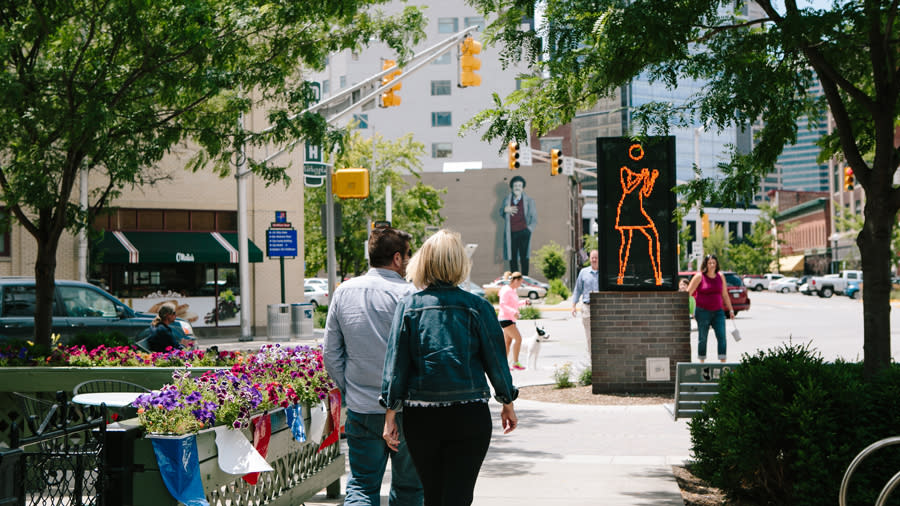 Q: How do you describe Chapati and Shani's Secret Chicken to those who aren't familiar?
Our motto at Chapati is "Five Star Eating, Super Chill Seating." It is our goal to provide the freshest, slow-cooked, homestyle Pakistani and Indian cuisine in a modern, hip, and relaxed environment.
Shhhhhh, we don't know what Shani's Secret Chicken is! (That was a joke!) Shani's Secret Chicken is a speakeasy fried chicken joint hidden in Chapati where you find the best of both worlds. We marinate our halal chicken in our mom's traditional Pakistani spices for over 24 hours, then before deep-frying the chicken, we coat it with our Southern American buttermilk batter blend. This gives it a traditional fried chicken look until you take a deep bite and realize the unique complexity of flavors that take you around the world. SSC also has fusion sides that combine American concepts with Pakistani and Indian flavors. Our motto for SSC is "Peace By Piece."
Q: What events in Indy do you like to attend?
Definitely the Indy 500 and Pacers games.

Q: What other restaurants in the International Marketplace do you enjoy?
In the International Marketplace, some of our go-to spots are Magoo's California Pizza on 38th Street, and the newly opened Taste of Dubai has been impressive so far, also on 38th Street. Oh, and we can't forget about all the Hispanic bakeries scattered around the area.
Q: Outside of the International Marketplace, what other restaurants or chefs in Indy are you a fan of?
Outside of our neighborhood, people have to try Livery for more of an upscale and date type of vibe downtown. Milktooth is always great for an adventurous breakfast or brunch in Fletcher Place. I love Siam Square for Thai food in Fountain Square. Petra on Mass Ave is bringing a different flair with their quick, grab-and-go Middle Eastern cuisine, perfect for late nights. Finally, the two best spots for desserts and delights have to be Long's Bakery in Haughville and Handel's Homemade Ice Cream in Fishers.

Get an insider view and experience Indy Like a Local