Lindsey Hein
Indy Like a Local
Who is Lindsey?
A mom of four, an avid runner, and a podcast host (I'll Have Another with Lindsey Hein and Why Is Everyone Yelling?) and guest host (The Illuminate Podcast). All are part of her company, SandyBoy Productions.
Q: Are you an Indianapolis native? If not, how long have you lived in the city?
I'm originally from Bloomington, Ind. We moved to Indy after graduating from IU in 2006. Since moving to Indy, we've lived downtown, South Broad Ripple, and we currently reside in the historic Meridian Park neighborhood in Midtown. We love the community here.
Q: What is it about the podcast medium that you enjoy so much?
I love that you can feel connected to the host and guests of a podcast by listening in every week. Consistency of putting out regular episodes on the same day of the week every week is a huge help in building that relationship and trust.
I also love the podcast medium because you can listen while you are doing mundane chores like folding laundry, unloading the dishwasher, and car-time running errands. If I find myself in the grocery store alone, though, the podcasts are turned off and I've got some good music in the headphones!
Q: Do you and your husband have a special "date night" spot you like to frequent? 
Our go-to restaurant spot for a night out is Livery downtown. The rooftop in the warmer weather is the best.

Q: We understand you're a devoted runner. Assuming you participate in the Mini-Marathon, do you have a favorite memory from that event? What would you like those who aren't familiar with the Mini to know about it?
Yes! I am a lifelong runner and have participated in the 500 Festival Mini-Marathon nearly every year since 2005. I am really proud that we host this amazing event in Indianapolis and am always recruiting friends from out of town to come to Indy for it. (I feel the same way about Indy Monumental!) The Mini-Marathon is super-special though because it was my first-ever half-marathon, and I think that's pretty common for a lot of locals. You can't beat running on the 500 track and just the whole experience is amazing.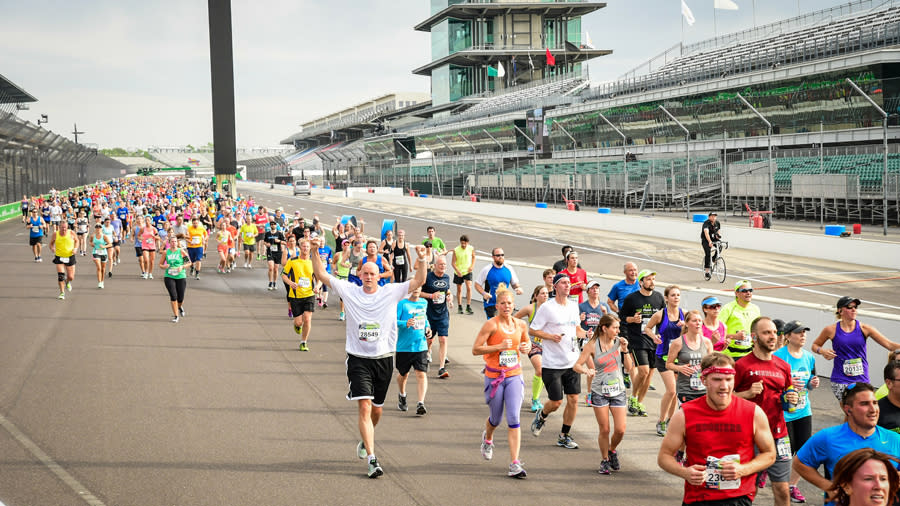 One of my favorite years was 2009. I was working at the John H. Boner Community Center on the near eastside of Indianapolis with senior citizens, and I trained a handful of them to complete the full 13.1 miles and the 5K. I was able to merge my passion for running and working with seniors in one, and that's something I'm still really thankful I pursued. It was so cool to see these seniors accomplish a goal like this and be connected with the running community. Many of them wore their medals for months after.
Q: You have four sons – where do you like to take them for fun?
We love exploring Butler's campus, Marott Park, the trail off the Monon just north of Broad Ripple by the White River, and their favorite park right now is the Colts Canal Playspace downtown.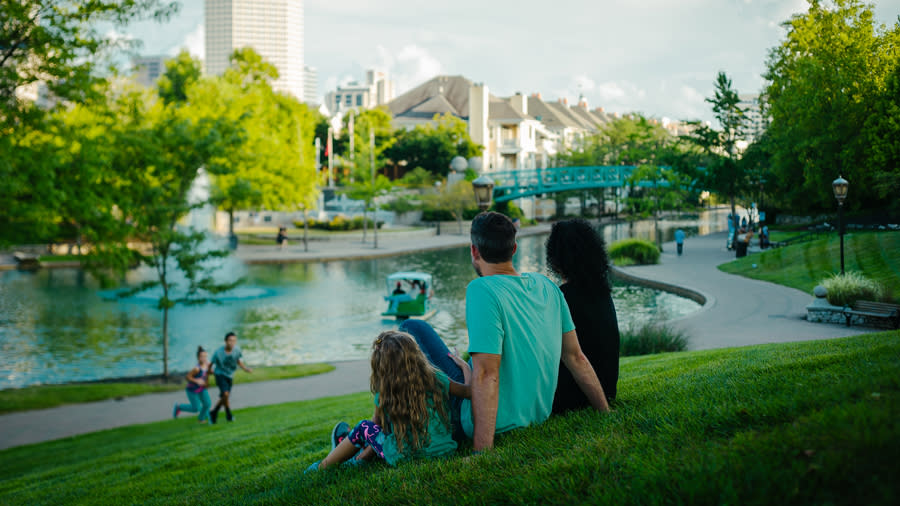 Q: What is one thing you think visitors should see or do in Indianapolis?
I always direct people to hit the Monon if they are looking to get out and be active. I have a lot of runners who reach out to see where they can run while they are here. Eagle Creek and Fort Ben are also great for exploring outside!
Q: When did "I'll Have Another with Lindsey Hein" launch, and what was your reason for starting it?
I launched I'll Have Another with Lindsey Hein podcast in 2016. I started getting into listening to podcasts myself in 2015 and was on the hunt for a good conversation-style podcast with runners. I couldn't find one, so I decided to create my own.
Q: Was it your experience as a parent that prompted you to start "Why Is Everyone Yelling?" What do you hope to share with other parents in those episodes?
I started Why is Everyone Yelling? because I found myself having a lot of questions as a parent, especially as my kids got older. I knew that if I had questions so many others must feel the same way. I also couldn't find a parenting show that I connected with very well, so similar to the running podcast, I decided to create a show I would want to listen to myself in hopes that other parents might enjoy it and learn from it as well.
Q: Last but not least, there's The Illuminate Podcast. What do you look for in a great guest for Illuminate?
The Illuminate Podcast is a show I make guest host appearances on, but it's currently hosted mostly by my amazing production assistant Emma Benner. We also have a third co-host who is an Indy resident as well, Kristin Sruor. That is a show where we are highlighting people who are doing good work in the world, a lot of nonprofit founders and small-business owners. All three of these podcasts are a part of my network SandyBoy Productions.
Get an insider view and experience Indy Like a Local