Jared Thompson
Indy Like a Local
Who is Jared?
Founder of and saxophonist in Premium Blend and daytime manager at Bluebeard
Q. How did you get into music?
I began piano lessons at the age of 5 from a neighbor who lived across the street. A few years later, my siblings and I were classically trained at Renaissance Studios in Broad Ripple until we graduated high school. At the age of 10, I took up the saxophone and fell in love with the instrument, jazz, and jazz history.
Q. What's your role with Premium Blend?
I try to be as democratic as possible with the group. As the bandleader, I do everything from booking, advertising/marketing (not all marketing; I've hired a good friend to handle some of that), and song writing. All the guys write original tunes to add to our repertoire.
Q. How would you describe Premium Blend's sound?
Tough question. Our sound definitely leans toward the modern end of the jazz spectrum, but its foundation is deeply rooted in the hard bop tradition of the mid '50s and '60s. Take that and add elements of the grooves found in neo-soul and the rhythms used in hip-hop, and that's what Premium Blend's sonic fingerprint is.
Q. Where might people hear your music?
We play all over the city. Over the years, performance venues have come and gone, but we still find viable gigs publicly and privately. We played every Sunday at The Chatterbox from 2009–2017. I've since passed the gig to my guitarist Ryan Taylor, and he's done well there as a bandleader.  Premium Blend will pop up at The Chatterbox from time to time, as well as The Jazz Kitchen (pictured).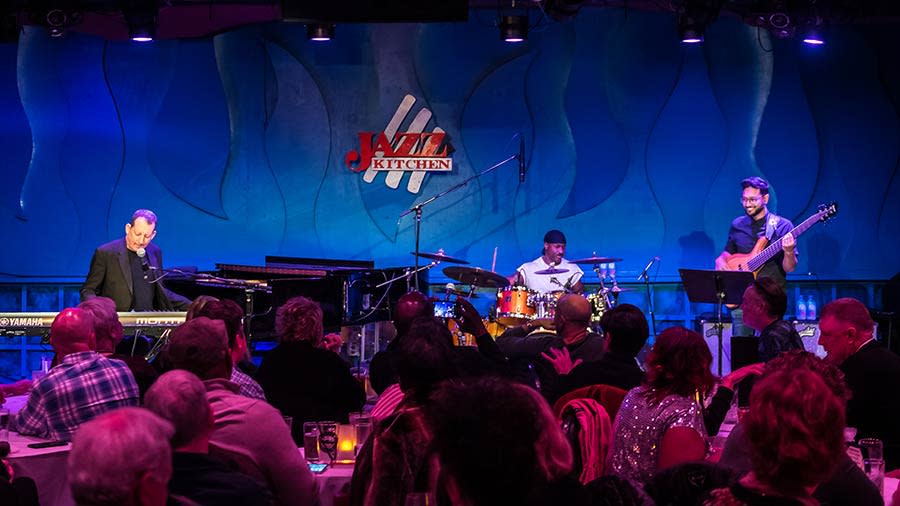 Q. Do you have a favorite venue to play? What about a favorite venue to just relax and take in a good show when you're not playing?
Every venue is so different that it's difficult to choose a favorite. I love The Chatterbox because of its intimate and rustic setting. I love playing larger venues like The Vogue, Old National Centre, and Hilbert Circle Theatre because it's rewarding to perform for larger audiences. And I'd be remiss if I didn't mention The Jazz Kitchen. I've learned so much on and off the stage. It's helped shape me as a professional musician.
When I'm not gigging, I'll go everywhere from the White Rabbit Cabaret to the Slippery Noodle to The Mousetrap to Concerts on the Canal. Just depends on who's playing.
Q. What about a memorable gig here in Indy?
I couldn't possibly pick just one memorable gig here in Indy, but I'll narrow it down as best I can. Opening for Trombone Shorty last summer at The Vogue was an incredible experience, as well as meeting Whoopi Goldberg at a Cancer Support Community fundraiser. What has resonated with me the most occurred over a span of several weeks at The Jazz Kitchen's jam sessions (this was probably 2007 or 2008). During that time, the house pianists/organist was the late Melvin Rhyne. Melvin played and toured with Wes Montgomery and dozens of celebrated jazz legends. So I'd go to the jam session and wait to play. At least six weeks in a row, Melvin would leave the stage every time I got up on stage. Melvin didn't waste his energy with mediocrity. I'd grown accustomed to this reaction from him and took the stage each week and just tried to play the tune (usually the same one) better than I did the previous week. A few weeks later, I begin my solo and realize that someone is playing piano. I finish my solo and Melvin grinned and said, "See, that's all you had to do!" Tough love works. Melvin wasn't going to pat you on the back if you didn't deserve it.
Q. Many people may not be aware of Indy's jazz roots. How do people like Wes Montgomery, Freddie Hubbard, and others inspire you?
I grew up knowing about Wes, Freddie, J.J. Johnson, Jimmy Coe, and the rich culture that Indiana Avenue fostered from the '20s through the late '50s. What inspires me the most is knowing that these were just regular guys. They had day jobs, families, etc., and contributed to one of the most innovative forms of music in existence. Wes lived in Haughville. My grandfather grew up in and around the same neighborhood as Hubbard. We walk those same Indianapolis streets, and some of my peers will be revered in the same way. It's extraordinary to think about.
Q. Where in Indy do you like to go for a great meal? 
I love to cook, so going out to eat doesn't happen that often. But my husband and I frequent Fat Dan's for their Cuban sandwich and brisket, The Eagle on Mass Ave, Shoefly Public House, and occasionally Ukiyo (pictured).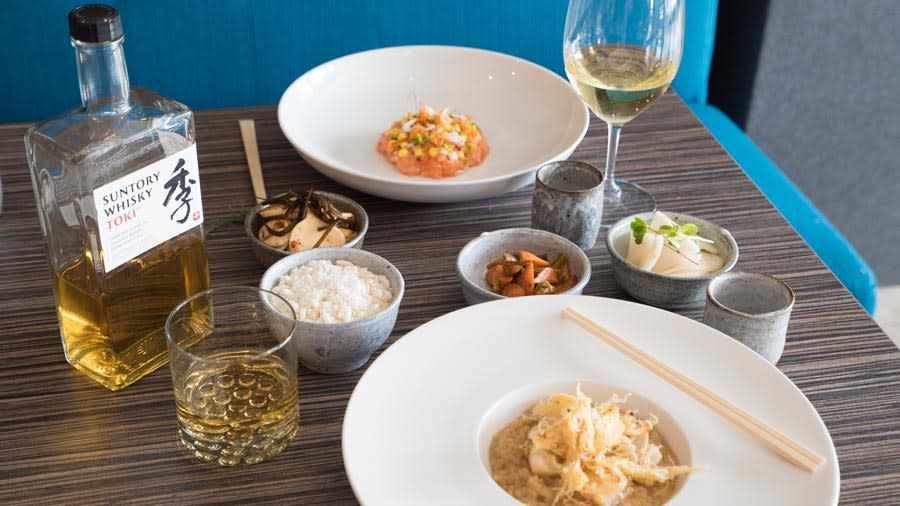 Q. What do you recommend people try at Bluebeard?
I started at Bluebeard as a busser and server almost six years ago. I'm currently the daytime manager, and I still love working there. The menu changes daily, so I recommend getting a cocktail or a glass of wine and putting your trust in your server. They won't steer you wrong.
Q. Do you have a favorite coffee shop or, at maybe after a show, a special place for a nightcap?
I'm not a big coffee drinker, but I do love a good nightcap. My favorite places for a late drink are Bluebeard, Tastings, and Hotel Tango.
Q. What other local businesses do you admire/support?
Chef Oya's The Trap is a local business I love to support. Oya went from selling used cars to opening a restaurant with a loyal following in under four years! She was on Food Network last year, too. Hard work and a vision truly pay off. Chef Oya is living proof of that.
Q. If you're hosting out-of-town guests, where might you take them for an authentic Indy experience?
This question is fun because my husband and I get to host great out-of-town friends a few times a year. Early afternoon, we'll grab a bite and a drink at Flatwater (Broad Ripple) and sit outside and people-watch along the canal. After that, we'd stop by Luna Music to flip through records and "chop it up" with Rusty Redenbacher – that dude is hilarious and somewhat of an Indy cultural legend himself. For dinner, we're grilling at our house and hanging out with our neighbors (who never come over empty-handed) until we head out for a show or art showcase.
Q. Is there a certain place(s) you enjoy visiting for fresh air?
I love walking the grounds of Newfields and walking around the neighborhoods off of Virginia Avenue (Fletcher Place and Fountain Square).
Q. Which events do you enjoy attending each year?
I will always love going to a Pacers game. My father would take my siblings and I to Sunday games when they played at Market Square Arena. Jazz Fest of course. I really enjoy IMAF (Independent Music + Art Festival), Open Bite Night, Woodruff Place Flea Market, Black Business Bazaar, and Chreece. There's a feeling that I can't describe at these events. They all bring so much unity and a sense of belonging to this city, while celebrating the people of Indy.
Q. What are some hidden gems or some off-the-beaten-path places or events that you would suggest visitors check out?
Midland Arts & Antiques is such a great way to spend an afternoon. There's so much random stuff to sift through! Low on money and want to kill an afternoon with something fun and random? Go to Midland for two hours. Garfield Park is such an incredible and enormous place. I've just recently become familiar with it, and everyone should put it on their list of top green spaces to discover. I mentioned Black Business Bazaar earlier. I can't say enough about it. The common misconception is that it's exclusively for black people. It's not. Men, women, and children of all backgrounds attend every time, and are welcomed with open arms. It also allows the community at large to learn about the chefs, caterers, lawyers, youth groups, community organizations, musicians, fresh produce growers/distributors, fashion designers, etc., that run their own businesses all year round in Indy. They just happen to be black. It spreads financial and cultural wealth in the city, while giving me and those in the black community more transparent and deliberate ways to support black entrepreneurs.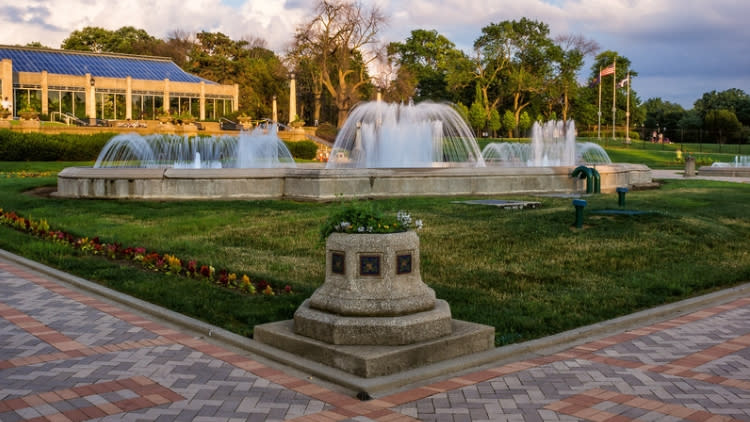 Q. Do you have a favorite neighborhood or area of the city you enjoy visiting?
My neighborhood is my favorite place to be. Honestly. My husband and I live in what's been called Mapleton Fall Creek/Watson McCord area. All of my grandparents lived and raised their kids in that area. It's always felt like home to me. It's had its ups and downs, but what neighborhood doesn't? There's always a neighbor to talk to, check up on, play ball with their kids, or trade vegetables from our gardens. I'm lucky. I love coming home.
Get an insider view and experience Indy Like a Local