Dr. Manasa Mantravadi
Indy Like a Local
Who is Manasa?
Pediatrician at Riley Hospital for Children and Founder of Ahimsa, the world's first colorful stainless steel dinnerware line for kids. 
Q. How did you get your start in healthcare in Indy?
I attended Indiana University School of Medicine for medical school. After leaving for residency and fellowship, we knew that we wanted to return to Indianapolis to be near family. In addition, my professional goal has always been to be a Riley pediatrician!
I was motivated by the American Academy of Pediatrics' (AAP) recommendation to use stainless steel given growing concerns that chemicals in plastics may be harmful to children's health. I grew up using stainless steel dinnerware, as it is the standard in India. Through pediatrician and mom friends, I soon realized access to non-toxic, durable dinnerware was limited here in the US. I wanted to create a safe dinnerware line that would excite kids (with fun colors!) and ease the fears of parents. Using my experience as a pediatrician and a mom, I hope to drive innovation and enact change in how we think about plastic as it relates to children. Thinking about keeping our planet healthy can be abstract and long-term but thinking about keeping your child healthy is very concrete and immediate. Ahimsa dinnerware is a way to work towards both healthier children and a healthier planet!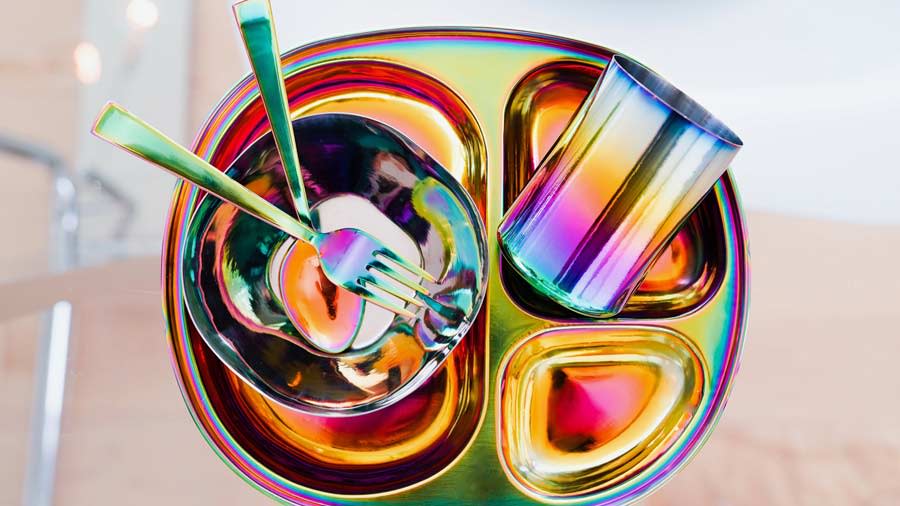 Q. What is the most rewarding aspect of your role as a pediatrician?
I get to work with some of the smartest, kindest, funniest, and most creative and pure people on the planet – kids. When I take care of a sick child in the hospital, I get to see through their lens. I have learned and grown so much by watching how children view the world, deal with challenges, and treat others. I think adults could learn a thing or two from the tiniest members of our society.
Q. Where in Indy do you like to go for a great meal, and why?
I love brunch and so I have to say with confidence, Cafe Patachou. Hands down. The Indiana sweet corn cakes – I mean, corn, beets, avocado, arugula, and sour cream? I typically add scrambled eggs to the side. The flavors are just glorious together.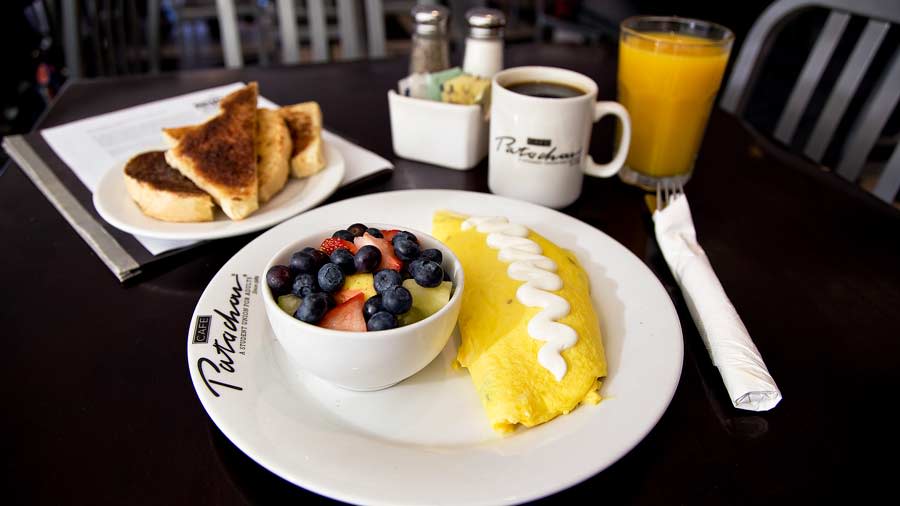 Q. When you're not running a business or working at Riley, do you have a favorite coffee shop or a special place for a nightcap?
I am clearly a morning person. I love coffee. Quills downtown. Wonderful coffee located on what I think is the jewel of the city – the canal and the Cultural Trail.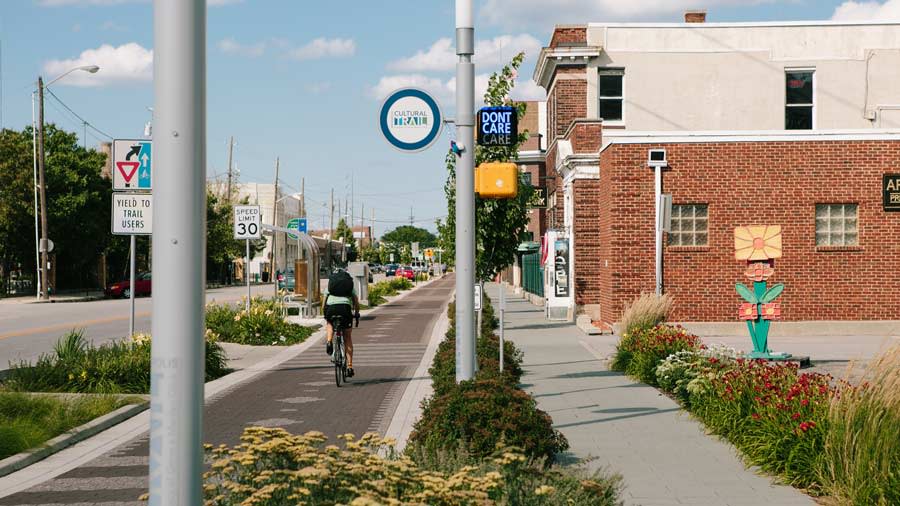 Q. What other local businesses do you admire/support?
Before I became a business owner myself, my husband and I have always loved and supported local companies. The Patachou Foundation remains a favorite of mine. I didn't realize it until after starting Ahimsa, but our missions so clearly align. Delicious healthy local farm-to-table food, and their foundation serves children living in areas with food insecurity. The Patachou Foundation serves after-school dinner to children who don't have access to healthy fresh food. This is a basic right – fresh food. No matter where you live, everyone deserves it … especially children. I also love local toy stores – the people are so kind and atmosphere is so genuine. Mass Ave Toys and Kids Ink are among my favorites. 
Q. If you're hosting out-of-town guests, where might you take them for an authentic Indy experience?
We often take our guests on bikes rides on the Cultural Trail. It's a great way to be active and explore our amazing city. My favorite stop is the canal district – it is a unique part of Indy. Just by riding or walking the canal, you can access fabulous museums, restaurants, the zoo, and you can even end up at a concert! Ditch the car and explore Indianapolis by foot or bike – it's a more enriching experience and of course, environmentally friendly!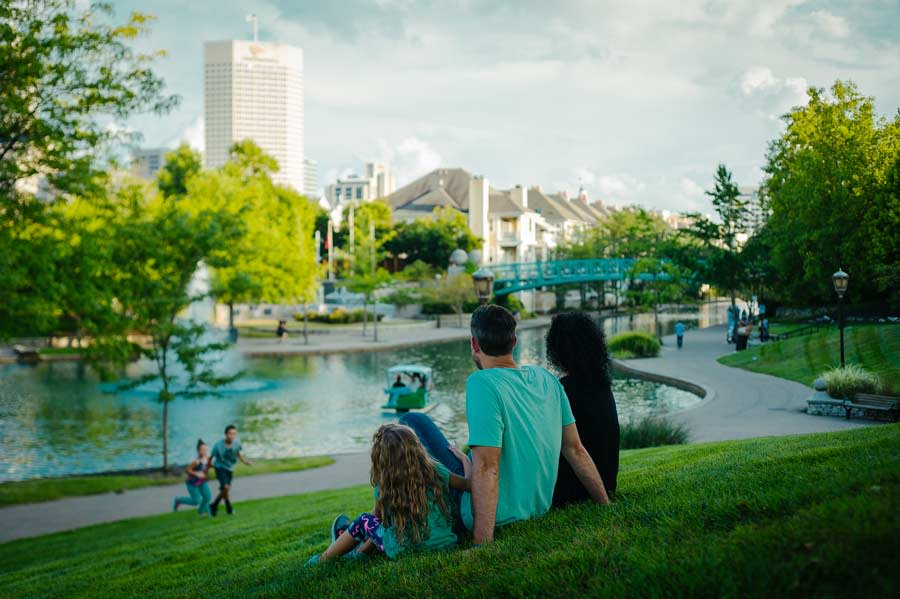 Q. What are some of your favorite places in Indy to take your children?
Where to begin? The beautiful thing about Indianapolis is that it houses some of the best children's spots, but unlike many larger cities – it is all easily accessible! Our favorites are The Children's Museum, Indiana State Museum, Rhythm! Discovery Center, Indianapolis Zoo, and the Colts Canal Playspace. There are tons of other options at your fingertips, which is why Indy is a great place for families!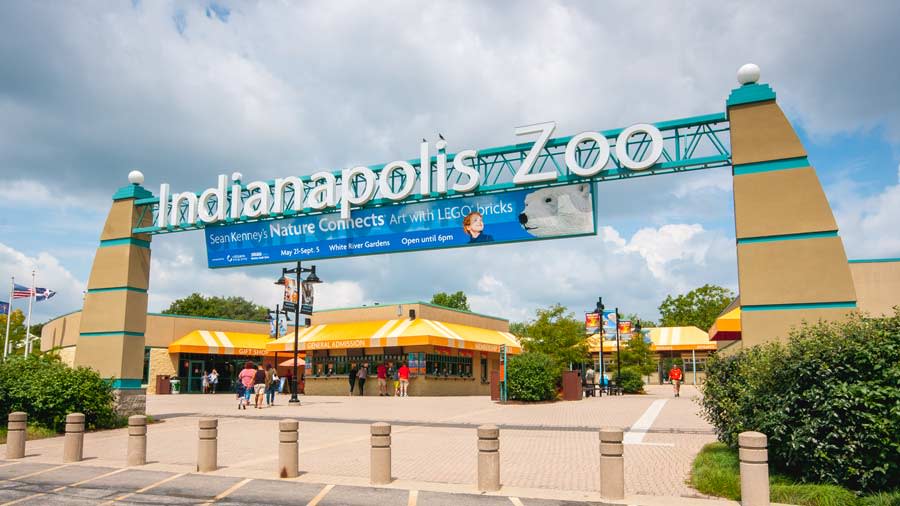 Q. How do you see your business growing in the future? Any big plans for Ahimsa?
I hope to inspire positive changes in our cultural norms in relation to the health of our children and our environment. For those who know me, I think big and dream big. I want to excite kids to eat healthy food from a safe, non-toxic product while decreasing the footprint of plastic on our planet.
Get an insider view and experience Indy Like a Local