Deborah Dorman
Indy Like a Local
Who is Deborah?
An award-winning Realtor for 25 years, a board member of Fashion Arts Society, and a Fashion Hall of Fame Inductee at Newfield
Q. You have been selling real estate in Indianapolis for years. What has surprised or delighted you most about how the city has changed over time?
I have been selling real estate for 25 years with the locally owned F.C. Tucker for 16 years and for the past nine years with Encore Sotheby's. I am starting a new chapter of my life, as I will be working as an exclusive referral agent with my son, Ryan Dorman, Remax Legend. In all my 70 years of living in the Indy area, my parents brought us up on the Indianapolis "city of homes" culture as we drove up and down Meridian Street. The city of homes has expanded to Carmel, Zionsville, Westfield, Fishers, and Noblesville environs. The architecture has changed from traditional to Art Deco to midcentury modern to contemporary and to all-inclusive neighborhoods to patio and garden living to the golf course and lakeside living and now five-star baby boomer living on every corner. The sophistication of architecture, the theater and arts community, and the sports capital of the world are great selling features of one of the friendliest and most affordable places to call home. 
Q. No doubt you're intimately familiar with the city's neighborhoods. Where either within Indianapolis or its surrounding towns/cities would you recommend people visit?
Visit "La La Land" – Carmel's Arts & Design District and Carmel City Center – and the hippest downtown avenue in town, Mass Avenue. If shopping is a priority, the northside Fashion Mall is our city's coolest spot for the fashionistas. You can buy a designer dress while purchasing a car or grabbing a meal of corned beef sandwiches, meatballs, organic greens, pizza, and pasta all under the most spectacular glass see-through ceiling. Stay tuned for Indy's most elaborate and dynamic structure to hit downtown – Bottleworks.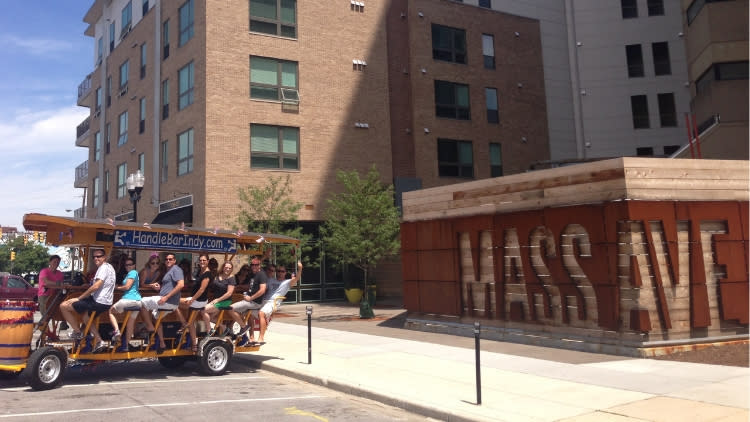 Q. I understand you and your husband have traveled extensively. What excites you most about coming home to Indy each time?
After a world-class trip that might take us away for six weeks at a time where we are in and out of airports, train stations, and cruise terminals, it is so refreshing to finally land back home again in Indiana at our magnificent, $1.1 billion, state-of-the-art international airport, where you feel a sense of calm. The people of Indy are the nicest and friendliest and offer a huge smile.
Q. Where in Indy do you like to go for a great meal, and why? 
My husband and I have created a specific lifestyle that is suitable for our needs. It might not be for everyone, but once you try it you might like it. Ironworks is a four-year-old trendy northside apartment structure. We are an elevator away from Indy's hippest eateries; hair, nail, and massage therapy salons; workout clubs; and a new first-class hotel. This community has it all. This community is the place to be. Start your day for a power breakfast at Yolk or local eatery Rize, lunch at Neal Brown's new Daredevil Hall or Blue Sushi Sake Grill, and finish with dinner and cocktails at the premier Ruth's Chris Steak House, locally owned Sangiovese Ristorante, or another Cunningham Restaurant Group property, Provision, on the second floor of the Ironworks Hotel.
Q. Do you have a favorite coffee shop or, at the end of the day, a special place for a nightcap?
A great place for a nightcap on a summer evening is the patio of Ironworks' Ruth Chris Steak House, complete with live music nightly and Sunday-night jazz with gas firepits around comfy cozy lounges. 
Q. What other local businesses do you admire/support?
If it is local, I support it. I am a lifelong local, so I understand the importance. Indianapolis is well known for its many local and family-owned businesses: Mimi Blue – Good Food, Ryan Nelson's Late Harvest Kitchen, Martha Hoover and all of her Patachou and Italian eateries. Chris Evans' Sangiovese, G Michael Salon, and Vogue Nail Salon, as well as the Cunningham eateries and Daredevil Hall at Ironworks and Ironworks Hotel. Local theaters, artists, and local bakeries, Taylor's and The Cake Bake Shop; local event planners and Thomas Caterers; local jewelers Fishman Fine Jewelers and Reis-Nichols Jewelers; and two of our city's oldest and most well-known florists, McNamara Florist and Coby Palmer Designs.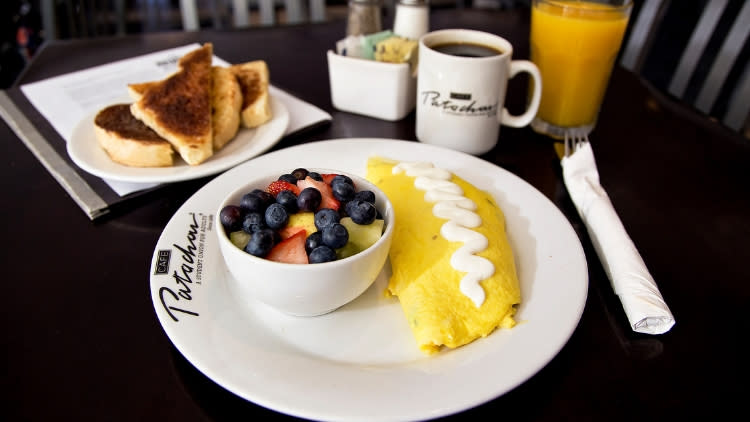 Q. Do you have a go-to boutique for shopping either for yourself or others, and what makes it your favorite?
My favorite locally owned boutique would be a contemporary designer's dream come true – Houseworks – or visit the brand-new, locally owned and out-of-a-magazine quality A Lantz Design & Consulting in Carmel City Center. Tell them Deborah sent you.
Q. If you're hosting out-of-town guests, where might you take them for an authentic Indy experience?
Two come to mind: Attending the Indianapolis 500 and visiting the IMS Museum in Speedway, and dining at St. Elmo's Steak House, a local creation many decades ago of Harry and Izzy Roth. The hottest and most well-known shrimp cocktail and sauce in town.
Q. Is there a certain place(s) you enjoy visiting for fresh air?
A favorite for fresh air would be a stroll through the magnificent gardens of Newfields or walking on the ever-popular Monon Trail, or riding a bike downtown along the Cultural Trail.
Q. Which events do you enjoy attending each year? Is there something specific on your calendar for the upcoming months?
I enjoy attending the Newfields Fashion Arts Society Hats Off benefit in the springtime, where all the proceeds go to acquisitions for textile and designer exhibitions and departments. This is a wonderful mixture of Indianapolis men and women who embrace the art community of multicultural design and international couture at Newfields. 
Get an insider view and experience Indy Like a Local