Oya Woodruff
Indy Like a Local
Who is Oya?
Owner/operator and executive chef at The TRAP, a walkup seafood eatery. See her feature on November 14, 2020's segment on Good Morning America here. 
Q: What's your background in the food industry?
I've worked in various places/positions from front of the house to back of the house and management in a couple restaurants and catering companies. I am also a self-taught baker. I taught myself how to make custom celebration cakes and that helped me gain popularity in the community. I've also been a personal chef and small party caterer.
Q: What prompted you to take the plunge into opening your own restaurant?
Coming from baking, I had a desire to get back into savory foods. So I started selling seafood trays on my porch in 2016. My father told me there were far too many people coming to my house [laughs], so I started looking for a restaurant.
Q: Have you always had a love of seafood?
Always, in all ways. Since I was standing on a chair over the kitchen sink as a child, helping my daddy peel/devein shrimp and clean fresh-caught catfish.
Q: Why do you think your TrapButtahs have gained such a loyal following?
TrapButtah is delicious! It is very versatile. You can use it as a finishing or garnishing sauce like we do at the The TRAP, as a marinade, as a sautéing sauce, for roasting, for dipping, or as mix-in. It's easy to make anything you cook at home taste like restaurant-quality food.
Q: I love your tagline of "deliciously dope." What makes a meal at The TRAP deliciously dope?
"Dope" is a euphemism for "amazing," for good things, for objects that are loved and appreciated in certain circles. You are sure to walk away with a seafood meal that is unlike any other! Delicious, in a dope environment, rich in culture, and made with love.

Q: What's your go-to meal at The Trap?
Our most popular tray! A loaded crab legs and shrimp tray, with different TrapButtahs on each element: Yaad Jerk on the shrimp and crab, Sweet Thai Chili on the broccoli, Island Curry on the potatoes and boiled egg, and OG Garlic Herb on the corn.
Q: Where else in Indianapolis do you enjoy a great meal or drink?
I love breakfast from 3 Sisters Cafe, lunch from Cleo's Bodega & Cafe, and dinner from Chef Tia & Co!
Q: What other chefs/restaurateurs/business owners do you admire in the city?
I have to limit this to food people! Spice slanger Candace Boyd, chef Tannoria Askew, Ashley Brooks, chef Moira Sommers, Que Wimberly, chef Tanisha Goodman, chef Tia Wilson-Harrison, Martha Hoover, Neal Brown, chef Twinkle VanWinkle, chef Natalie Wall, chef William McCathern, chef Paul Dickens, Chef J.O., Jada Adireye, chef George Turkette. There are so many to name! My goodness. We have so much talent here in Indianapolis.
Q: Where in Indy do you like taking guests from out of town?
The Missing Brick! A dope pizza joint and a favorite partner of mine in this community collaborative food movement. Every pizza is #TrapButtahSlick. We'll get a TrapPizza with blanco sauce, an OG Pizza (add olives and banana peppers), a Smoking Chic with extra buffalo sauce, and doughbuds! Extra TrapButtah!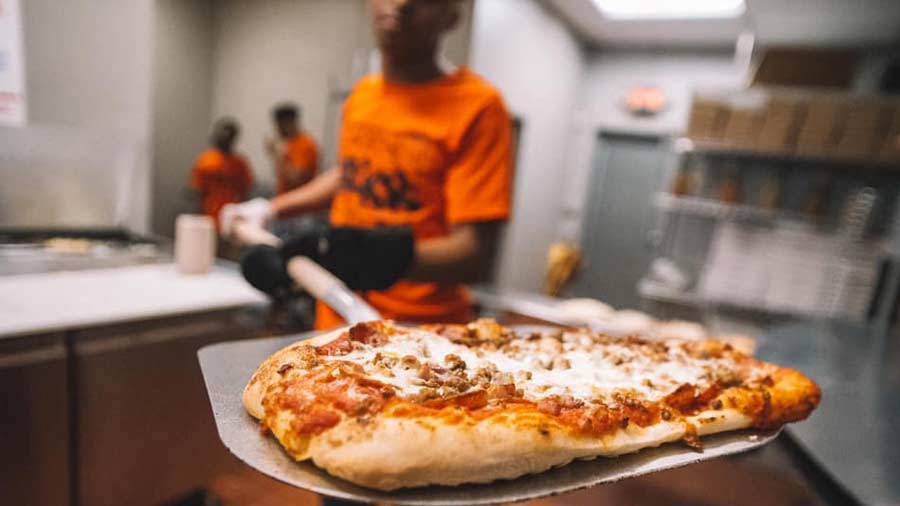 Get an insider view and experience Indy Like a Local