Brandon Burdine
Indy Like a Local
Who is Brandon?
Owner of Brick & Mortar barber shop and Commissary Barber & Barista
What's your haircutting background?
I'm a licensed barber of about six years now. My first job as a barber was on the east side with a guy who had been cutting for about 60 years. He taught me everything I know. He has been doing the haircuts that are popular today on guys who were wearing them originally back in the '60s. So I got a head start on side parts and pompadours. Being a 19-year-old kid in a shop full of old-timers, I didn't get a lot of business so I decided to move on. I worked in Carmel at Main Street Barber Shop for a couple years before I decided I was ready to break off and do my own thing downtown. Those guys are the best and I can't thank them enough for all the help and support they gave me.
What sort of experience do you want to offer clients at both establishments?
Both shops offer similar experiences. We're all just friends who are lucky enough to work together. You'll hear pretty much every conversation topic in either shop with the most popular being "What's for lunch today?" Brick & Mortar is an appointment-only shop. Commissary offers appointments, but also has two dedicated walk-in barbers to accommodate as many people as we can. We are focused on classic haircuts with a modern twist. 
Why open these businesses downtown?
When I was young, I lived in Chatham Arch and remember when it wasn't necessarily the best place to be. When I was looking for storefronts at the beginning of 2015, I knew I wanted to be downtown to do my part of pushing the neighborhood forward. Brick & Mortar is nestled between bail bonds and lawyers offices, and I'm hoping that when storefronts open up, someone is motivated to open some sort of retail and do their part of pushing the neighborhood forward as well. Commissary is housed in a building that sat vacant for years. It's a garden-level storefront that most people passed daily with no hesitation. Instead of moving into one of the many apartment-complex retail spots, I wanted a building with lots of character. Commissary is all exposed brick with original brick archways that divide the spaces. It's one of the most unique storefronts downtown that I've seen, and it was passed by for years. I'm glad that I could be apart of bringing it back to life. 
Brick & Mortar has some interesting decor in the "antique Americana" vibe. Have you found any of those pieces locally?
I've been collecting antiques for about eight years or so. When I opened up Brick & Mortar, I wanted it to be a portrayal of myself. So I decided to bring my collection from home and decorate the shop. Over the last three years, I've managed to fill pretty much all the wall space up with antiques. I go to antique stores all over the surrounding states to find this stuff, but locally my favorite spot is Rewired Antiques. Jeremiah is the best and always has the coolest stuff. Midland is huge and has great stuff too. 
Where in Indy do you like to go for a great meal?
There are so many great spots in Indy so this is tough! Subito is a small soup and sandwich spot that I hit frequently for lunch. Chuck and everyone there are the best, and the food is great. Mama Carolla's is one of my favorites. Nice spot for dates or to meet up with friends. The Eagle is right across the street from my apartment so I eat there more than I'd like to admit. That mac and cheese with fried chicken on top is a meal for a toddler, but I can't stop eating it.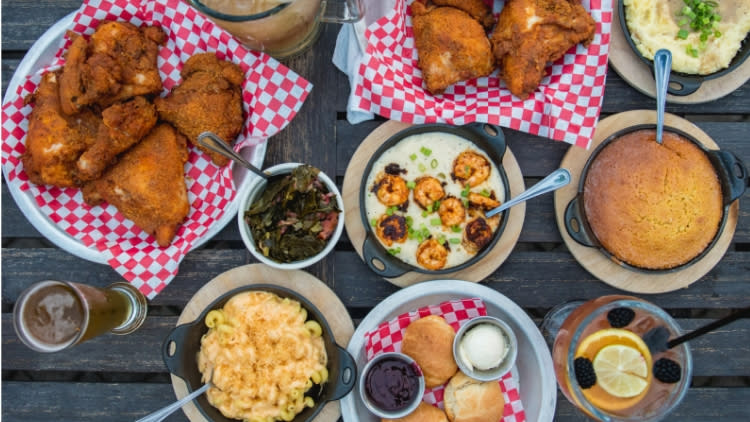 Do you have a favorite coffee shop (aside from Commissary!) or, at the end of the day, a special place for a nightcap?
My favorite coffee shop in the city is Coat Check Coffee. Neil and Paul are some of the nicest guys around and are doing great things for the coffee scene in the city. I'm a black coffee kind of guy, but their lattes are all top-notch, and those croissants are insane! If I could convince them to bring back their pig in a blanket croissant, I'd never leave. 
Describe your favorite drink at Commissary.
This is tough! I really love our espresso right now, but I think my favorite drink is our Yama cold brew. We use a Yama Tower to make a slow-drip cold brew. It takes about eight hours to steep but produces a wonderful coffee. We're using Tinker Ethiopian coffee for our cold brew, and it tastes like kiwis and green apples. It's really bright, acidic, and fruity. It tastes really different from an average cold brew, but that's what makes it great to me. 
What other local businesses do you admire/support?
Grand Union Tattoo is a spot you'll see me hanging out at regularly and getting tattooed at. Aldo created a true traditional tattoo shop that is located on Mass Ave that is full of great artists. Quality is a great streetwear-based men's store that is also located on Mass Ave and carries brands that you can't find anywhere else in the city. Mike and Garrett are two dudes that have been living everything their brand portrays since they were teenagers, and it's sick to see two guys dreams of owning a shop come true and succeed. We have plans to release some collabs together this year, too, which will be sick! James Dant in Irvington is a great men's store as well. I love denim and workwear-influenced fashion, and James Dant has everything that I love. Tommy has created a shop that probably belongs in a bigger city, but I love that he opened up here. Grounded Plant + Floral Co. is also one I love. Brick & Mortar, as well as my apartment, are covered in plants from her shop. She always has a great selection of plants, and I'm looking forward to filling Commissary up with them as well! 
If you're hosting out-of-town guests, where might you take them for an authentic Indy experience?
I'd start off by taking them to brunch at Milktooth. Then I'd take them to Commissary for coffee and stroll the Cultural Trail to Mass Ave for some shopping. I always show off Monument Circle and the Canal to guests as well. I'd end the night by either doing dinner at Livery or the new King Dough pizza spot.
Is there a certain place(s) you enjoy visiting for fresh air?
Newfields is always a good spot. Holliday Park is also one of my favorites for dog walks. Watching the sun set from Crown Hill Cemetery's highest point is something I haven't done in a few years but always loved doing with the pup, too!
What are some hidden gems or some off-the-beaten-path places or events that you would suggest visitors check out?
I love Garfield Park and the conservatory there. Seeing the Indy Fuel play is always a fun event.
If you have a pet or pets, do you like to take them to any pet-friendly businesses?
I have an English Shepard mix named Niko. He's wild! He loves a good walk down Mass Ave and to Three Dog Bakery for treats. I take him to work with me at Brick & Mortar when I can. So if you're in need of a dog hug and lick, stop by! 
Get an insider view and experience Indy Like a Local