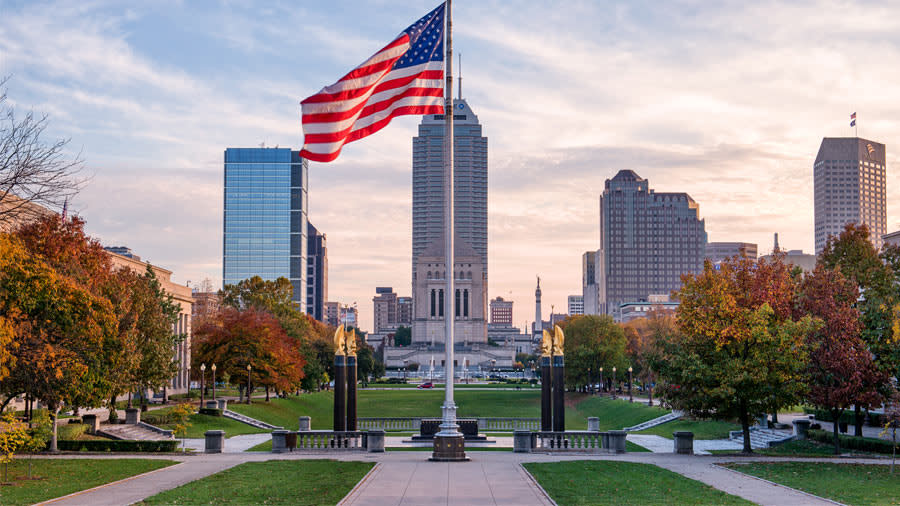 American Legion Mall is a sprawling green space nestled in the heart of downtown Indianapolis. Along with Veterans Memorial Plaza, it is bracked on the north by the stunning Central Library and the south by the hulking limestone of the Indiana War Memorial. The Mall stretches two city blocks with a central lawn flanked by tree-lined walks dotted with monuments honoring those who served in World War II, the Korean War, and the Vietnam War. On the north end of the lawn is Cenotaph Square where the nation's first casualty from World War I, Evansville native Corporal James B. Gresham, is memorialized. Indiana's pride in military service is on impressive display wherever you turn. The only thing missing in American Legion Mall is people.
Like a lot of places, the pandemic reduced a space that used to host hundreds of events to a big empty lawn. Thursdays on the Mall is meant to turn that around. The Indiana War Memorials Foundation invites downtown residents and visitors alike to enjoy free film screening throughout the summer. In addition to a great slate of movies provided by the Indy Film Fest you can also expect food trucks, a beer garden featuring Sun King Brewing, popcorn from Pop Weaver, games and activations thanks to Big Car Collaborative, and a fire truck and military vehicle thanks to INvets. This family-friendly event will have something for everybody.
Mark your calendar, pack a chair or blanket, and come out to be part of the fun. Below are dates and the movie lineup.

The fun will begin at 7 pm each night with the film rolling at dusk.