The NEW Dinosphere®: Now You're in Their World at The Children's Museum of Indianapolis is an exhibit 150 million years in the making. While past guests at The Children's Museum may be no stranger to the Dinosphere exhibit, it has been closed for the past year while undergoing a huge expansion as part of a $27.5 million dollar project known as Mission Jurassic.
Dinosphere®: Now You're in Their World will open on March 19, 2022, with many of the beloved features that make it the most visited exhibit in the world's largest children's museum. The expansion includes new sections with all new (to us) dinosaurs; Giants of the Jurassic™, Creatures of the Cretaceous™, Monsters of the Mesozoic Seas™, and the Dinosphere Art Lab.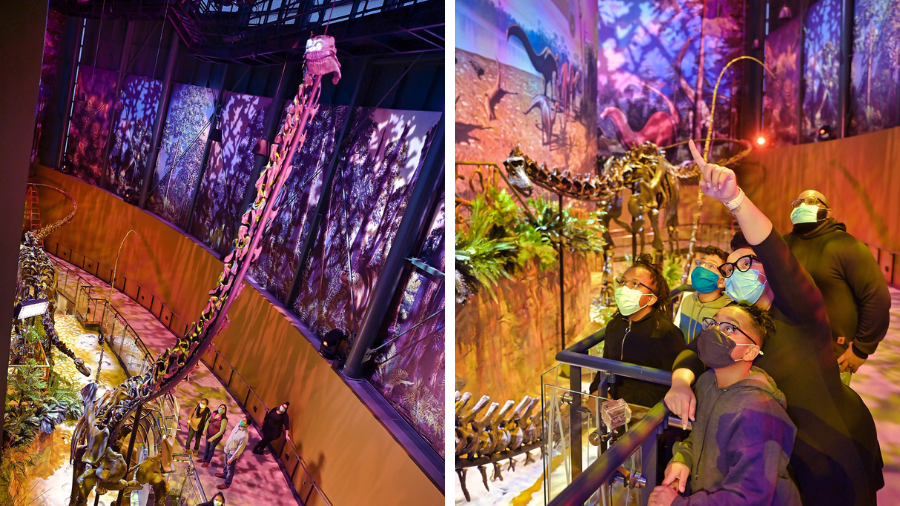 What to Do
Visitors to the exhibit will be fully immersed in a time long ago with sound and light shows, actor interpreter performances, and gallery interpreters who answer any questions guests bring along or stumble upon while they visit.
Along with international partners from the Naturalis Biodiversity Center (Netherlands) and the University of Manchester (United Kingdom), paleontologists from The Children's Museum unearthed some of these fossils from its dig site in Wyoming known as The Jurassic Mile™. The Jurassic Mile is a fossil-rich plot of land where hundreds of bones, footprints, or trackways and fossilized plants were discovered and uncovered. This undertaking brings real science to life for museum visitors.
Experience the enormity of the giant sauropod, which is posed rearing up on its hindquarters and its counterpart grazing behind it. Plunge into the Monsters of the Mesozoic ocean-themed section where you'll feel like you're swimming alongside sea creatures like the Elasmosaurus and a 20-foot-long Baptanodon.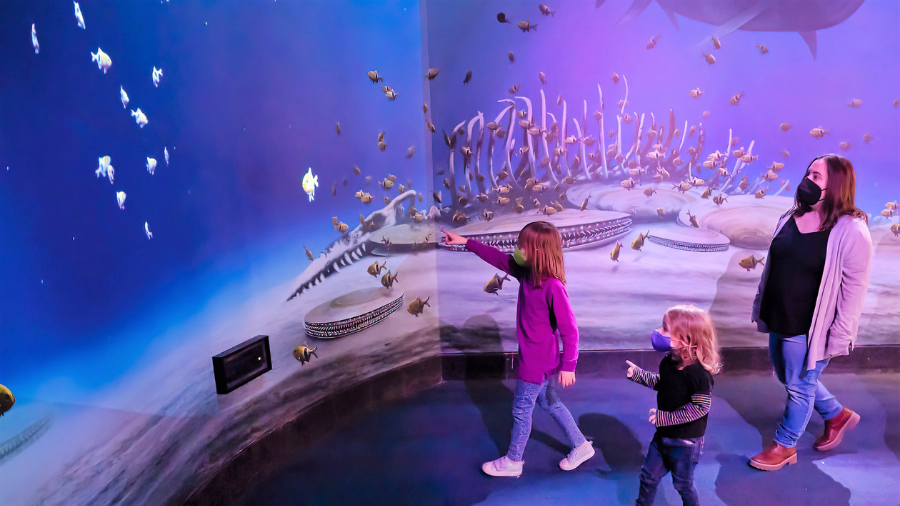 Return to see favorite dinosaurs that made Dinosphere a favorite for so long; Tyranasuaurs rex, a Gorgosaurus, and a mummified duckbill dinosaur. The Cinedome is back with a brilliantly colored sky that transitions from dawn to dusk to midnight (with meteor showers,) immersing families in the sights and sounds of the Cretaceous.
Watch real-life scientists and paleontologists as they continue their work in the museum's R.B. Annis Mission Jurassic Paleo Prep Lab and the Polly H. Hix Paleo Prep Lab, preparing fossils brought back from the Jurassic Mile™ dig site.
The new Dinosphere Art Lab is perfect for sparking creativity and imaginative play, connecting science, and art. Visitors can design their own dinosaur and scan the drawing, then watch as their animated dino "hatches" from an egg and virtually joins other dinosaurs roaming the Earth on a giant projection screen. Trace a dinosaur trackway or feel two sides of a diplodocid sculpture and enjoy the sculptures and comics on display.
Dates to Know
Member Preview Days: March 17 & 18, 10 am–4:30 pm. Capacity is limited. Reserve your free member tickets in advance to save your spot. When you arrive for the preview, simply show your membership card at the exhibit entrance.
Jurassic Jubilee: March 18, 5:30-9:30 pm. There's a BIG party and you're invited! Take part in food, drinks, silent disco, balloon art, and a whole lot more! This family-friendly party requires a special ticket, so log in with your membership account and get your ticket for a party of the ages!
Public Opening Celebration: March 19 & 20, 10 am–3 pm. Dress up for a Fossil Fashion Fest! Come decked out in your favorite dinosaur-themed gear—dress like a paleontologist, or a dinosaur, or wear your favorite dino shirt—and snap a photo in a special photo op. There will be special tabletop activities, temporary tattoos, and giveaways. Reserve your tickets today.