Celebrating New Year's Eve in Indianapolis can be done with kids! With so many places to party as the clock hits 12 o'clock, you won't want to leave anyone behind. Oh yeah, and since there are two 12 o'clocks on New Year's Eve, you don't even have to stay up late!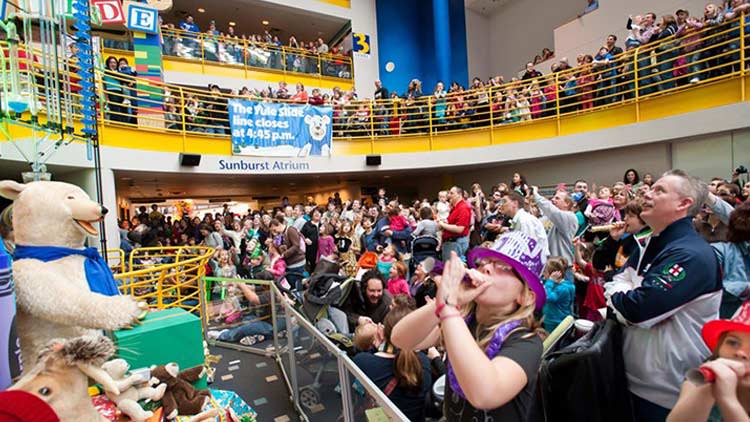 Daytime Celebrations
The Children's Museum of Indianapolis will ring in the New Year at noon with party favors and music with Zak Morgan. Enjoy your favorite exhibits (Doc McStuffins will hit the road in January) and then gather round for the count down to noon. These activities are included in admission. The Museum will be open 10 am to 3 pm.
Some best loved children's characters will be celebrating Noon-Years Eve at the Five Seasons Family Sports Club from 11 am to 1 pm. Party in the bounces houses, dance the afternoon away, and celebrate with a balloon drop. Expect to see Mickey, Minnie, Chase, Marshal and friends! Tickets are $10 per person. 
---
Evening Celebrations
An alcohol-free celebration will be held at the Indiana State Museum 6 pm to 9 pm. Families can enjoy jugglers, face painters, fun activities, and train rides. At 8 pm, balloons will drop from the ceiling in the Grand Hall to create a colorful and unforgettable sight. Tickets are $15. Discounts available for members.
Early New Year's Eve Balloon Drop at Incrediplex
Incrediplex Family Entertainment Center is a hot place to be on the evening of New Year's Eve. Doors open at 5:30 pm for a night of face painting, bounce houses, obstacle climbing and more. The night ends at 8 pm with a balloon drop to commemorate the end of 2016. Tickets are $12 in advance. Register here.
Comedy Sportz matches are fun year round and what better way to exit the old year and celebrate the new year than with laughter. Two family friendly matches will take place at the Athenaeum on New Year's Eve. Grab tickets for the 7:30 pm show or the 10:30 pm show, either way, you can count on clean jokes and fun. Tickets are $20 per person with discounts for groups of 14 or more. Reserve your tickets here.
---
Midnight Celebration
While the IndyCar drop is the highlight of this party on Georgia street in downtown Indy, there are even more reasons to join in the fun at this free event. Live entertainment and fireworks punctuate the evening. Food and beverages will be for sale, an indoor area will be set up inside of Bankers Life Fieldhouse. All ages are invited to attend 8 pm to midnight. More information here.