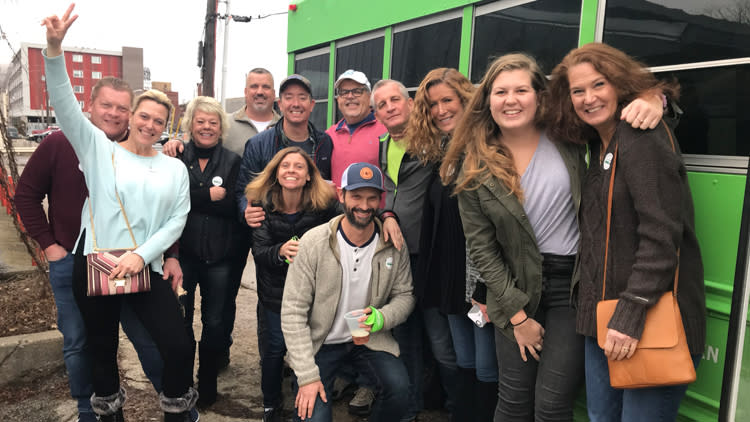 On a drizzly Saturday afternoon my team of three boarded a ride to explore some of Indy's best brews. I had followed the Indy Brew Bus team since Andy and Megan Bulla took a chance and bought a single short bus back in 2012. Since then, I've spotted their bright green buses delivering happy groups of beer lovers to some of my favorite Indy breweries. It was finally my turn to experience the Brew Bus firsthand. As a bonus, the days adventure would net me five check ins on the Indy Craft Pass (four breweries plus the Brew Bus).
We were one of three groups on this particular tour. We were joined by a group of couples from all over the Midwest who had convened to celebrate anniversaries. Another group had a mom and dad from North Carolina in to share a weekend with their daughter. We'd be hitting four breweries. Each occupied a different neighborhood and the commute between stops gave riders a chance to explore the city while grooving to the DJ skills of our driver, Dan.
Speaking of Dan, the tour guide is key to the experience. Dan is a homebrewer originally from Milwaukee who knew the ins and outs of the process and was friendly with each brewery we visited. We asked a lot of questions and he always had an answer.
From our downtown tour (they offer several variations) here are a few of my highlights: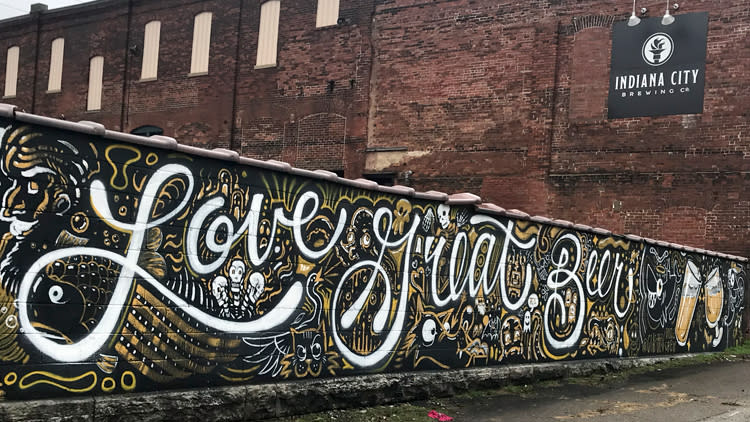 The Indy Brew Bus has a fleet of buses these days and offer tours in Broad Ripple, Carmel, and the South Side. They offer cider-infused tours alongside beer and birdwatching tours (I'm not making that up). If you have a special occasion or are looking for any group activity, they can take care of the driving while you enjoy the tastes of Indy's beer scene.