Indy's slickest art fair is back by popular demand.
From Sept. 1-4, BUTTER 2 will shine the spotlight on more than 50 Black artists from around the country. Best described as "a fine art fair for equity," the four-day event also includes live performances, a multi-sensory dance party, BUTTER-themed bites and merchandise, interactive outdoor installations, and historic walking tours hosted by Sampson Levingston of Through 2 Eyes.
Since there aren't a lot of stand-alone art fairs that advocate for Black artists, cultural development firm GANGGANG created BUTTER to fill that gap. This year's art fair has almost twice as many artists as last year, including Indiana artists Courtland Blade, Brittany Fukushima, Ess Mckee, Israel Solomon, Shamira Wilson, and Amber Zuri.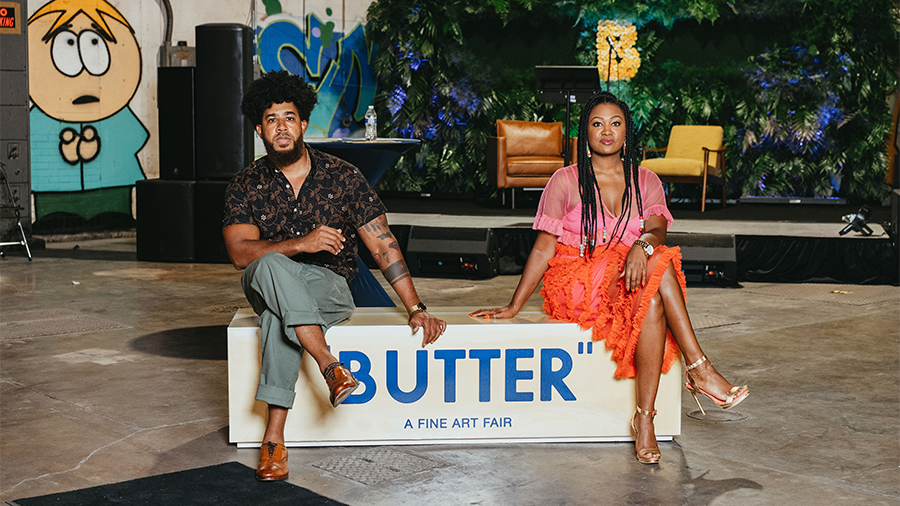 "BUTTER is a living art fair that works to care for, accommodate, and be intentional about the economic viability of Black visual artists," said Mali Jeffers, co-founder of GANGANG. "As such, we do not require a fee for artists to participate, nor do we take a commission on the sale of their work."
In other words, artists receive 100% of the proceeds.
BUTTER 2 is open to the public and, like last year, will be held in the historic Stutz complex downtown. (The interactive outdoor space will be held on 10th Street, between Capitol and Senate avenues.) It kicks off Sept. 1, with a preview night. On Sept. 2-3, BUTTER 2 is open from 11 a.m. to 10 p.m., with MELT, a massive, multi-sensory dance party, on Saturday night. The last day for BUTTER 2 is Sept. 4. General admission tickets, which include access to three different days, are $35 (guests 18 and under are free). Preview night tickets include Thursday night access and go for $175.