Since the debut of their hit show, Good Bones, in 2016, Karen Laine and Mina Starsiak-Hawk have built their brand around rehab projects in southeast Indianapolis. Now, the mother-daughter duo behind Two Chicks and a Hammer has a new retail store in the Bates-Hendricks neighborhood.
To be fair, Two Chicks District Co. is more of a four-chick venture. Mina's younger sister, Kelsy Gray, and family friend Alexa Howell serve as the Chief Business Officer and Chief Operating Officer, respectively. With their help, the Two Chicks team made a long-time dream a reality. They gave a low-slung building on East Street a full makeover, complete with a 1,200-square-foot retail shop and snazzy 600-square-foot upfront bistro. The bistro – outfitted with gold-colored tables and chairs – serves wine, beer, and bites (think sandwiches and meat-cheese-veggie snack packs). If you're not in a table mood, though, you can snag a spot at the window and watch the rejuvenation of Bates-Hendricks up close.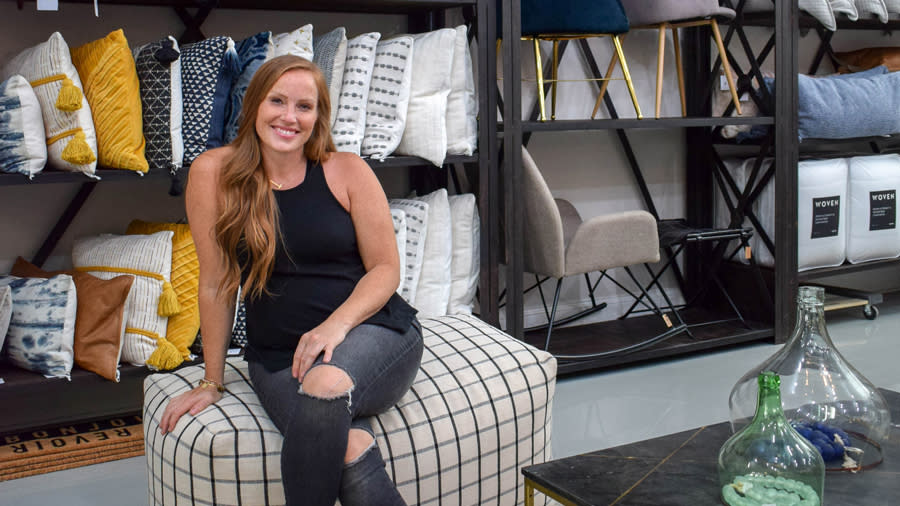 A floor-to-ceiling rope divider doesn't separate the bistro from the Good Bones boutique; rather, it leads you into it. The shop has a little bit of everything, home décor-wise, and a variety of items are packed into the compact space. There's kitchenware, pillows, bedding, rugs, stools, side tables, ceramics, toiletries, and more. All of the items, however, reflect Mina and Karen's signature style. It's like Restoration Hardware meets Pottery Barn meets Classic Home meets Anthropologie. (It sounds complicated, but the combo has worked for four – now five – seasons of Good Bones.)
District Co. shop also gives fans a place to purchase items featured on the HGTV hit show. Want that leather pillow you saw a few episodes ago? Pick it up! Recognize a side table from late last season? Make it yours. Just don't wait too long – District Co. plans to update its inventory twice a year to keep things current with the television series.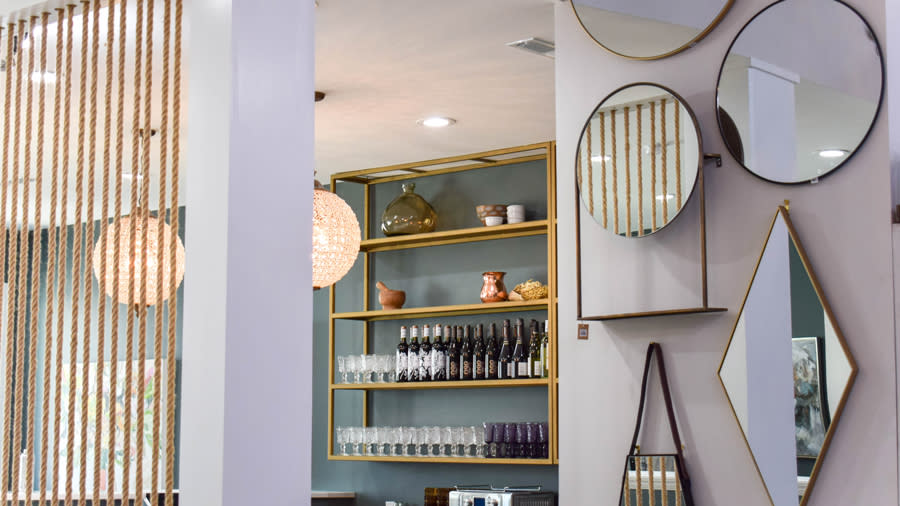 Current in-stock items include test tube-shaped vases, gold candlesticks, wooden salad tongs, bedding from Woven Linens, affordable Persian-style rugs, and charcuterie boards with Swiss-cheese holes. The shop also carries goods from local artists and creators, including organic fragrances from Ambre Blends, hand-stamped jewelry from Twigs & Twine, and paintings from one of Mina's favorite artists, Beth Clary Schwier. There's also a space dedicated to items made by Karen herself. You'll recognize her crafty ways from the show, where she salvages something from the pre-demolition home and repurposes it in the post-renovation one. 
District Co. is located at 1531 S. East St. and is open Thursday through Sunday. Not able to visit in person? You can always order shirts, sweaters, and candles online. But if you're in the area and have some extra time, give yourself a tour of Bates-Hendricks, Fountain Square, and Fletcher Place. (See if you can spot the "Two Chicks homes" without glancing at hgtv.com.) If you'd like to know the neighborhood(s) a little bit more, book a stay at the "House that Two Chicks Built." The two-bedroom Airbnb is close to many of Mina and Karen's favorite places, including Milktooth, Nine Lives Cat Café, and Hotel Tango Distillery.